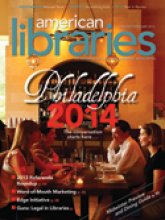 All conference and no fun makes Ta-Shire a dull librarian, so I was really excited to spend my last day in Philadelphia on a Flavors of Philly Food tour, hosted by City Food Tours. I had never done a food tour before, so when my roommate suggested it, I figured what better way to spend the day than unwinding with some tasty local fare?
We met our wonderful tour guide Judy inside the Shops at Liberty Place. We began the session by sharing things about ourselves, and Judy promised us that we were in for a really good time. Our first stop was at Joe's Pizza, located on 16th Street for a taste of Joe's famous tomato pie. Essentially a Sicilian-like thick crust topped with a sweet, slighty savory tomato sauce that has been simmering for hours, the pie was a good, simple snack. Judy explained to us that the unique taste of the sauce was due to the use of San Marzano tomatoes, which are known for their sweeter, less acidic taste than other varieties.
After our tomato pie, we made our way to Sansom Street where we tried soft pretzels from the Philly Pretzel Factory. Adorned in salt, with a trio of mustards to choose from, this was a great nostalgic treat for the entire group. While munching, Judy made sure to give us the history of the soft pretzel, and made us all laugh with the declaration that instead of coffee and bagels, Philadelphians enjoy their coffee and soft pretzels in the morning.
Along the way to each of our stops, we admired the architecture of the city, focusing on Philly's historic founder, William Penn on top of City Hall (the second-largest municipal building in the country), as well as highlighting the social activism in the area, such as the graffiti art project and homeless-prevention work being done in the area.
No Taste of Philly food tour would be complete without an authentic Philly cheesesteak and cheese fries, and we had a great on at Zio's Pizza. I opted for provolone instead of Cheez Whiz on my sandwich, and I must say I wasn't disappointed.
We ended the tour with a jaunt through the Historic Reading Market, with chocolate chip cookies from the Famous 4th Street Cookie Co and cake truffles from Flying Monkey Bakery.
The experience gave me and my tourmates a really up-close and personal look at Philly and its history. I enjoyed it so much that I'm going to make tours like this a part of my ALA conference tradition.
TA-SHIRÉ TRIBBETT is acquisitions, reference, and marketing librarian at the US Census Bureau.
---
See, hear, and read more about what's going on at Midwinter—in real time and after.
Twitter: @alamw and #alamw14
Facebook: https://www.facebook.com/events/512164432210368
YouTube: youtube.com/user/AmLibraryAssociation
Flickr: flickr.com/groups/2422196@N23
Pinterest: pinterest.com/alamidwinter