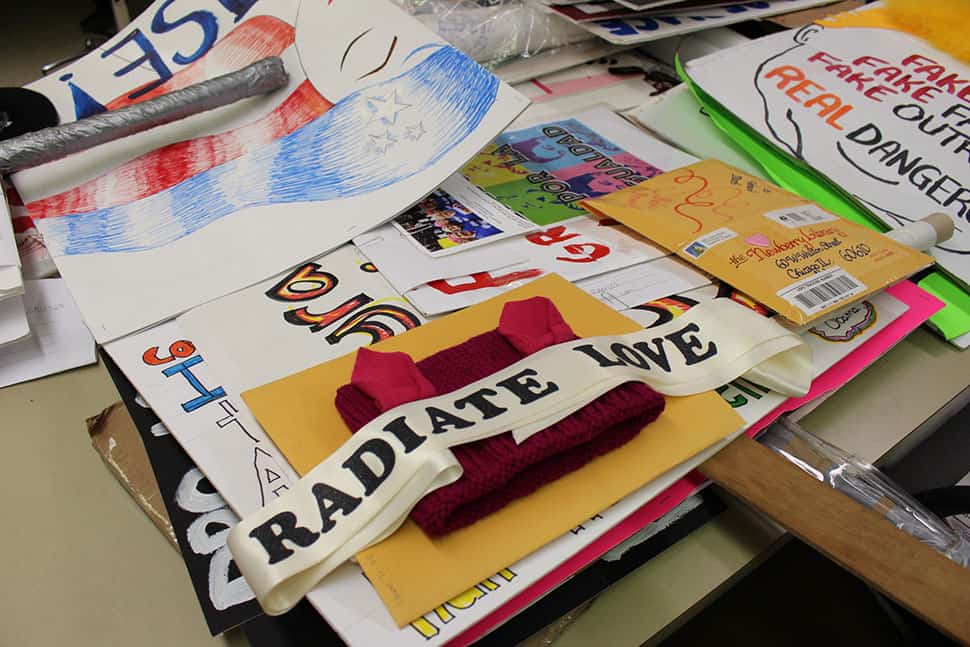 "Women unite."
The simple message was emblazoned on the sign found hanging, abandoned on a fence at Washington Square Park—across the street from Newberry Library in Chicago—in the days following the January 21 Women's March.
Homemade posters, pussyhats, and buttons with slogans like "Women's rights are human rights"—it's the stuff that suddenly emerges during public demonstrations and just as quickly disappears, says Martha Briggs, Newberry's curator of modern manuscripts.
"They're created and discarded or put away or forgotten about; we want to get them while they're still around," Briggs says, noting that the sign found in Washington Square Park "brought home the idea that this stuff … was sitting right outside our front door."
The "Women unite" sign is one of the many pieces of ephemera donated to Newberry after the library recently put out a call for items associated with the march. Newberry, which is focusing its collection on Chicago, is among dozens of libraries and museums nationwide collecting protest material.
The collection is an expansion of an archive Newberry launched in early 2016—"Civil War to Civil Rights: African-American Chicago in the Newberry Collection"—which includes protest material from recent Black Lives Matter demonstrations in Chicago, Briggs says.
Alex Teller, Newberry's director of communication and editorial services, said the search for protest materials from the women's marches in Chicago and from Chicagoans who marched in Washington, D.C., grew out of the call for Black Lives Matter protest materials.
"We felt like we're in a period of time where the landscape of social action and political action is evolving and shifting and changing," Teller says. "We wanted to make sure we were documenting it as it's happening by collecting ephemera."
In addition to accepting donations of physical items, the library also established a web page that allows march participants to upload photos with captions to Newberry's digital archive, Teller says.
The captions provide "a storytelling dimension to the digital photo submission process that will eventually be part of the digital gallery that will be made available to the public," he says.
The library has already received hundreds of images and more than 100 signs, according to Teller and Briggs.
The signs and other material are not just about making a political statement, but "they express something about the people who made them, so that's another big reason we are keen to collect these things," Teller says.
Briggs said most of the donated protest signs are handmade and cover a wide range of topics.
"Of course, what we're collecting doesn't tell the whole story, but it gives an idea of what everyday people who participated in these events were thinking," she says.
Briggs says Newberry will continue to collect signs and other material donated from future demonstrations, and archivists there are hoping the material crosses the political spectrum. "We want it to be a representative sample of social activism at this time in Chicago or by Chicagoans," she says.
The digital archive associated with the women's marches will be available soon, but the library does not have a definite date for when it will exhibit the signs and other physical ephemera, Briggs says.
The material is being stored in Newberry's climate-controlled stacks facility and will ultimately be available for viewing in the library's reading room. Donations can be delivered or mailed to the library at 60 W. Walton St., Chicago, Illinois 60610.
More information is available by emailing protestarchive@newberry.org.