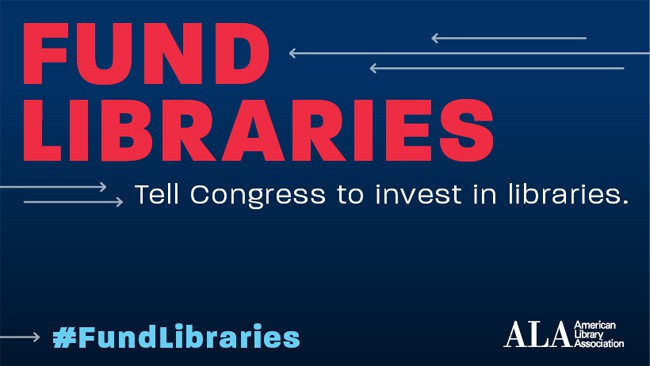 The following excerpt originally appeared March 6 on District Dispatch, the blog of the American Library Association's Washington Office. Read the full post at District Dispatch.
The campaign to save more than $210 million in library funding begins this week in the House of Representatives with the release of two Dear Appropriator letters.
The White House budget proposal for FY2019 recommends the elimination of most federal library funding. Though the budget proposal is concerning, Congress has the final say over the budget.
Starting today, two Dear Appropriator letters are circulating in support of federal library funding for both the Library Services and Technology Act and the Innovative Approaches to Literacy program. Library advocates need to contact their representatives this week and ask them to sign both letters by the March 19 deadline.
The more signatures we get on these Dear Appropriator letters, the better proof we have of the wide, bipartisan backing for federal library funding. For many members of Congress (especially those not on the Appropriations Committee), signing these letters is the best opportunity to show their unequivocal support for our nation's libraries.
When you call your member's office, the script can be as simple as:
"Hello, I am a constituent of Representative [name] from [your town]. I am calling today to urge the representative to sign two Dear Appropriator letters supporting over $210 million in library funding—one letter for the Library Services and Technology Act and one for the Innovative Approaches to Literacy program."
Even if the member of Congress or his or her aide tells you that they have a policy of not signing on to letters, respond by asking them to support an increase in federal library funding.
Want to send an email? Visit ALA's Action Center to use our email template.
This year, the ALA Washington Office has provided new tools to enhance your advocacy. On the Fund Libraries page, you will find a table where you can track whether your representative has signed the FY2019 letters and see your representative's history of support for previous years. You will also find links to resources for writing letters to the editors of news outlets to publicly urge your member of Congress to sign the FY2019 Dear Appropriator letters.
Make your call today, check Fund Libraries, and stay tuned—similar letters will be circulating in the Senate in a few weeks, and this process will start again.