Emerald City Comic Con (ECCC), held March 1–4 in Seattle, expanded its programming this year to include a full day of professional development for librarians and educators, cosponsored by the American Library Association and several publishers at Seattle Public Library's (SPL) Central Library.
Creating a community of practice for librarians and educators around comics collection, education, and advocacy was a major theme of the program, which included sessions such as "Censored: The Comics They Don't Want You to Read (and How to Keep 'Em Circulating)," "The Representation Bookshelf," and "What Do I Say When?: Tough Questions about Comics and How to Turn It Around."
Taylor Eastman, ReedPOP content and talent coordinator for ECCC, said, "On top of being fans themselves, educators and librarians are teaching our next generation of fans. We feel lucky to not only offer this content to our professional badge holders but also help connect these educators and librarians in a place where they can learn and share ideas."
Comics are real reading
In the "Great Graphic Novels for Kids" panel—featuring creators Mairghread Scott (The City on the Other Side, First Second, 2018), Melanie Gillman (As the Crow Flies, Iron Circus Comics, 2017), Shelli Paroline (Adventure Time), Vera Brosgol (Anya's Ghost, First Second, 2011), and moderator Gene Ambaum (Unshelved.com)—the question came up about what to do when comics are still considered "not real reading," especially by parents, librarians, and educators. Ambaum described his own daughter's teacher saying, "Comics are candy, and they are for dessert." These myths contrast with the reality of comics as vital tools for developing critical visual literacy skills that give kids, as Paroline put it, "an early dose of nuance."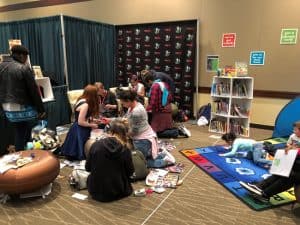 Representation matters
Another theme that echoed throughout the day was representation, how comics succeed at it, and what they can do better. Some opportunities that panelists shared for more active representation and potential for community dialogue included programming ideas like the Olympia (Wash.) Zine Fest for teens, San Diego Public Library's Comic-Con book clubs, or Pop Culture Classroom's new initiative to support incarcerated youth writing their own comics. Areas identified for growth included readers' advisory and collection development.
In the "Tools of Adversity" panel, creator Dana Simpson (Phoebe and Her Unicorn, Andrews McMeel, 2014) expressed a desire for more titles like the Moonstruck series (Image Comics)—in which one of main character's pronouns are they/them—to be on library shelves, stating, "My dream is that anyone could be the main character of the story." On the same panel, creator Nilah Magruder (MFK, Insight Comics, 2017) noted the vital role of the librarian because what is (or isn't) on the shelves of a library has a lot of influence on what kids see and how they see themselves.
What to read next?
SPL is noted for its readers' advisory service Your Next 5, and it wasn't surprising that recommending titles was a common thread throughout the panels and a vital takeaway for participants. Abby Bass, SPL adult services librarian, raved about the level of discussion and, as a result, "My TBR [to be read] pile has tripled!" Some recommended titles include: Jen Wang's Prince and the Dressmaker (First Second, 2018); Simpson's Phoebe and her Unicorn; Joe Kelly and J. M. Ken Niimura's I Kill Giants series (Image Comics); Jody Houser's Faith series (Valiant Entertainment, 2016); and Jeff Lemire's Sweet Tooth series (Vertigo, 2010).
As soon as the doors closed on this year's ECCC, participants and attendees were already talking about next year. Kristen Thorp, youth services manager at Eugene (Ore.) Public Library, credited this event for creating "positives on both sides"—giving legitimacy to professionals attending ECCC and also bringing new users into the library. Gina Gagliano, associate director at First Second Books, was enthusiastic about further expanding next year to include additional focus on adult comics to increase participants' own advocacy and comics knowledge. Other participants voiced a similar desire for continued professional development and how comics and games are vital, vibrant parts of the library's focus on cocurated community content and engagement.