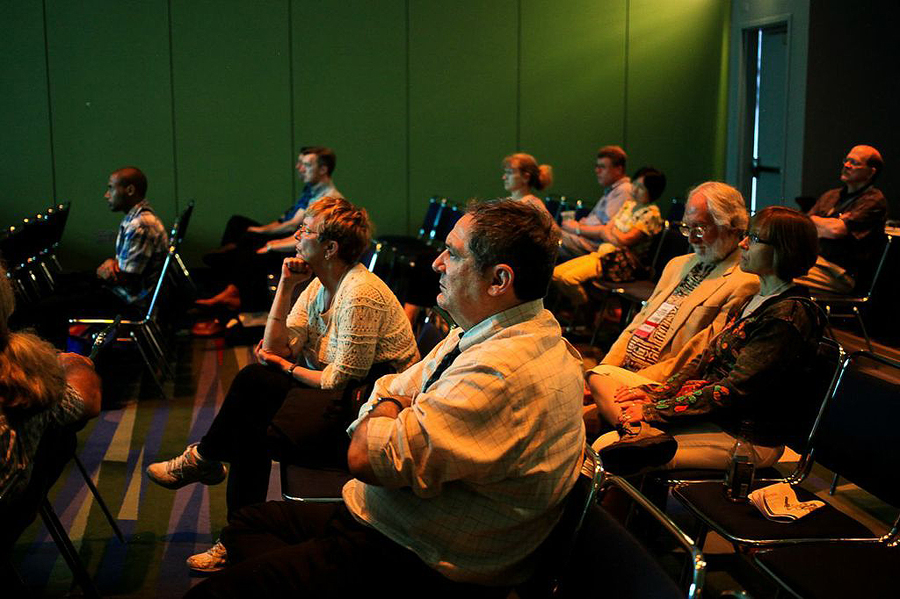 Now Showing @ ALA offered a variety of film and video screenings throughout the 2013 ALA Annual Conference in Chicago. The selections were diverse, ranging from Martin Scorsese's Paris-set historical adventure, Hugo and episodes of Oliver Stone and Peter Kuznick's Showtime series, The Untold History of the United States, to Ferlinghetti: A Rebirth of Wonder, a biography of poet Lawrence Ferlinghetti, 56 Up, the latest installment of British filmaker Michael Apted's long-running documentary series, and more.
One of the more interesting offerings was a sneak preview of Free for All: Inside the Public Library, a documentary that explores the history, spirit, and challenges of the free public library through the story of the San Francisco Public Library. The documentary is a work-in-progress, but filmmakers Dawn Logsdon and Lucie Faulknor were on hand to present a quartet of clips that they intend to feature in the finished work. The event served as a preview, but also an information session for both attendees and the filmmakers themselves, who hoped to gain further insight into the public library system through post-screening feedback from librarians.
The first clip presented interviews with patrons and employees of San Francisco Public Library who discussed the library's place in their lives. Archival film dating to the early 20th century was woven into the contemporary footage; in it, people, many of them poverty-stricken immigrants, were shown using the library and enjoying books. The second clip moved the action to Queens (N.Y.) Library in the aftermath of Hurricane Sandy. Although several branches of the library were devastated, staff mobilized a bookmobile immediately after the storm to bring services to the community, providing a sense of civilization and normalcy to those in the midst of destruction. The tone shifted in the third clip, which consisted of a humorous library staff training videos from 1977 and commercials for San Francisco Public Library's Family Day, the latter starring a manic Robin Williams. Clip four contained excerpts from San Francisco Public Library's Storyteller's Project, in which patrons tell personal stories about how libraries have impacted their lives. A homeless former English teacher, a dyslexic man and his young tutor, and the acting assistant chief of San Francisco Public Library relay the library's importance to them. Their stories were strong, effective, and often very funny, but they were overshadowed by the reminiscences of a woman who donates money to the library despite limited financial means. She does so in the memory of her late immigrant grandmother who could not read. The old woman felt shame throughout her life about her illiteracy and, by donating money, her granddaughter hopes that others will be able to experience the joy of reading that eluded her grandmother. It was an emotional story that reduced some in the audience to tears.