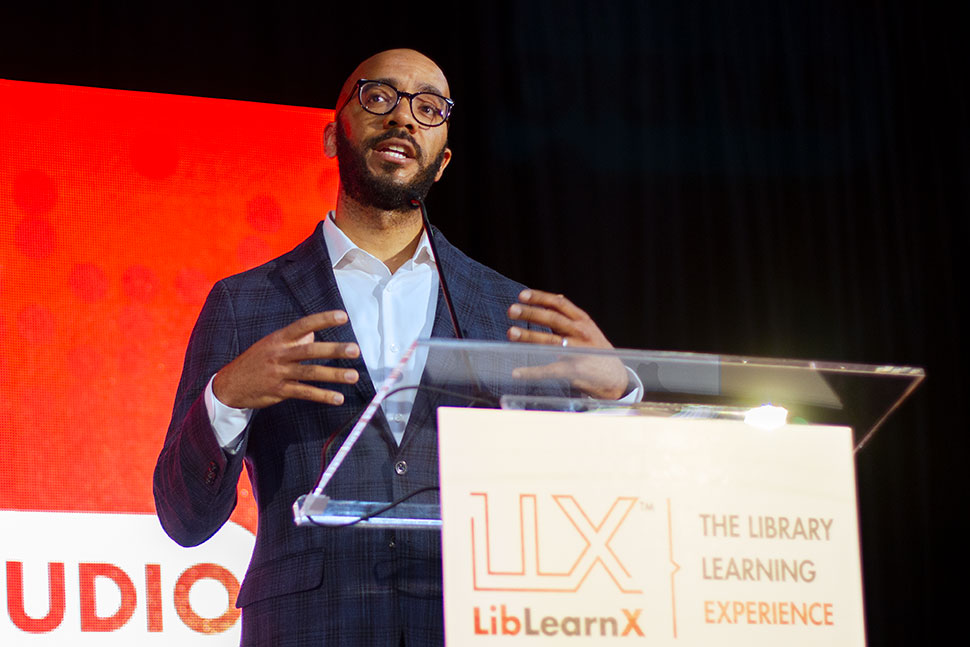 To say that Clint Smith was excited to be in his home city of New Orleans would be an understatement. "This is special to me, because this is where I was born and raised," he said. "This morning, I woke up, ate my mama's biscuits, and everything felt right."
Smith discussed his journey in crafting his narrative nonfiction book, How the Word Is Passed: A Reckoning With the History of Slavery Across America (Little, Brown and Company, 2021), and his upcoming poetry collection, Above Ground (Little, Brown and Company, March), at his January 29 featured speaker session at the American Library Association's 2023 LibLearnX conference in New Orleans. 
Smith shared the different places he visited while conducting research for How the Word is Passed, including the Whitney Plantation in Edgard, Louisiana, and the Blandford Cemetery in Petersburg, Virginia, where a Sons of Confederate Veterans Memorial Day celebration was being held. He praised the Whitney Plantation for acknowledging its true history as a slave plantation in an area where plantations are often used as wedding venues. "Whitney is a place that fundamentally rejects the idea that a plantation can be understood as anything other than an intergenerational site of torture," he said. 
In comparison, there was no mention of the words "confederacy" or "slavery" during his tour at the Blandford Cemetery. "It was this sort of conspicuous absence," Smith said, adding that people sometimes choose to believe the history they were taught or told rather than confronting the truth.
The truth, Smith said, could create a shift in one's identity especially if they were raised to believe something different. "It's a fundamental crisis of identity when you are being told that the thing that has been the anchor of your identity is no longer true," he said. "We have to take seriously the emotional texture that undergirds so many of these harmful, bigoted ahistorical beliefs, which isn't to say they aren't harmful or bigoted or historical. You have to understand the emotional stakes that exist for so many of the people whose fundamental sense of self is tied to a previous story of America that fewer and fewer people are telling."
Smith also read a few poems from Above Ground. They ranged from joyous tales about having a post-dinner dance party with his two young children, to sorrowful comparisons about society's reflections on a "cute" and "little" Black boy versus an adult Black man. 
Above Ground also captures Smith's identity and evolving understanding of fatherhood. "I think about fatherhood and I think about Black fatherhood. I didn't want it to be defined by the violence and oppression that we've experienced, because that's not what my experience as a father is. That's a part of it. But that's far from the whole of it," he said.