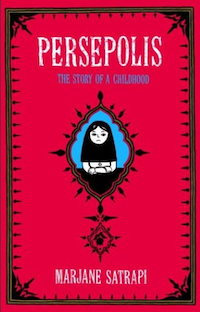 Documents released under a recent Freedom of Information Act (FOIA) request shed new light on Chicago Public School's (CPS) March 2013 decision to remove Marjane Satrapi's graphic novel Persepolis from its classrooms.
The decision to pull the book two years ago prompted criticism and complaints from the media, CPS parents, and the American Library Association, and sparked student protests at Chicago's Lane Technical College Prep High School. The FOIA documents reveal that the decision came from the highest levels of CPS administration, with directives issued by CPS CEO Barbara Byrd-Bennett, despite statements to the contrary made by CPS at the time.
Because of Persepolis' representation of daily life under a repressive regime in pre-revolution Iran and its focus on a young girl's struggles to find identity, the book was identified as an instructional text in CPS's Literacy Content Framework (Common Core) Seventh Grade Toolset—a curriculum guide provided to teachers for the 2012–2013 school year.
Jarrett Dapier, an MLIS student at the University of Illinois Graduate School of Library and Information Science, submitted the FOIA request in early December 2014 while writing a research paper on the impact of censorship on CPS teen students. Dapier says that he simply asked for notes pertaining to a March 11, 2013, meeting on the Persepolis removal. Instead he received a string of emails spanning days—including threads from Byrd-Bennett and other CPS administrators—detailing the machinations behind the book's removal.
A March 9 email from Chandra James, interim chief of elementary schools in the Austin-North Lawndale Network, to Annette Gurley, chief officer at the CPS Office of Teaching and Learning, set the process in motion. In the email, James asked permission to remove Persepolis from her schools based on content found on two pages of the book. (Subsequent emails reveal that profanity and a scene of torture comprised the objectionable content.)
"I've attached a copy of 2 pages from the book Persepolis that was sent to schools as a part of the 7th grade text set," James wrote in the email. "In my opinion it is not appropriate at all. Please let me know if I can pull the book from my schools."

What follows is a back and forth between administrators about how to remove Persepolis as expeditiously as possible—and how to find the person responsible for the book's placement in CPS classrooms.
"Someone is in jeopardy bc (o)f this," Byrd-Bennett wrote in a March 10 email. "Need a name."
"That was pretty shocking," says Dapier, about reading the exchanges. "It reveals a deeper level of censorship. Barbara Byrd-Bennett sends staff on a witch hunt to find those who put the book on the curriculum. It was quite chilling."
Dapier adds, "She's asking for the name of a person who merely recommended a book. It's a second level of censorship that threatens people's jobs."
The emails also document the pushback that the March 14 removal order received from teachers and students, which ultimately led to its March 15 reversal. Persepolis remained accessible to students in grades 8–12, but it was removed from the 7th-grade curriculum. A reconsideration policy in place (CPS Policy 604.7) prevented the book's removal from CPS libraries without review and due process.
Chicago Reader columnist Ben Joravsky has been following the Persepolis story since its inception, and Dapier turned to him after receiving the FOIA documents. Joravsky's February 11 column on the topic has sparked renewed public interest. The FOIA documents Dapier had requested from CPS had initially been posted on CPS's FOIA request archive, but at press time, the documents were no longer available there.
ALA's Office for Intellectual Freedom (OIF) and the Freedom to Read Foundation submitted FOIA requests to CPS in March 2013 for documents related to the Persepolis removal but received nothing from CPS. Barbara Jones, OIF director, was not surprised.
"We started working on this two years ago, and we always knew we didn't have the whole story," Jones tells American Libraries. "We knew there was more to it. We filed FOIA requests; that was all we got, and that was all there was to it. These should have been given to us."
When asked about the release of the FOIA documents, CPS deputy press secretary Lauren Huffman notes that CPS did not ban Persepolis but says it was brought to their attention for containing material inappropriate for 7th graders. Following a CPS investigation, she says school principals were advised to engage with teachers, parents, and staff to determine whether Persepolis was appropriate to be included in their school libraries.
"Chicago Public Schools is committed to providing all of our students with access to literary materials that will broaden their world views and unlock new perspectives to enhance their individual learning experiences," Huffman said in a February 18 statement. "While we are against censorship in the classroom, we maintain that all materials incorporated into instruction are age appropriate, and that teachers are equipped to interpret them in such a way that is meaningful to students."