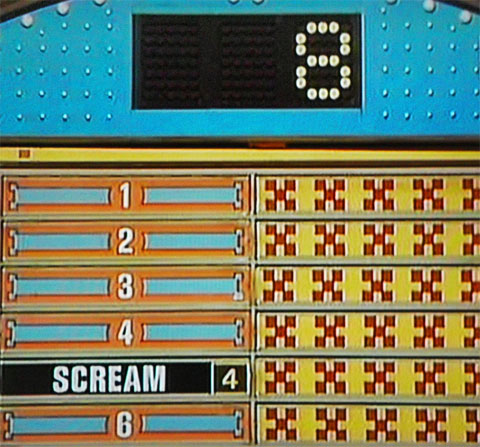 The Association of American Publishers' Library Committee Chair Chris Vaccari hosted a Family Feud battle (based on the TV show) between Philadelphia librarians and authors at the 2014 ALA Midwinter Meeting on Sunday afternoon.
Team Librarian featured Jeanne Clancy of Chester County Library, Molly Kritchten of the Carnegie Library of Pittsburgh, Garry "Bob" Rubenstein of the Free Library of Philadelphia, Janis Stubbs of Delaware County Library System, and Sandra Thompson, Free Library of Philadelphia.
Team Author rostered Raymond Arroyo (Kerman Derman and the Relic of Perilous Falls), Arielle Eckstut (The Essential Guide to Getting Your Book Published: How to Write It, Sell It, and Market It—Successfully), Lyndsay Faye (Seven for a Secret), Timothy Hallinan (Herbie's Game), and Elise Juska (The Blessings).
All the answers came from a survey of 100 librarians. The first-round question, name something or someone associated with The Wizard of Oz, resulted in a win for Team Author after they stole the points from Team Librarians with "ruby slippers." The Scarecrow, Tin Man, and Cowardly Lion did not make the board, but the flying monkeys did. Dorothy was the #1 answer.
Team Author also earned points in Round Two, which asked the contestants to name an Olympic sport. Figure skating was the #1 answer, and hockey, which Team Librarian submitted as its chance to steal, did not appear.
Round Three belonged to Team Librarian, who was asked to name an item you'd hate to forget to take on vacation. Remembering that it was librarians who were surveyed, Team Librarian correctly identified "a book" as the #1 answer.
In Round Four, Team Librarian gained control of the board and had a chance for a comeback win if they could name the top 5 characters on Sesame Street. They hit on Big Bird (#1), Oscar the Grouch, and Elmo, but missed on Bert, the Count, and Cookie Monster. Team Author won the round with Grover. Ernie rounded out the board.
Raymond Arroyo was selected to play the Quick Money bonus round for the authors, but he failed to reach 100 points. Both the librarians' and authors' charities of choice received a donation.
T. J. SZAFRANSKI is the virtual services librarian at Lake Villa (Ill.) District Library. He tumbles @ANotionDeepInside where he shares some library thoughts and a lot of Bruce Springsteen thoughts. (A Chicago native, Szafranski would like to remind people that the Chicago librarian team beat a team of authors in the same event at ALA Annual this past summer, proving that Chicago not only has a better hockey team than Philadelphia, but a better Family Feud team as well.)
---
See, hear, and read more about what's going on at Midwinter—in real time and after.
Twitter: @alamw and #alamw14
Facebook: https://www.facebook.com/events/512164432210368
YouTube: youtube.com/user/AmLibraryAssociation
Flickr: flickr.com/groups/2422196@N23
Pinterest: pinterest.com/alamidwinter