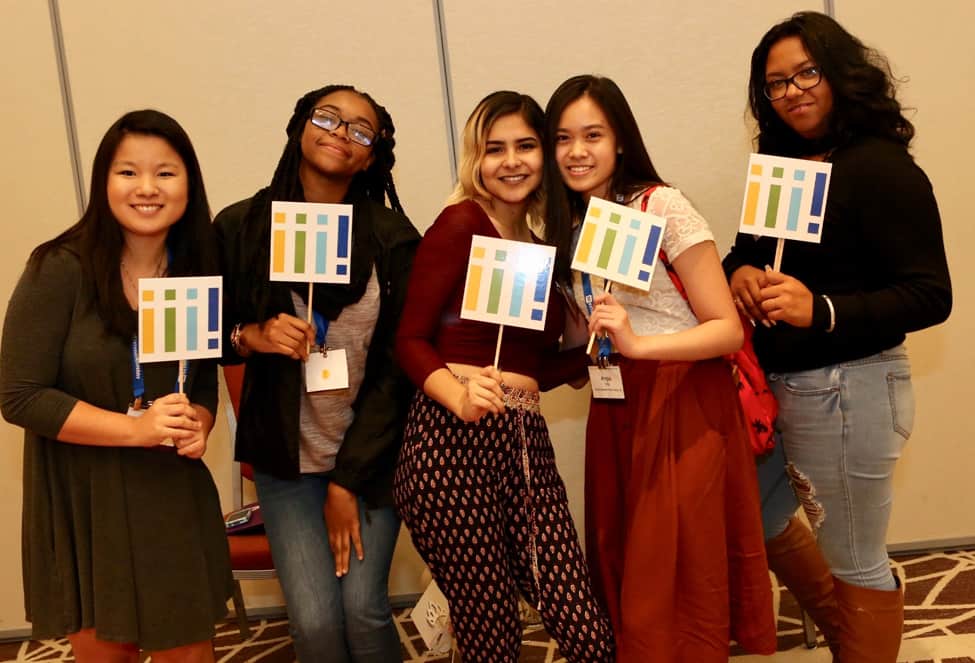 This past summer, the Public Library Association (PLA) piloted the Inclusive Internship Initiative (III), which was designed to present librarianship as a viable career option for the next generation entering the workforce. Not every teenager who participated will become a librarian, but they may be lifelong supporters of libraries.
The program was made possible from a pre-professional Laura Bush 21st Century Librarian Program Grant from the Institute of Museum and Library Services (IMLS). Through III, PLA sponsored paid, mentored public library internships for 50 high school juniors and seniors at 33 host libraries across the US, including two tribal libraries and sites in Alaska and Hawaii.
PLA collaborated with the Young Adult Library Services Association, the American Library Association's Office for Diversity, Literacy, and Outreach Services, and the Association of College and Research Libraries to ensure that the internship provided a well-rounded view of librarianship. With individual guidance from a mentor, each intern engaged with multiple facets of library life, from administration to programming to user services.
PLA recruited interns who reflected the diversity of their local communities.
"Public libraries value equity, diversity, and inclusion, and it is important that these values are reflected in the staff of public libraries, but our profession has struggled to achieve this goal," says PLA Past President Felton Thomas Jr. "To attract the best candidates who reflect the diversity of our communities, we believe it is necessary to build awareness more broadly and to present librarianship as a viable, rewarding, and meaningful career path."
The internship began with a kickoff event in Washington, D.C., in June. Interns and their mentors were welcomed by Thomas and Robert Newlen, then–deputy director of the Library of Congress. Interns received a broad overview of library work through a master class covering such issues as educational paths to library careers and libraries' role in increasing community literacy.
While working at their host libraries over the summer, each intern initiated a project that would benefit both the library and the surrounding community, and the projects they selected were as diverse as the interns themselves. After noticing the lack of college counseling resources in the surrounding school districts, intern José Dionicio started a four-week college preparatory workshop at the Vernon–Leon H. Washington Jr. branch of the Los Angeles Public Library. At the Sand Creek Library in Colorado Springs, Colorado, intern Anastasia Montoya hosted a community discussion to show that the library is a safe place to talk about racial stereotypes.
"The connected learning projects were originally designed to supplement the libraries' existing programs, but they became so much more than that," remarks PLA Deputy Director Mary Hirsh, who oversaw III. "In the end, many of the interns created new programs and initiatives that filled untapped and unexplored community needs."
In October, the cohort of library interns and mentors gathered in Chicago to commemorate III's successful conclusion. Each intern gave a presentation on their summer experiences and connected learning project. The commencement event also featured educational sessions with career guidance for aspiring librarians and an awards ceremony recognizing the outstanding work of interns and mentors. Speakers included 2017–2018 PLA President Pam Smith and Steve Larosiliere, founder and president of Stoked, a youth mentoring organization.
III interns say the experience had a profound effect on them, and several of them have since decided to pursue careers in librarianship.
Nyela Joshua, who focused on making the New Orleans Public Library's services more inclusive of the local homeless population, said, "Participating in this project has ignited in me a passion to support equal access and opportunity to education or knowledge in some way, whether by being involved in spreading information through journalism or privately advocating in my own time."