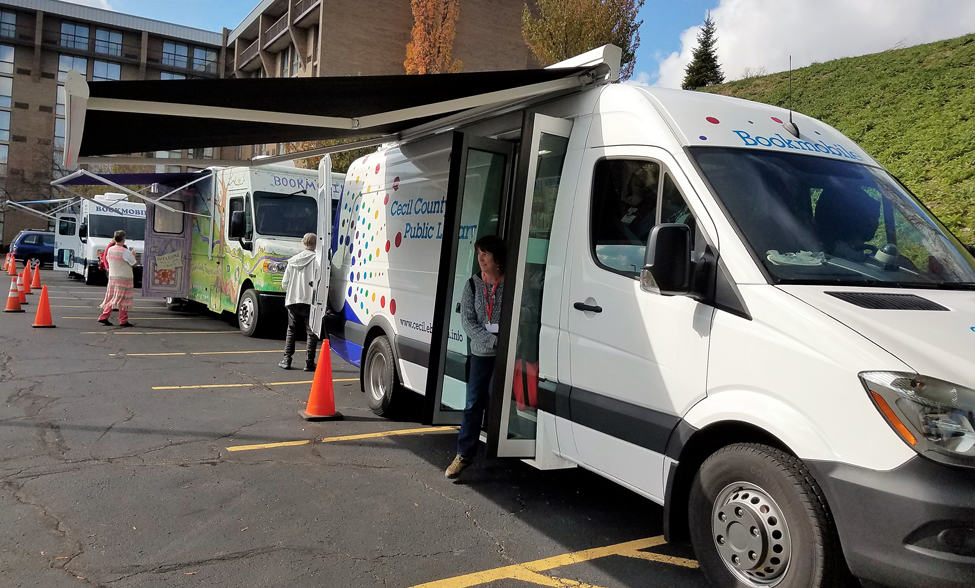 Nearly 230 library staffers—along with 14 bookmobiles and mobile vehicles—gathered in Pittsburgh for the Association of Bookmobile and Outreach Services (ABOS) conference October 25–27. The mood was upbeat and positive as attendees met once again to discuss common bonds and meeting community needs despite shoestring budgets.
ABOS President Ann Plazek opened the conference by reading a proclamation from Pittsburgh Mayor William Peduto declaring October 25 as Association of Bookmobile and Outreach Services Day.
Opening speakers included Mary Frances Cooper, director, and Holly McCullough, assistant director of programs and partnerships, at Carnegie Library of Pittsburgh. They spoke about the lasting legacy of Pittsburgh-based magnate Andrew Carnegie, who helped fund more than 2,500 libraries around the world and made them open to all.
Keynote speaker Titus Moolathara, manager of prison services at the Free Library of Philadelphia, spoke about his work with the community to open new doors through literacy and programming. Mobile Librarian Nuno Marçal Skyped in from Portugal to discuss 50 years of Portuguese mobile libraries and answer questions from attendees.
ABOS @ Night featured a networking event for attendees with dinner, a networking scavenger hunt, and the smooth jazz of Lee Robinson and ISKA. Each morning table talk discussions occurred over breakfast. Attendees explored several styles of bookmobiles in the hotel's parking lot while enjoying lunch on a beautiful sunny day.
Kathleen Butzen, outreach services manager at Aurora (Ill.) Public Library, won this year's John Philip Award, which recognizes outstanding contributions and prominent leadership in bookmobile and outreach services. Special recognition also went to Karen Hake, who is retiring after 50 years of driving bookmobiles for Columbus (Neb.) Public Library.
Closing speaker for the conference was Henry Reese, executive director of Pittsburgh's City of Asylum. The organization began as a global project to provide housing for exiled or endangered writers. As the writers become part of their new community, they collaborate and perform with local artists. There are 60 Cities of Asylum, including three in the US (Pittsburgh, Las Vegas, and Ithaca, New York).
An affiliate of the American Library Association, ABOS supports and encourages government officials, library administrators, trustees, and staff in the provision of quality bookmobile and outreach services to meet diverse community information and programming needs. To become a member and learn more about ABOS, please visit www.abos-outreach.com. The 2018 ABOS Conference will be held October 17–19 in Raleigh, North Carolina.