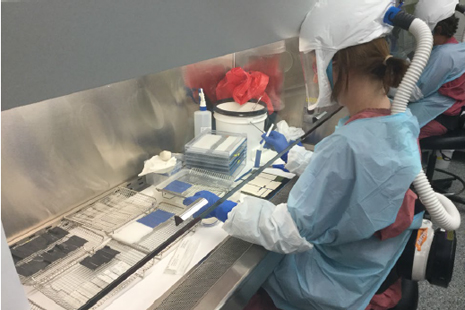 The COVID-19 crisis has raised questions that library and museum workers have never had to ask themselves before: How long does a virus last on materials?
What about stacked books versus unstacked books? Or paper-based collection materials versus plastic-based items? How long should materials be quarantined? Are some materials safer to circulate than others? How can we mitigate exposure to staff and visitors? Is it safe to reopen?
The REopening Archives, Libraries, and Museums (REALM) project aims to make these questions easier to answer. REALM—a collaboration among organizations OCLC, the Institute of Museum and Library Services, and science and technology development nonprofit Battelle Memorial Institute—has been conducting research since April 22 on how long the COVID-19 virus survives on materials common to libraries, archives, and museums.
The project, which will continue until September 2021, includes three phases. The first phase (May–August 2020) involved research on high-priority materials and workflows. In the second phase (June–October 2020), researchers are studying materials and workflows not addressed in Phase 1 but still important to the function of archives, libraries, and museums. The third phase, scheduled to begin in October and run through September 2021, involves monitoring and reviewing emerging research. Four sets of test results have been announced as part of Phase 2.
New results
In Test 4 results, announced September 3, scientists found that COVID-19 is still detectable after six days on four common library materials when they are stacked: the covers of hardcover books (buckram cloth), the covers of softback books, DVD cases (polypropylene), and Mylar protective book cover jackets. This is a significantly longer attenuation period than had been detected on similar materials when they were not stacked.
"The findings in this latest test strengthen the need for the continued coronavirus research we are conducting," said Will Richter, principal research scientist at Battelle, in a September 3 press release. "We have to approach each situation with an open mind and determine next steps based on the data generated."
Previous test results
Test 3's results, released August 18, examined a storage bag (flexible plastic), storage bin (rigid plastic), plexiglass (acrylic), DVD (polycarbonate), and talking book USB cassette.
The good news from this test: After five days of quarantine in an unstacked configuration, the virus was not detected on the storage bag or the DVD. However, the storage container, plexiglass, and the USB cassette all showed detectable virus at five days.
The Test 3 data suggests that these plastic-based materials may need to be left alone longer. However, because these materials are nonporous, liquid disinfection methods may decontaminate them more quickly than quarantine.
Test 2, released July 20, examined Braille paper pages, glossy paper from a coffee-table book, magazine pages, a children's board book (coated cardboard), and archival folders. Results showed that after two days of quarantine in a stacked configuration, the virus was not detectable on the archival folders. After four days, the virus was not detectable on the Braille pages, glossy book pages, and board book. Magazine pages still showed traces of the virus at four days.
The first test, released June 22, used the same materials as Test 4, except they were unstacked instead of stacked. The virus was not detectable on the materials after three days of quarantine.
While the REALM project is not giving recommendations or guidance, researchers are providing data that will help institution staffers make decisions for their specific situations. "There is still a great deal that we don't know about the coronavirus and its spread," said Skip Prichard, OCLC president and CEO, in the September 3 press release. "Our goal is to add to this knowledge in ways that help libraries, archives, and museums plan with greater confidence as they reopen and put in place processes to better protect their users and their staffs."