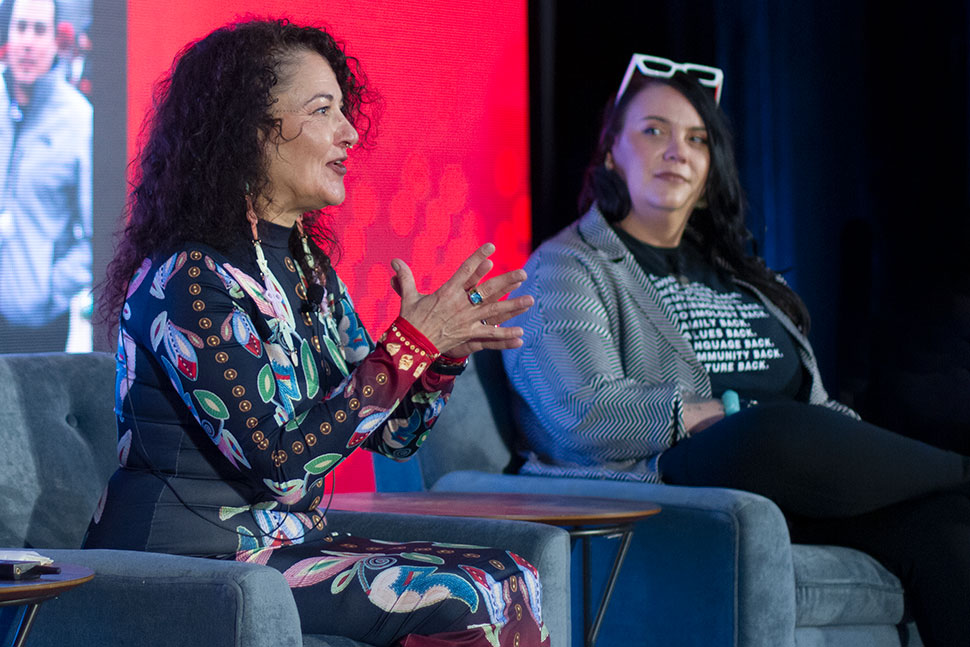 With their forthcoming children's book My Powerful Hair (Abrams Books for Young Readers, March), author Carole Lindstrom and illustrator Steph Littlebird wanted Native youth to have the kind of representation they themselves didn't have as kids.
"I grew up very torn and tormented," Lindstrom told attendees at the American Library Association's 2023 LibLearnX conference on January 28. Lindstrom, who is Anishinaabe/Métis and an enrolled citizen of the Turtle Mountain Band of Ojibwe, recalls reading—and loving—Laura Ingalls Wilder's Little House on the Prairie series as a child. But she was devastated to discover that Wilder depicted Native people as savages and wild. "But I like Pa!" Lindstrom remembered thinking.
Littlebird, an enrolled member of Oregon's Grand Ronde Confederated Tribes, had a similar experience: "When I was a kid, the only Native person I [saw in media] was Pocahontas from Disney, and she didn't look like any of my aunties. That version of Pocahontas is a disservice to the actual person."
So Lindstrom decided to write an ode to hair, a powerful symbol in her community. "Your hair is your connection to the culture, to the earth," she said. "Your hair is a living scrapbook."
But hair is also a symbol of a much a darker legacy among families like Lindstrom's own. She was inspired by a photograph of her grandmother and great aunt wearing smocks with their hair cut short. "They look very sad [in that photo], like their spirit had been taken from them," she said. "I didn't understand that photo, but it really bothered me. And my mom said that's when they were sent to Indian boarding school."
American Indian boarding schools, which came to prominence in the late 1800s, were an invention of white people who wanted to "civilize" Native people. They did this by kidnapping Native children, cutting their hair and making them wear uniforms (among other tactics to isolate them from their culture), and forcing them to do manual labor. Native families had to pay for their children to go these schools even though attendance was made compulsory by the government.
"That cutting of the hair—that is such a dehumanizing process, particularly to a child," Littlebird said. "The history of the boarding school in America is a really painful history that many people don't know about." Littlebird noted that one such boarding school is still operating in Salem, Oregon. "America has not reconciled with this history like Canada has."
Lindstrom said the pain of these boarding schools is impossible to shake. "We still suffer the intergenerational traumas from this," she said. "[But] we are still here, and we are writing books!"
It is the hope of Lindstrom and Littlebird that My Powerful Hair—a book about family, self-expression, and reclaiming one's identity—will bring much-needed visibility to the Indian Child Welfare Act (ICWA) of 1978. ICWA, a federal law that protects Native children from being systematically removed from their homes and communities in foster care and adoption cases, is in danger of being overturned by the US Supreme Court. The court is expected to rule on the law's constitutionality this year.
"ICWA is just the first domino," said Littlebird, who believes the case has implications for tribal sovereignty overall. "This whole thing is crazy because it's literally going to undo our entire existence. [The trauma] is literally about to be done to us again."
Still, Lindstrom and Littlebird know stories like theirs are essential. "Most people think Native people don't exist anymore," Littlebird said. "That's why we have to say, 'Hey, we're still here!'"