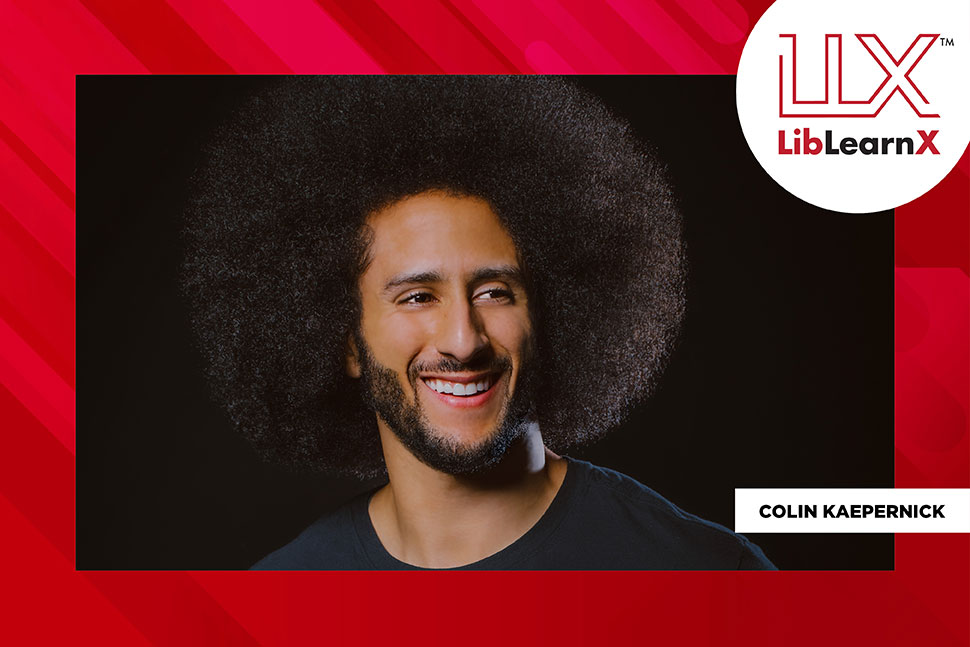 Athlete and civil rights activist Colin Kaepernick had two simple words for library workers: thank you.
"Thank you for being our community anchors. Thank you for being our explorers, protectors, and curators of information. Thank you for being our defenders in the struggle against censorship," Kaepernick told attendees at the start of "Voices of Change," the closing session of the American Library Association's inaugural LibLearnX virtual conference on January 24. "And thank you for being unshakable stewards of knowledge—knowledge that can challenge the status quo as we build a new world together."
Challenging the status quo is something the former NFL quarterback and Know Your Rights Camp founder knows a bit about. In 2016, Kaepernick gained national attention when he kneeled during "The Star-Spangled Banner" anthem before a preseason game "to bring attention to the anti-Black terrorism being inflicted upon our communities by the police," he said. That simple action kicked off a movement and put him on a path of activism.
"Many forces led me to take that first step, but central among them was the act of reading itself," Kaepernick said. He credited the work of Angela Davis, bell hooks, Assata Shakur, and Malcolm X with shaping his political consciousness and compelling him to act.
"We know white supremacy is not limited to politics or policies. It also shows up in culture, it shows up in stories," he said. With that in mind, he started Kaepernick Publishing in 2019 to highlight diverse, justice-minded views and voices.
He edited the imprint's first selection, Abolition of the People: The Movement for a Future without Policing and Prisons (2021), which features more than 30 essays that argue police and prisons serve the interests of white supremacy and should be abolished and replaced with systems that support health, safety, and freedom.
The second title from Kaepernick Publishing is the forthcoming I Color Myself Different (April), a picture book authored by Kaepernick that was inspired by a significant memory from kindergarten. "I drew my white adoptive parents, brother, and sister with a yellow crayon. And then I colored myself with a brown crayon," he said. "It was the day I chose to embrace my authentic self, and it's a choice I've continued to make in my adult life."
But Kaepernick knows that representation is just the beginning. "It's important to acknowledge that producing stories that accurately represent and honor our communities is only a start," he said. "We also need to focus our attention on structural changes."
White supremacy and anti-Blackness have been built into library systems and practices, Kaepernick said, from staff recruitment to career development to information literacy frameworks themselves. "ALA has already done some laudable work in this area, with its resolution to condemn white supremacy and fascism as antithetical to library work," he said. "My hope is that this resolution can serve as a springboard to ensure that libraries are spaces where all Black and Brown people feel that they belong."
Kaepernick continued: "I challenge us to rethink what type of documentation should be required to apply for a library card. I challenge us to rethink the purpose of overdue fine policies. And I challenge us to get cops out of libraries."
He pointed to St. Louis (Mo.) County Library as an example of a system that is critically evaluating its policies to be more just. In 2020, staffers organized to demand that the library cancel its private security contract and reallocate the money to hire social workers and provide staff with de-escalation and restorative justice training.
"These are the very types of interventions that can make a difference in signaling who is welcome and who belongs in libraries," Kaepernick concluded. "I want you to know the value of your work cannot be understated; in fact, our lives and liberation depend on it."