On Friday afternoon, ALA President Barbara Stripling kicked off the 2014 ALA Annual Conference and Exhibition at the Opening General Session, where she recapped many of the big events from her presidential year. In addition to announcing that the Declaration for the Right to Libraries had acquired more than 100,000 signatures, Stripling discussed the two-day Summit on the Future Of Libraries that took place in Washington, D.C., May 2–3, and ALA's new Center for the Future of Libraries—which is meant to help libraries identify emerging trends, build relationships with experts, and create an Association-wide incubator for experimentation.
"What happens in Vegas stays in Vegas," Stripling said. "But I'm hoping when you get home, you'll share everything that you've learned from and at Conference with your friends, colleagues, and communities."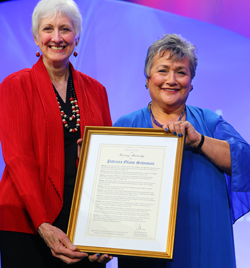 Stripling thanked the ALA Ambassadors, past ALA presidents, the ALA Executive Board, and conference sponsors. She also awarded a citation to ProQuest for its involvement with the Spectrum Scholarship Program, and presented Herb Krug with this year's Freedom to Read Foundation Roll of Honor Award and Patricia Glass Schuman with Honorary Membership, the Association's highest honor. She then introduced the session's keynote speaker, alternate-reality game designer Jane McGonigal.
An avid gamer herself, McGonigal cited a Gallup poll that found $3.1 trillion is lost in the global economy annually because workers do not feel engaged in their work, and statistics showing a downward trend of students feeling less engaged the longer they stay in school.
People want the chance to engage, develop skills and abilities, and to connect with other people who do the same, she said. According to McGonigal, 7.1 billion hours per week are spent playing games. The gender gap between boys and girls playing games has all but evened out—with 99% of boys playing games for more than an hour a day, and 94% of girls.
McGonigal's research has shown that the top 10 emotions people feel while gaming are all positive, and include joy, relief, love, contentment, and creativity. People associate games with violence, but games actually allow gamers to feel like they're part of something bigger than themselves, she said. People want to see their creative agency have an impact on the world.
These positive emotions have long-term effects, McGonigal argued, because games help people develop emotional resilience by allowing them to: stay engaged in life even in difficult situations, set more ambitious goals, and collaborate more with others.
McGonigal cited Brian Sutton-Smith, the dean of Play Studies at the University of Pennsylvania, who said the opposite of play isn't work—it's depression. She said that there is now neurological proof that games encourage optimism and activity, contrary to the stereotype of games making people lazy or disengaged.
"You have to play the game to get the benefits," she said. "Games are designed for us to be bad at them at first, but we progressively get better."
McGonigal said that the caudate, thalamus, and hippocampus regions of the brain are activated when playing games; activity of all three is the clinical opposite of depression, and McGonigal argues that gaming is a more effective treatment than pharmaceuticals.
So what can we do to engage a generation to deal with real problems? McGonigal asked. She cited examples like FoldIt, a protein puzzle that researchers use to help solve medical problems like cancer in a game very similar to Tetris. Researchers asked gamers to solve 10 medical issues that scientists had already fixed; six out of 10 times the gamers solved the problem faster than a supercomputer. Now researchers are giving gamers new, unsolved problems to unravel. Some have been solved in 10 days.
Other instances of games being used to solve real-world problems include people in New Zealand reaching out to gamers to help protect the forest, or translating whale sounds into English. McGonigal shared that Minecraft is being used in different communities to reimagine what to do with an empty lot.
Find the future @ the library
Inspired by the 2011 centennial celebration of the Schwartzman branch of New York Public Library, and thinking of the collaboration that happens in games like World of Warcraft, McGonigal got the idea to create a project where people could collaborate and be inspired by the physical space of a library.
Thinking of a goal that would inspire people to collaborate, McGonigal did some research and discovered that 90% of people want to write a book. So she created a game where participants would collaborate, write a book, and make a lifelong dream come true. Calling the project "Find the Future: The Game," McGonigal conceived that the game would be played for an entire year, and that the first day would take place from 6 p.m.–6 a.m., May 20, 2011, at NYPL. To apply, participants had to write an essay; 10,000 people applied but only 500 were selected. Once inside, participants went on a treasure hunt for 100 world-changing artifacts that lived at the library, including a copy of the Declaration of Independence.
Included with each artifact was a secret tidbit of information that participants had to find, like a scavenger hunt, so that they could see the process of history changing the world, McGonigal said. Participants then wrote their own declaration and had to get 56 other people to sign it.
With the support of editors from New York Magazine and New York publishers, as well as a man in Brooklyn who specializes in medieval book binding, all the declarations were put together at the end of the night into 100 Ways to Make History, Volume 1. Staff at NYPL had promised McGonigal that they would include whatever came out of this project in their general collection; instead, they put 100 Ways into their rare books and manuscripts collection, in a case next to the copy of the Declaration of Independence, with a promise to keep it there as long as New York City is standing.
When you play a game, the rules change, McGonigal said.
---
See, hear, and read more about what's going on at Annual—in real time and after.
Twitter: @alaannual and #alaac14
Facebook: https://www.facebook.com/events/489205011101981/
YouTube: http://www.youtube.com/user/AmLibraryAssociation
Flickr: http://www.flickr.com/groups/alaac14/
Pinterest: http://pinterest.com/alaannual/
Tumblr: http://ala-con.tumblr.com