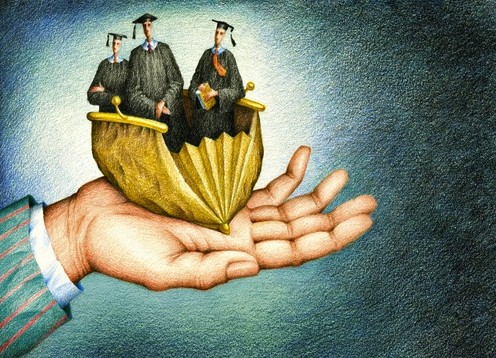 Michelle Singletary, financial columnist for the Washington Post, had the audience at ACRL's President Program singing and swaying to Bill Withers's "Lean on Me" as she talked about how librarians can lean on experts to assist in offering financial literacy programs for college students.
Outgoing ACRL President Trevor Dawes, who introduced the program, has focused his presidential initiative on the issue of financial literacy.
"What I know about finances," said Singletary, "I learned from my big mama (her grandmother), who never made more than $13,000 a year. But not everyone has a big mama."
In fact, she said millennials are a "downwardly mobile generation," which means librarians are well poised to help them learn how to better manage, budget, and spend their money.
Unfortunately, 71% of college graduates have an average debt of $29,400. And personal finance has become more complicated as pensions have disappeared and savings plans have grown more diverse. "Personal finance is like rocket science; it's hard and complicated," she said.
She exhorted the audience to be entertaining, be engaging, and be enlightening in their programs. "This is one of the greatest issues for this generation. I have three children, and I want them to get this because I want them to leave my house," she quipped.
But to teach students, it takes more than one workshop, Singletary said. "You have to change people's minds before you can change people's behaviors."
Along with Singletary, David Eisler, president of Ferris State University, talked about ways to engage students in financial discussions and decisions, from involving the university financial officer to offering Money Week games and programs.
"Going to college is about learning something, but it is also to get out," Eisler said. "The goal should be to graduate (not taking loads of nonessential courses to their degree program). They'll do better and control costs better on campus than off campus, too."
The untold story about student debt, he said, is that student debtors carry a heavier overall debt load and are more likely to owe on cars and credit cards. "It goes well beyond the student loan debt."
He also said there was not enough conversation with students after they received their undergraduate degree and were about to embark on more debt for a master's program. He suggested students get a job in between these degree programs. In addition, he said, "It's vital to lower the cost of textbooks," preferably by offering open access books to students.
Other suggestions the panelists had were to look to the US Consumer Financial Protection Bureau's "Know Before You Owe" site and to visit the Federal Trade Commission website.
"Student debt is not a library program, a president's problem, a student's problem," said Eisler. "It's everyone's problem."
Sharing best practices for financial literacy can be found at bit.ly/ACRL-finlit
---
See, hear, and read more about what's going on at Annual—in real time and after.
Twitter: @alaannual and #alaac14
Facebook: https://www.facebook.com/events/489205011101981/
YouTube: http://www.youtube.com/user/AmLibraryAssociation
Flickr: http://www.flickr.com/groups/alaac14/
Pinterest: http://pinterest.com/alaannual/
Tumblr: http://ala-con.tumblr.com