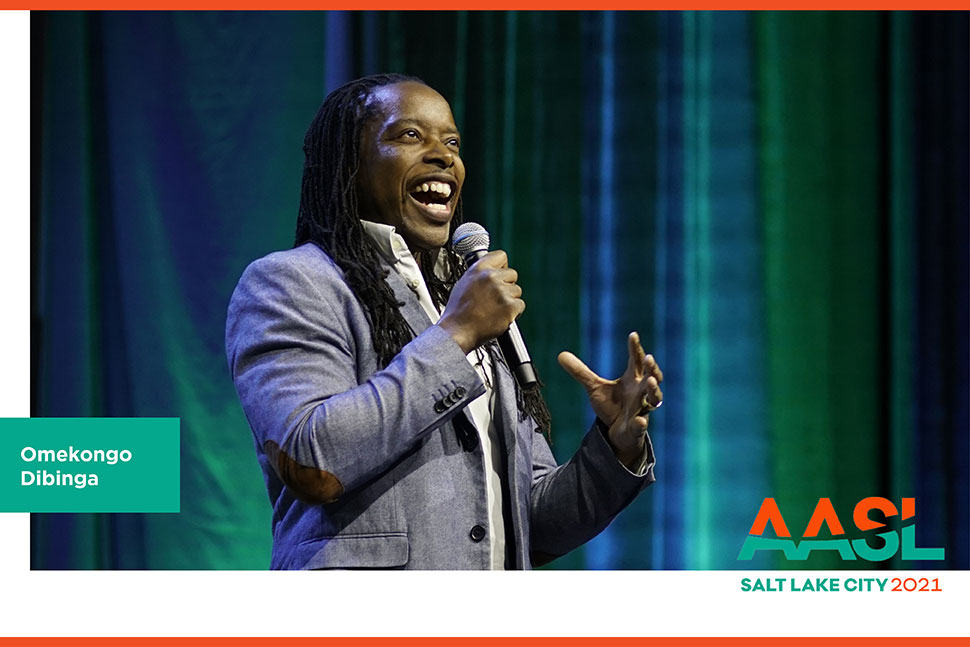 The excitement was palpable at the opening session of the 2021 American Association of School Librarians (AASL) National Conference in Salt Lake City on October 21. AASL's first gathering since COVID-19 upended life around the world, the conference was an opportunity for many colleagues to see each other in-person for the first time in almost 18 months. But amid the laughter and greetings, conversations emerged about the challenges school librarians have faced during the pandemic. Lessa Kanani'opua Pelayo-Lozada, adult services assistant manager at Palos Verdes Library District in Rolling Hills Estates, California, and 2022–2023 president of the American Library Association, acknowledged the troubled status quo at the beginning of the session.
"It's been a chaotic time, to say the least," Pelayo-Lozada said. "And we all deserve to enjoy our time here, especially because the weight that you all have carried for your students, yourselves, and your colleagues over the last year and a half is a heavy one with difficult decisions, a lot of empathy, probably a fair amount of burnout, and a whole lot of advocacy."
Keynote speaker Omékongo Dibinga, an author, motivational speaker, and professorial lecturer at the School of International Service at American University in Washington, D.C., emphasized self-care. He said that positive mental health and working to one's highest potential are vital for both school librarians and their students to thrive in a world filled with disinformation.
"To do the work today, it's going to take no less than your best self," Dibinga said. "Ninety-nine and a half [percent] won't do in the time that we're living in right now, in order to do the work that needs to be done, in order to take our schools, our community, and our students to the next level." Getting to that level is a challenge, he said, especially when libraries and schools are threatened by individuals and organizations that wish to stifle knowledge.
"I get frustrated because I see how you are all under attack in terms of what's going on in our society today," Dibinga said. "I see how you are extremely frustrated and just downright angry at the assault in this country on knowledge." He blamed the media for much of this; he said outlets create echo chambers that stifle intellectual curiosity and the consideration of divergent perspectives. By following four steps based on the acronym G.R.O.W. (give, release, overcome, win), he noted, school librarians and their students can escape from such limited mindsets.
Give: Librarians must give themselves time to refresh and recharge daily, Dibinga said. A healthy morning routine is critical, as that sets the tone for the day. He recommended not watching television news upon waking as it's "only three things: death, weather, and traffic." And when news is consumed, he stressed the importance of seeking out a variety of news sources to ensure a diversity of thought.
Release: Dibinga said that people must release preconceived notions that perpetuate racism, bigotry, and division, which can also indirectly affect things like collection development. A librarian with a bias may be reluctant to purchase books featuring views or people they may disagree with, he said. "We have to fight ignorance on the outside, but we also have to fight it on the inside."
Overcome: Librarians must overcome any fears or apprehensions to do this work, Dibinga said. It's natural to be concerned about repercussions for taking a stand, but not doing so will negatively affect kids' futures, he explained. Dibinga said that he was shocked that several students in his college courses over the years were ignorant of many key developments in Black American history, like the 13th Amendment (which abolished slavery except as punishment for a crime), simply because they hadn't been taught about it in their youth. School librarians can prevent such learning deficits, he said.
Win: "We have to believe that we will win if we don't give in," Dibinga said. The work will be hard, especially while navigating new learning environments created by the pandemic, but school librarians are ready for the fight. "You are primed to lead the charge," he said.