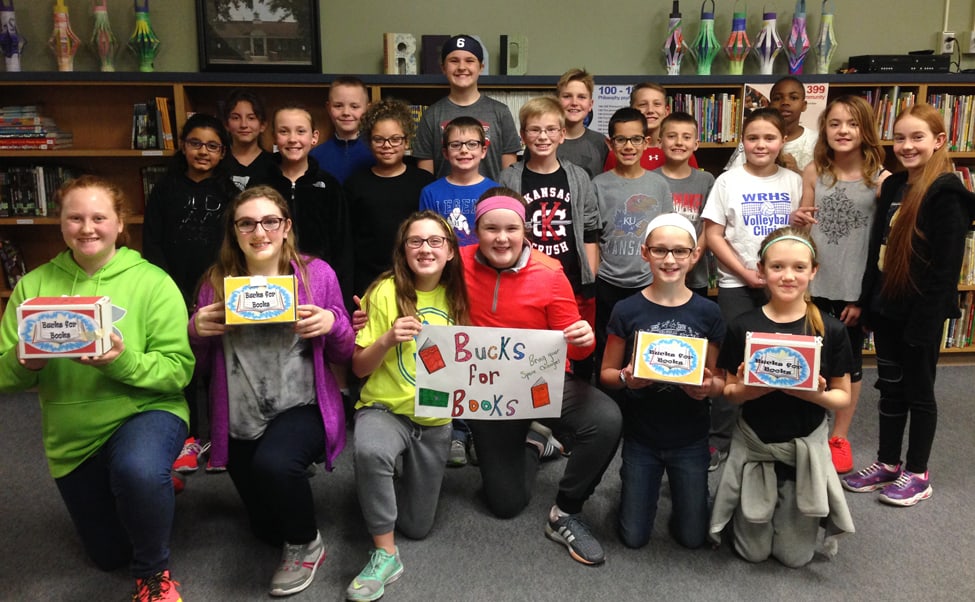 Throughout February, students at Wanamaker Elementary School in Topeka, Kansas, brought pennies, nickels, dimes, quarters, and dollars to class for the school's annual Bucks for Books fundraiser, now in its fifth year.
"We tie some education with it," says Alice Reinert, school librarian at Wanamaker. "It's geared to help our younger students learn their coins. And it's also to try to get them service minded."
February is also when Wanamaker holds its Book Fair, so the month was a celebration of books and literacy, Reinert says.
At the end of the three-week fundraiser, students raised a little more than $1,600, and they decided to donate $2,000 to the American Library Association's (ALA) Haiti Library Relief Fund. That money includes $1,000 from this year's fundraiser and $1,000 from last year's, which hadn't yet been disbursed. The remaining $600 was divided between the library at Topeka Rescue Mission, a local homeless shelter, and the Wanamaker Elementary library.
"[Students] liked the idea that it was going to support literacy all the way, 100 percent," Reinert says. "They wanted to not just help a local cause, and not just here in our own school, but they wanted to go far globally."
ALA Haiti Library Relief Fund
ALA created the Haiti Library Relief Fund in 2010 in response to the earthquake that destroyed nearly 4,000 schools, displaced 1.5 million people, injured 300,000, and killed an estimated 220,000–316,000. The epicenter was merely 16 miles west of the capital city of Port-au-Prince.
In 2005, ALA had organized relief efforts for Hurricanes Katrina and Rita in the US, and so the Association decided to also create a fund for Haiti to rebuild libraries and archives damaged or destroyed.
Michael Dowling, director of ALA's International and Chapter Relations Offices, says the Haiti quake happened during the Association's annual Midwinter Meeting, held that year in Boston: "And so obviously there was a lot of interest from those people in that conference that we needed to do something, and there was fundraising that went on during that conference."
Since the fundraiser began in 2010, ALA has raised and distributed $70,000 from the library community, including Arlington (Va.) Public Library; the library at New Trier High School in Winnetka, Illinois; and Mill Valley (Calif.) Public Library.
With the funds, ALA was able to help rebuild the Bibliothèque Haïtienne des Pères du Saint-Esprit, the Petit Goave Public Library, and the Centre Culturel Pyepoudre Community Library. ALA also organized efforts so groups could adopt a library in Haiti or volunteer.
The funds go toward not only rebuilding but also buying collections materials, supplies, book carts, and new books by Haitian authors.
"That's the other advantage," says Dowling. "The money goes to helping purchase books in the country—buying books from publishers in Haiti that then help the whole economy, as opposed to giving donated books from outside."
'It was really fun'
At Wanamaker Elementary School, the class at each grade level that raised the most money would earn an extra recess in April or May. The winning class—Mrs. Byrd's 6th grade class—won a free lunch from local restaurant Freddy's.
Student Council President Lillian Clark, a 6th grader, says it was it was an exciting campaign.
"It was really fun," she says. "In [student council], we each had our own different classes that we were responsible for in the whole school. And so every day, we went down to each of the classrooms and emptied out the money boxes and brought them back to the library and put them in bags, and that was our responsibility every day."
One memorable moment was when one of the teachers donated a $100 bill to Clark's class.
"We are so fortunate to raise so much money, and we really just wanted to give it back," Clark says about the campaign.
Dowling says the fundraiser shows that the kids understand the value of libraries.
"Their donation goes way beyond the monetary piece," he says. "It makes a big difference in how people view libraries in Haiti."