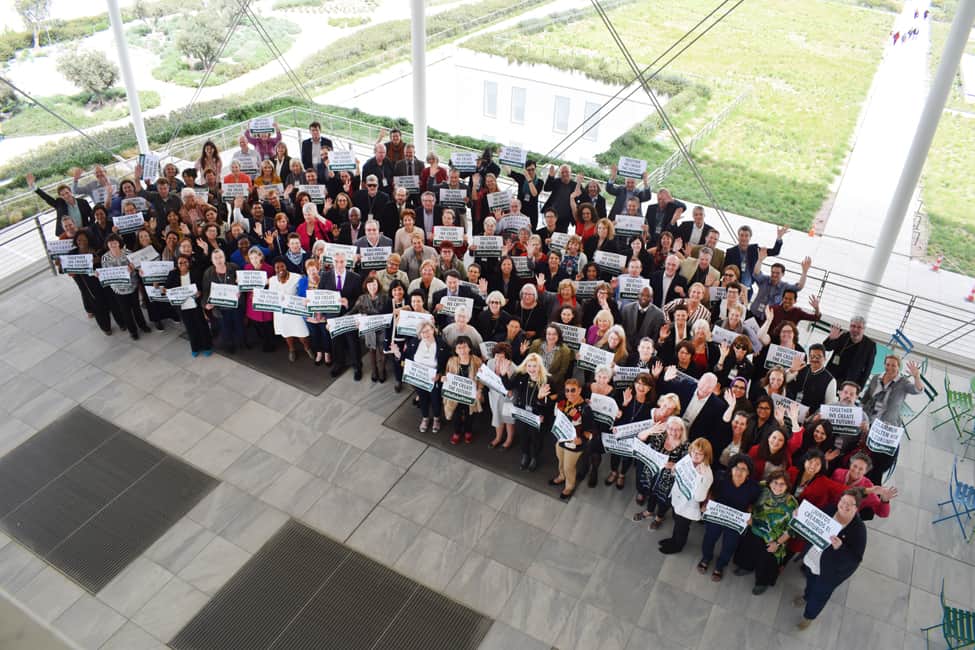 Librarians from around the world gathered in Athens, Greece, April 4–5 to kickstart a global vision for libraries. The meeting was part of a series convened by the International Federation of Library Associations and Institutions (IFLA) that continues with regional workshops in May and June. The two-day Global Vision Workshop followed the IFLA President's Meeting, which featured diverse speakers who outlined societal, global, and technological trends.
"Today we begin a very important journey," said IFLA President Donna Scheeder, stating that the issues facing libraries today require "individual commitment to a collective and joint response to achieve a common vision. If we are to succeed, we must act."
The opening speaker for the President's Meeting, Dave Snowden, founder and chief scientific officer at Cognitive Edge, set the tone for the meeting by asserting that "until you change the way people think about past and present, there is no future." He offered examples of how to create this change via citizen ethnography and research about the making of meaning. He also cautioned attendees about the limits of pattern recognition, the dangers of overspecialization, and deterministic goal-setting. "If you have specific targets, you miss opportunities along the way. We have become more focused on measurement than what is measured," he said.
Snowden advocated small-scale and energy-efficient experiments to best prepare for change. "Evolution is about luck, not the fittest. Cultivating the ability to see the inconsequential is key to innovation, and librarians are the custodians of the inconsequential," he said in advocating for managed serendipity and the ability to cultivate skills to recombine and repurpose in novel ways.
While Snowden argued that we've never lived in a fact-based society, "fake news" and its internet-based proliferation was a topic throughout the sessions. Futurist and science fiction author Karl Schroeder framed this theme as the "antilibrary." The antilibrary is characterized by speed, efficiency, dematerialization, and equality—meaning all information is treated the same, and there is no way to establish authenticity or authority. "The cancer of information is that it contains no knowledge," Schroeder said. Another, perhaps predictable, thread throughout the conversations was the importance of materiality—including physical collections, buildings, and people—in an increasingly digital world. Schroeder also discussed how libraries might localize global concerns and serve as portals for contextualizing and sharing global knowledge within a local context.
Other speakers included Anriette Esterhuysen, executive director of the Association for Progressive Communications in Melville, South Africa; Vassilis Haralambidis, founder and artistic director of the Bios cultural center in Athens; and Ivan Owen, manager of the University of Washington Bothell's Makerspace Lab. With Q&A sessions and table discussion questions, the President's Meeting led into two days of open-ended questions and exploration.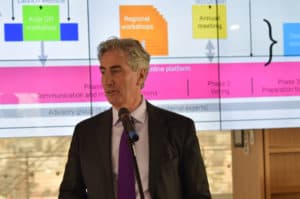 The Global Vision Workshop that followed included a series of discussions around library values and strengths, challenges facing the profession and society, and potential solutions as part of developing a global vision for a united library field. Librarians, library educators, and libraries of all types were included and represented.
"We firmly believe that only a unified and connected library field will be able to fulfill the true potential of libraries: to build literate, informed, and participative societies," said IFLA Secretary General Gerald Leitner.
Library professionals can join the effort by organizing, facilitating, or promoting Global Vision meetings in coming months and participating in online voting on the vision in August. Track the conversation at #iflaGlobalVision (Twitter and Instagram) or visit globalvision.ifla.org. The vision report is scheduled for release in January 2018.