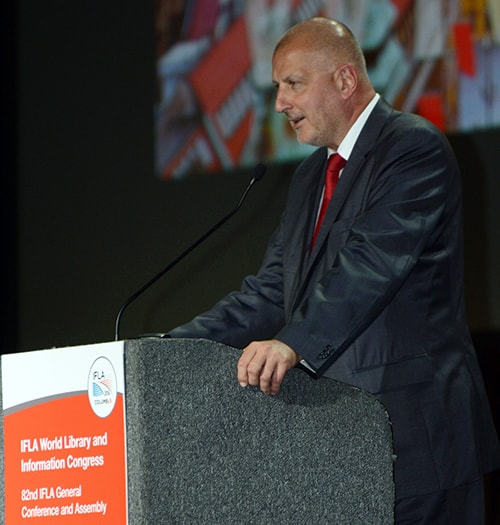 The 82nd General Conference and Assembly of the International Federation of Library Associations and Institutions (IFLA) World Library Information Congress (WLIC) wrapped Thursday evening at the Greater Columbus Convention Center in Ohio, with awards, addresses, announcements, and a special invitation to join the delegation in Wrocław, Poland, in 2017.
"I'm happy to say I saw action at this meeting and a commitment to positive change," said IFLA President Donna Scheeder at the Closing Session.
Annual awards
Maria-Carme Torras i Calvo, chair of the Professional Committee, presented the Professional Committee Award to two sections this year. "The jury really struggled to selection just one winner," she said. The Public Libraries Section and the New Professionals Special Interest Group shared first-place honors. A runner-up, the Knowledge Management Section, was also recognized.
Best IFLA Poster 2016 was awarded to Saule Shingaliyeva and Kabiba Akzhigitova of the East Kazakhstan Regional Public Library, for their "Readers are Leaders" poster.
IFLA Scrolls of Appreciation were extended to Dorothy McGarry, for distinguished service to IFLA and global librarianship; James G. "Jim" Neal, ALA president-elect, for his contributions to copyright and legal matters; Lynne Rudasill, for exemplary service to IFLA and linking expertise within development units; and Jacinta Were, for support of development of librarians and as a pioneer of computer technology in Kenya and Africa.
The IFLA Medal was awarded posthumously to Antonio M. "Tony" Santos, director of the National Library of the Philippines, for international librarianship and contributions to leadership across Asia, and to Gordon Dunsire, for his distinguished service to IFLA, international librarianship, and advancing bibliographic data, linked data, and the semantic web.
IFLA's highest distinction, Honorary Fellow, was awarded to Jennefer Nicholson for her service to the organization for the past 18 years, in her former role as IFLA Secretary General, and in working with different sections. Nicholson, who is from Australia, was nominated by peers and helped to establish a secure financial situation for the federation. "Libraries can always be part of the future," she said when accepting her award.
Announcements and acknowledgments
IFLA WLIC 2018 will be held in Kuala Lumpur, Malaysia. Delegates from that country applied to host the conference three times since 2008, and Nafisah Ahmad, director general of the National Library of Malaysia, said her library community "never lost heart." She invited the audience to come explore a "warm and friendly country that enjoys a tropical climate all year long" replete with heritage sites, rain forests, modern infrastructure, and an award-winning convention center.
Rafal Dutkiewicz, mayor of Wrocław, Poland, and Tomasz Makowski, director general of the National Library of Poland, extended an invitation to the audience to come to IFLA WLIC 2017. Dutkiewicz joked, "We're a city located between Columbus and Kuala Lumpur."
Patrick Losinski, CEO of Columbus Metropolitan Library, and Carol Diedrichs, Ohio State University's director emeritus of university libraries, cochairs of the IFLA WLIC 2016 National Committee, thanked the planning committees and many volunteers who made this year's conference possible. They presented Dutkiewicz and Makowski with a set of bookends made from granite used in the construction of the Ohio Statehouse.
In closing
Scheeder renewed her call to action to librarians, to make their field strong by supporting access and opportunity for all. She identified challenges in the cost of resources and keeping information sustainable, and mentioned how libraries can contribute to the United Nations 2030 initiatives.
"What went on here must become a movement," said Scheeder.
Save
Save