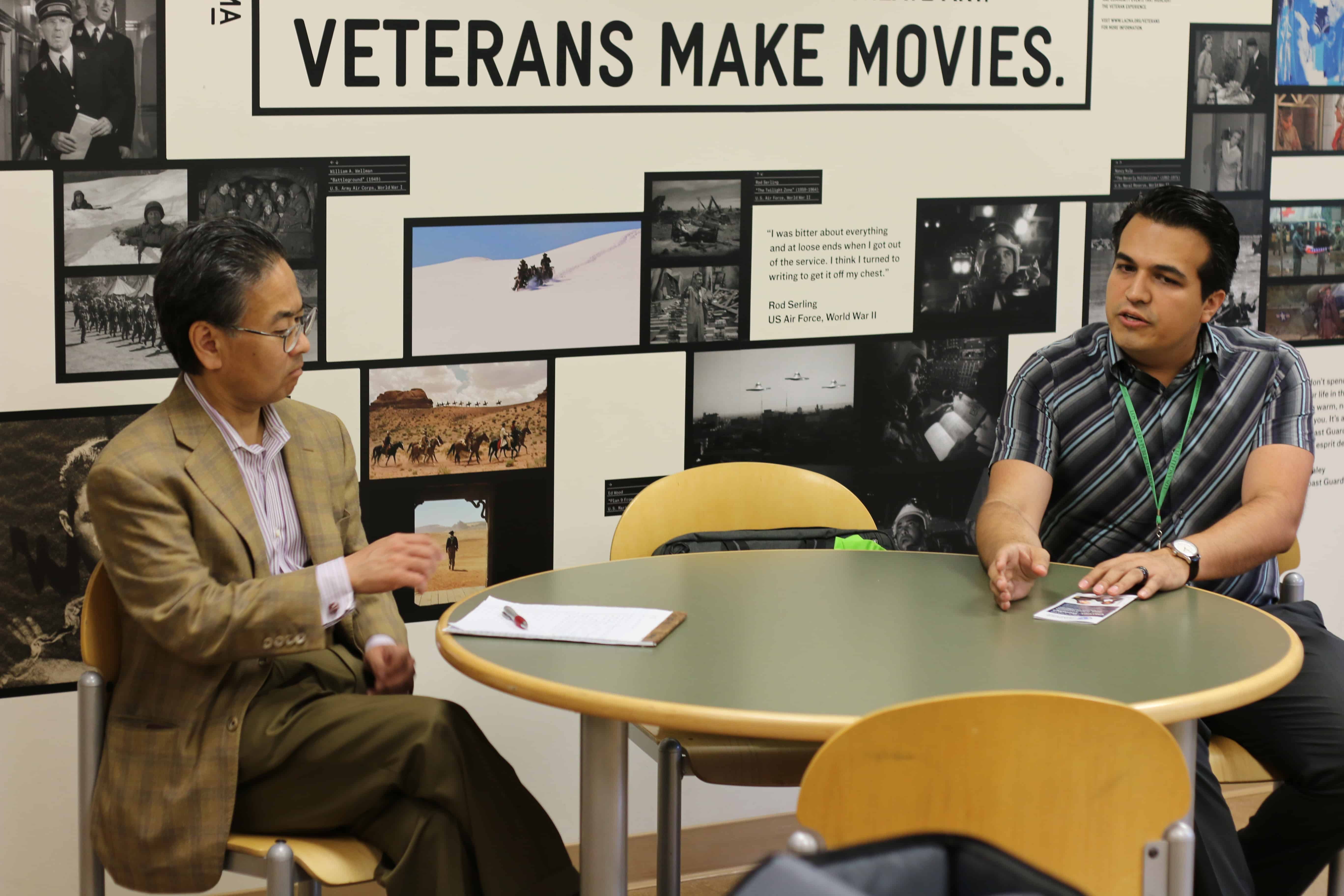 One of the American Library Association's (ALA) Office for Information Technology Policy's (OITP) major projects is preparing for the next presidential administration, and one of the issues on which we're focusing—veterans and military families—is a stated priority for both the Trump and Clinton campaigns. OITP is developing a three-page document to brief the campaigns and transition staffs as well as national policy advocates about how and why libraries can help reach and provide assistance to veterans.
While collecting information for this document last week, I had the pleasure of visiting a Veterans Resource Center—one of 10 in the Los Angeles Public Library (LAPL) system—at the LAPL's Exposition Park branch. Many thanks to LAPL Adult Service Librarian Edwin Rodarte and veteran volunteers Paola Martinez and Veronica Hansel for briefing me and answering my many questions.
What does the Veterans Resource Center do? The official statement:
"Veterans and their families can meet with trained volunteers, who are veterans themselves, and get connected to information and resources regarding health, education, employment, housing, and other benefits that they may be entitled to."
Center staff members help veterans obtain health, education, and other benefits from the US Department of Veterans Affairs (VA). Assistance ranges from getting a replacement DD Form 214, the Certificate of Release or Discharge from Active Duty (without which a veteran can obtain no benefits), to detailed questions relating to the proper VA entry point for a given issue and how long a response time should be expected.
Not surprisingly, employment is another high-demand area. Veterans possess many valuable skills and experiences that often need to be translated to the civilian world.
One innovative project is "Veterans Make Movies." A three-year initiative in collaboration with the Los Angeles County Museum of Art, veterans and their families learn how to make short movies. Participants not only learn about the craft of filmmaking, but are also accorded the opportunity to tell their stories.
Some veterans—especially those who initially decide to forgo any contact with the VA but later decide they need benefits—really need help dealing with this large, complex bureaucracy. Help from the Veterans Resource Center is particularly appealing because it combines the full range of resources that libraries provide with the understanding of a veteran who can relate to the library user. In the latest fiscal year, centers helped 1,303 veterans, up sharply from 786 in the prior year.
Of course, multiple groups provide support for veterans within a region, which raises the issue of coordination among service agencies. The Los Angeles area has the benefit of a formalized collaborator that provides a framework for information sharing and partnerships—the Los Angeles Veterans Collaborative, hosted by the University of Southern California. The collaborative is a structured network of public, private, and government agencies working together to reduce suffering and improve the lives of veterans and military families in Los Angeles County. LAPL also participates in the statewide effort "veterans connect@the library," a partnership with the California Department of Veterans Affairs supported by the Institute of Museum and Library Services and the California State Library.
Regardless of who wins the presidential election, interest in reshaping the VA is likely. Libraries have a compelling argument for being a key stakeholder in discussions about how to better serve those who have served our country. Libraries represent a national infrastructure of buildings, professional staff, and information and technology resources. Also, libraries hold a respected place in communities, as LAPL City Librarian John F. Szabo explains. "Our libraries are trusted community resource centers,"  he says. "We are able to leverage that relationship to reach out to veterans and military families and connect them with services to help them reach their goals."
LAPL's Rodarte elaborates further. "Families can seek assistance while at the same time taking advantage of other resources available at the library," he says.
With an incremental investment that leverages this existing infrastructure, libraries and librarians are well positioned to provide a broad range of services to veterans and their families. One of the tasks of ALA and library advocates is to tell this story. Here in the ALA Washington Office, we are targeting our storytelling to policy advocates and those associated with the transition to the next administration, such as through a recently released video about employment, veteran Mick Munoz, and his local library.
How can you help? Do you have novel services or examples to highlight? Compelling stories of how a particular veteran was helped by a library?  We want to hear from you. Please send me an email me at ainouye@ala.org or leave a comment on this post. And, of course, help spread the word to public officials and the media about the great work you're doing in libraries—and with some help, how much more libraries can contribute to the welfare of veterans and their families.