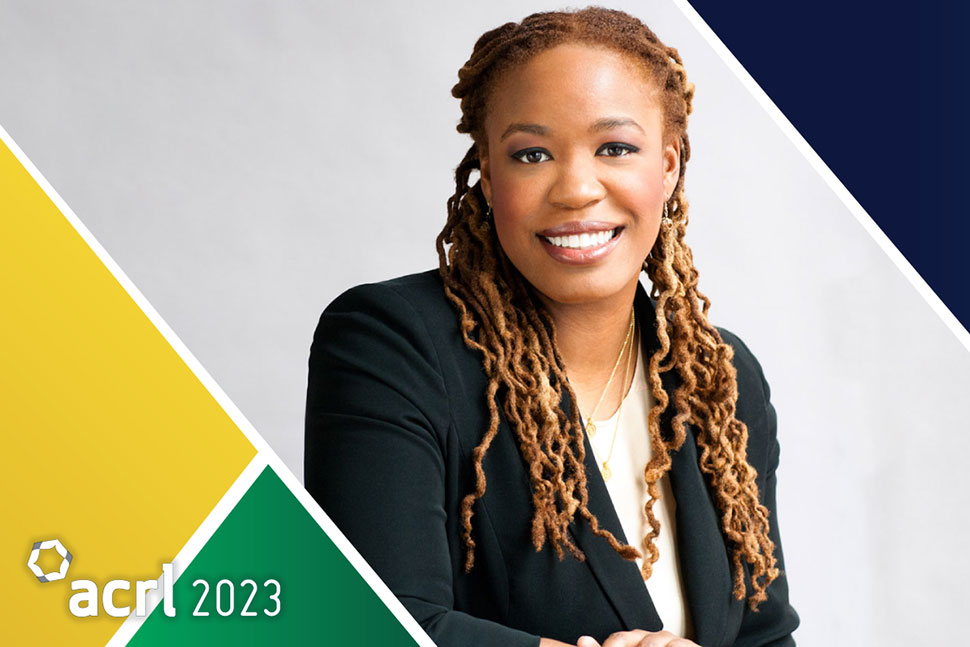 At the closing session of the 2023 Association of College and Research Libraries (ACRL) Conference on March 18 in Pittsburgh, author and policy advocate Heather McGhee encouraged the audience to practice radical empathy and question the stories they have been told.
"Everything we believe comes from a story we've been told," McGhee said. "So, ask: 'Who is selling us these stories?'"
The New York Times–bestselling author and board chair of racial justice advocacy organization Color for Change shared key insights from her 2021 book, The Sum of Us: What Racism Costs Everyone and How We Can Prosper Together (Penguin Random House). The book focuses on the concepts of the zero-sum paradigm and drained pool politics, which perpetuate racist policies and discriminatory practices, preventing true economic prosperity.
"Who is selling my white brothers and sisters the zero-sum story?" McGhee asked. "When we don't ask those questions, we don't understand the more broadly significant behaviors, like the massive shift away from the very idea of making public goods accessible—whether we're talking about higher education, affordable healthcare, collective bargaining, etc."
McGhee also described the anti-Black policies that eventually led to certain public goods becoming luxury items that only few can now afford, with higher education at the top of the list.
During the Q&A portion, McGhee was asked about how the concepts outlined in her book correlate with the rising censorship and book banning currently affecting libraries across the country.
"There are ­attacks on our children's freedom to learn and on the public good…. Take [to] heart that this country is on your side; that the vast majority of Americans love their libraries and librarians and are outraged and rallying to support you," she said.
McGhee also reminded attendees that throughout the course of history, it was ordinary people who took small steps to organize within their communities and create tremendous change. She encouraged the group to organize, multiply, and continue to lift the voices of their respective communities. "You are some of the most powerful people in your community," McGhee said.
"Remember your purpose," she said. "As a librarian and an educator, it is a sense of your purpose to learn and communicate this work. It is not a burden. It is meant to give you light. And that light turns on for other people."
ACRL's next conference is slated for April 2025 in Minneapolis.