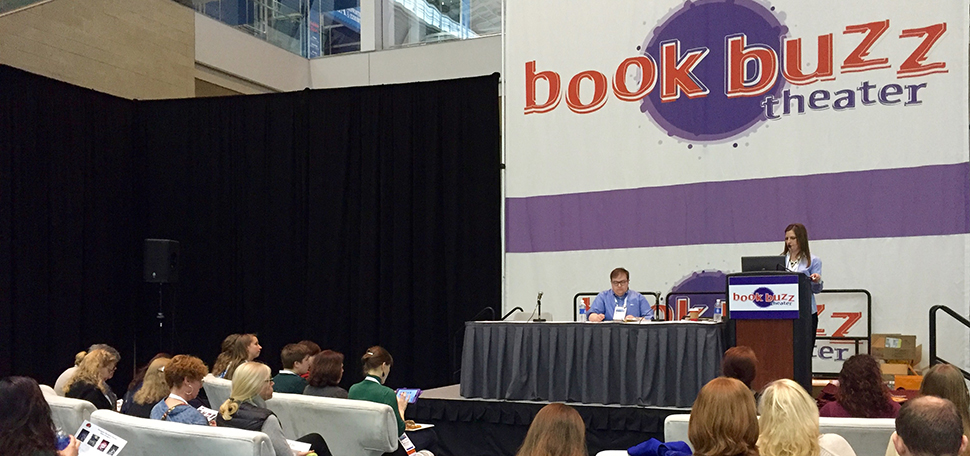 In a lightning-quick 45-minute session on Saturday, "Penguin Random House Publisher Services—Get Graphic with Penguin Random House," Random House Marketing Manager Kelly Coyle-Crivelli and Random House Library and Academic Marketing Assistant Hugo Bresson presented a list of 16 graphic novels soon to be released by Penguin Random House and their partner distributors. Coyle-Crivelli and Bresson took turns presenting sets of four graphic novels at a time. Here are the forthcoming titles:
Warcraft: Bonds of Brotherhood by Paul Cornell
Axiom by Mark Waid
Hellboy in Mexico by Mike Mignola; illustrated by Richard Corben, Mick McMahon, Fábio Moon, Gabriel Bá, and Dave Stuart
Rivers of London: Body Work by Ben Aaronovitch
The Blacklist Vol 1: The Gambler by Nicole Dawn Phillips
Archie Vol. 1 by Mark Waid; illustrated by Fiona Staples
Agony by Mark Beyer; introduction by Colson Whitehead
Peplum by Blutch; translated from the French by Edward Gauvin
Batman Vol. 8 by Scott Snyder
Batman & Robin Eternal Vol. 2 by Scott Snyder
Clean Room Vol. 1 by Gail Simone
Dark Night: A True Batman Story by Paul Dini
DC SuperHero Girls by Shea Fontana
Forget Me Not 2 by Nao Emoto
A Silent Voice 7 by Yoshitoki Oima
Fight Club 2 (Graphic Novel) by Chuck Palahniuk; illustrated by David Mack and Cameron Stewart
Coyle-Crivelli and Bresson gave a synopsis and highlights for each graphic novel, and a few titles in particular stuck out to me.
When presenting Clean Room Vol. 1, Coyle-Crivelli said that author Gail Simone "is an advocate for getting more females into the graphic book genre," and "she writes to appeal to this audience." My forays into reading graphic novels so far have been limited to Marjane Satrapi's Persepolis: The Story of a Childhood, so I was excited to hear about Simone's volume.
Next, Coyle-Crivelli presented Paul Dini's Dark Night: A True Batman Story. This "is an autobiographical, near-death story of Paul Dini," Coyle-Crivelli said, "This is actually a nonfiction … graphic novel."
Bresson's description of Mark Beyer's Agony was enticing, and when he mentioned that Colson Whitehead wrote that this is "the book he would require the President to read," I was determined to pick up a copy.
But for me the most alluring title on the list was Fight Club 2 by Chuck Palahniuk, David Mark, and Cameron Stewart. The story takes place 10 years after the start of Project Mayhem and is only available in graphic novel format. This title is generating international headlines.