Two years ago, at ALA's Annual Conference and Exhibition in Chicago, librarians packed into a room for NYU professor David Vinjamuri's talk about the challenges libraries face during an era of ebooks and branding. He threw out a challenge to the audience: Show publishers libraries' impact.
"A group of us who knew each other gathered spontaneously outside of the room after the talk and just got jazzed about it and said, 'We really should do something,'" says Sue Wilsey, communication manager at the Helen Plum Memorial Library in Lombard, Illinois.
What resulted was the Soon to Be Famous Illinois Author Project, a statewide contest to find the best self-published adult novel by an Illinois author. The winner of the second annual contest, announced in April, is Michael Alan Peck for The Commons: Book 1: The Journeyman, the first of his contemporary-fantasy trilogy.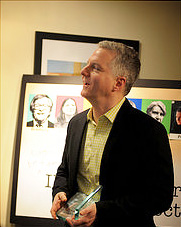 Now the founders of Soon to Be Famous Illinois Author Project will be going to ALA Annual Conference in San Francisco to receive an award of their own.
On June 28, they will be one of eight recipients of the John Cotton Dana Library Public Relations Awards, a $10,000 prize honoring libraries' effective strategic communication campaigns. For the Soon to Be Famous Illinois Author Project, that encompasses 12 Illinois libraries and organizations.
"We knew it would be a little unorthodox," says Wilsey about applying for the award on behalf of 12 libraries. She says the group is proud to receive the national recognition "because first of all, we worked so darn hard. But secondly, because we feel we did a great job and found an exciting way to raise awareness of self-publishing and how libraries can use it."
Several project members will present a workshop at the conference on June 28, before the awards reception.
Wilsey says the award money will be used to help defray transportation costs to San Francisco for the conference. They are still finalizing ideas on how to use the leftover funds, but they may use it to travel to the 2016 Public Library Association conference in Denver or sponsor a scholarship. After San Francisco, Wilsey says their heads will likely be swimming with more ideas.
"People always come out with excitement, like we did when we attended the workshop that inspired us originally," she says.
The group also wrote a book that outlines how other states can launch similar projects; How to Launch an Author Awards Program at Your Library: Curating Self-Published Books will be released in fall 2015.