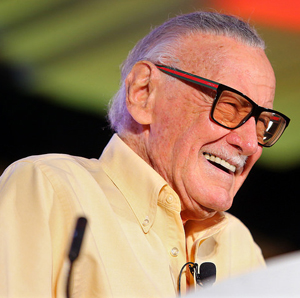 My spidey senses were tingling but why? Stan Lee was in the house (although I and hundreds of others wound up in the overflow room).
At 91, Stan Lee is an energetic and engaging speaker. The overarching message of his talk at the Auditorium Speaker Series was that libraries, librarians, and comic books are all inspirations for children to learn to read. "I respect you librarians so much," he said. "What you do is so important."
Lee said one of his favorite cameo roles in the Marvel superhero movie franchise was performing the role of a librarian during Spider-Man 3. He said he was so engrossed in the role and arranging books that he didn't even realize that an epic battle between Spider-Man and the Lizard was raging behind him. His point: The library profession is so engrossing that he could concentrate on nothing else.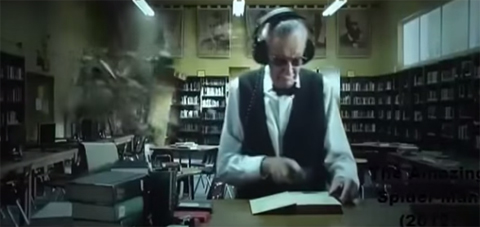 After 15 minutes of a free-wheeling discussion that included such topics as William Shakespeare and comic books, Nachie Marsham, executive editor at Disney Publishing Worldwide, joined Lee to ask questions and to talk about the upcoming Zodiac project, the comic world's first Chinese-American superhero. "The Chinese are so important to us now, and the Chinese Zodiac is important to them," so that's why the name Zodiac was chosen, Marsham said. The comic, which is set to be released in January 2015, pairs Lee up with Stuart Moore as coauthor and Andie Tong as artist.
Lee says he likes his villains to be just as colorful as his superheroes, and that they also should have a backstory. At one point he simultaneously ribbed a popular superhero from another publisher and his own creation of Spider-Man by commenting that he "didn't want a superhero who works for a newspaper and strips down to his underwear."
What motivates Lee to continue working? "Greed," he joked.
MICHELE LESURE, a freelance blogger for American Libraries, lives in a house divided, being an MLIS candidate at Florida State University, as well as working in the main branch library at the University of Florida. She tries to remain neutral because she doesn't look good in either crimson and gold or orange and blue.
---
See, hear, and read more about what's going on at Annual—in real time and after.
Twitter: @alaannual and #alaac14
Facebook: https://www.facebook.com/events/489205011101981/
YouTube: http://www.youtube.com/user/AmLibraryAssociation
Flickr: http://www.flickr.com/groups/alaac14/
Pinterest: http://pinterest.com/alaannual/
Tumblr: http://ala-con.tumblr.com