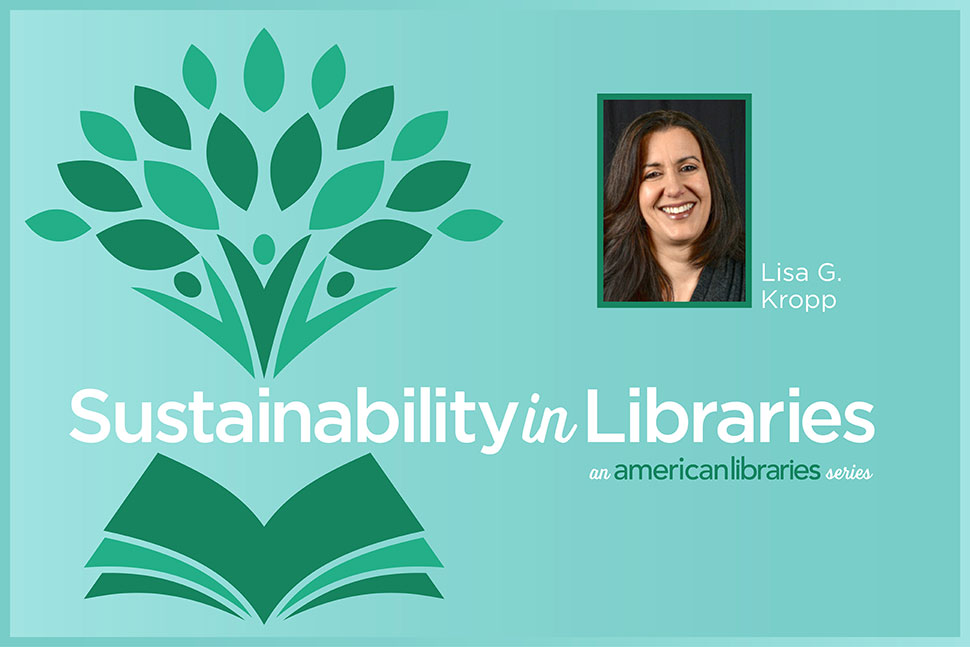 To mark the 50th anniversary of Earth Day—and recognize the American Library Association adding sustainability as a core value—American Libraries returns with its ongoing sustainability series. In these posts, information professionals share their experiences with sustainability in libraries.
Sustainable thinking aligns a library's core values and resources with both the local and global community's right to endure, bounce back from disruption, and thrive by bringing energetic new life to fruition through the choices made in all areas of library operations and outreach.
Although I wrote that sentence in March 2020, in the midst of a global pandemic, that is actually the working definition of sustainability used by the Sustainable Libraries Initiative (SLI), an award-winning project to create leadership and provide tools to mobilize libraries to think and act sustainably. Libraries are perfectly positioned to become leaders in sustainability, helping their communities thrive and bounce back from disruption.
The SLI originated in the work of the New York Library Association (NYLA), which passed the Resolution on the Importance of Sustainable Libraries in 2014. Its Sustainability Initiative (SI) Committee formed in 2015, and in just a few years it successfully changed how many New York libraries thought about their roles in creating a more sustainable future. The definition for sustainability adopted by SI focuses on a "the triple bottom-line" approach: Ensure that libraries and their communities are environmentally sound, economically feasible, and socially equitable.
The American Library Association (ALA) passed its own Resolution on the Importance of Sustainable Libraries in 2016, convened a Special Task Force on Sustainability in 2017, and added sustainability as a core value of librarianship in June 2019. The final report of the task force recommended that ALA partner with NYLA and the SLI to bring its Sustainable Libraries Certification Program (SLCP) to a national audience in the near future.
Lindenhurst (N.Y.) Memorial Library began work on a proposal to renovate and expand its existing building in 2018, and I thought SLCP would be a perfect fit as the library moved to strengthen its role in the community. The board of trustees approved joining the SLCP program, which involved paying a membership fee. This gave staff access to one-on-one assistance with a mentor experienced in the program, monthly online support meetings with both mentors and peers going through the certification process, and exclusive access to sample policies and programs. SLCP has three separate certification products, each focusing on public, academic, or school libraries.
SLCP gave our staff specific actions and benchmarks to achieve that would show the library's dedication to social equity, environmental stewardship, and economic feasibility. The public library certification is broken into two parts. The first section focuses on environmental factors, with NYLA partnering with the Green Business Partnership (GBP) to measure a library's progress in the following areas:
organizational commitment
energy usage
waste and recycling
green purchasing
transportation, including staff commuting and travel
land use
water usage
Each section lists the required and suggested actions designed to help set policy, take action, and measure performance. Initial steps included launching staff surveys on commuting and the perception of the library through an environmental lens. The survey also allowed staff to self-identify as interested in joining our "Green Team," which led the certification project.
It took our team of seven staffers approximately 12 months to complete this first leg of certification. Some areas were easier to achieve than others. For example, the library was extremely lucky to enter a partnership with our local village, which picks up our paper and plastic recycling at no cost. Prior to this, the library wasn't able to recycle because the costs to pay a private carrier were too high. By eliminating paper and cardboard from the dumpster, the library immediately achieved a 45%–55% weekly reduction in the amount of trash discarded.
Other areas of the certification were more daunting, such as conducting a waste audit—a process where the staff analyzes the type and amount of waste generated by the library. Luck was on our side, as it turned out that one of our part-time custodial workers was a retired waste supervisor who had conducted routine waste audits several times a year. Entering two years of data on energy consumption, purchasing information, and staff travel into the GBP's special dashboard took more time than we initially thought it would, because the business office clerk was juggling multiple assignments and deadlines while also working on these sections of the certification process.
The trustees adopted a sustainability policy that ensures future boards and staff look at everything from energy consumption to the types of materials purchased. Almost all of our job descriptions were rewritten to include sustainable practices and procedures as needed. We submitted a PowerPoint presentation to NYLA and GBP and were awarded the first stage of certification in early 2019. With this under our belt, the Green Team tackled the next section of custom benchmarks, which focused on:
collective impact
social cohesion
community resilience
financial sustainability
collections
Because libraries typically work in partnerships involving community building, we were able to complete this last section in about six months and send our final presentation to the SLCP committee. Lindenhurst was the third library in New York to achieve Sustainable Libraries Certification, along with Hendrick Hudson Free Library in Montrose and Saratoga Springs Public Library.
We see the value of certification in different ways. Our Green Team continues to meet and engage with staff as they focus on completing all of the actions proposed, but not required, during the initial certification process. The board of trustees is supportive of future green projects, such as investing in a 73-kilowatt solar array that will be installed on the library's roof this summer.
As I write this column, our employees are working behind the scenes to transform a mostly physical operation to a completely virtual one almost overnight, thanks to the COVID-19 outbreak. I'm convinced that because our library was involved in sustainable work over the past two years, we were ready to bounce back from this social disruption—and show our grit and resiliency in the face of adversity.