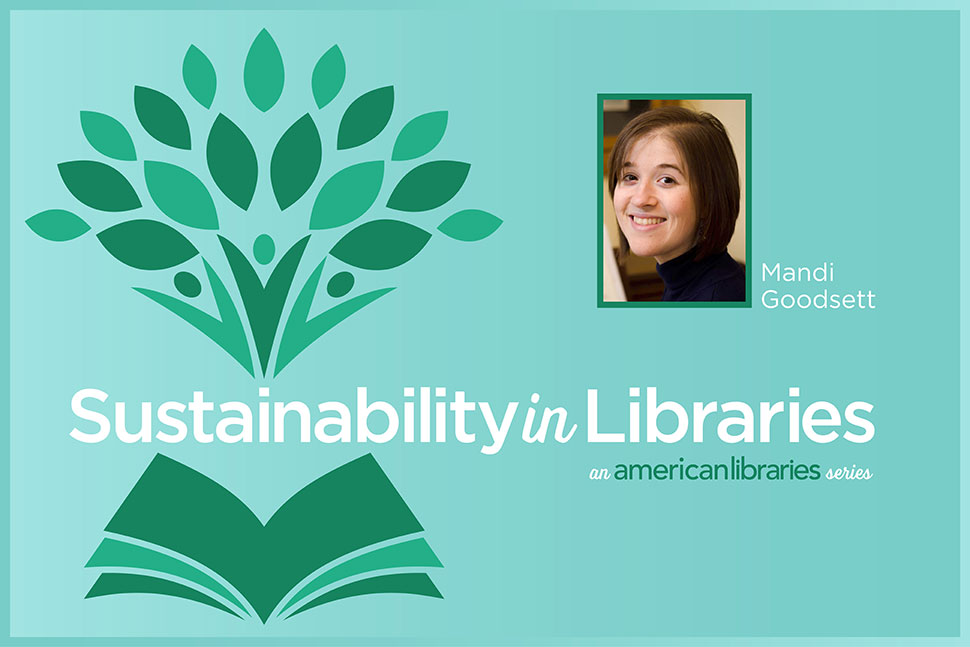 To mark the 50th anniversary of Earth Day—and recognize the American Library Association adding sustainability as a core value—American Libraries returns with its ongoing sustainability series. In these posts, information professionals share their experiences with sustainability in libraries.
Sustainability is an issue that should concern everyone. As information professionals, we can play a critical role in encouraging sustainable practices and solutions.
Two years ago, the Sustainability Interest Group of Cleveland State University's (CSU) Michael Schwartz Library decided that one way to educate the campus community and advance the library's efforts in this area was to host a faculty speaker series featuring and celebrating research on sustainability topics.
Since our formation in 2017, the goal of the interest group has been to promote sustainability in the library's facilities, policies, programming, and collections. The library often does this work alongside CSU Sustainability Officer Jenn McMillan to coordinate our actions and meet the sustainability needs of the campus.
When I asked Jenn if the Sustainability Office would be interested in cosponsoring a faculty speaker series, she said she loved the idea. She suggested we pair each faculty member with a leader from the community who could relay how the given topic or research was being implemented outside of the university. She also recommended that we align the series with a larger public event—Sustainable Cleveland 2019, a 10-year initiative aimed at engaging residents, organizations, and businesses in building a resilient, forward-thinking city. (The city chose 2019 as the culminating year of the event because it marked the 50th anniversary of the Cuyahoga River catching fire, considered by many to be the start of the modern environmental movement.)
We decided to focus our event around the theme "Celebrating the Ecological Resources and Culture of Cuyahoga County." We wanted the series to be a multidisciplinary look at sustainability, so we solicited faculty speakers from different departments. For our first event, two CSU College of Business faculty members spoke about how sustainability change agents can transform the culture of an organization to embrace sustainability. Our second event featured a faculty member from CSU's Urban Planning and Environmental Studies Department and the director of the Cleveland Water Alliance, who explored the importance of the Cuyahoga River and other local waterways to the health and economic prosperity of the region. The third event paired the presentations of a CSU biology professor who has researched invasive plant species and an invasive plant coordinator for Cleveland Metroparks. Our final event showcased a CSU civil engineering professor who previously worked for NASA and described the agency's early, comprehensive sustainability program in the 1980s.
All of the talks were attended by faculty, students, and staff from across campus, and provided a valuable platform for presenters to share their important work.
Tips for hosting your own event

For those interested in hosting a sustainability-themed speaker series at the library, I would recommend the following:
Reach out to local experts. While our program took place at an academic library and featured faculty researchers, programs can also be tailored to the public library and feature experts who don't work in academia. Do people in your area do sustainability-related work? Do local businesses offer sustainable services or products? What about local sustainability authors? What cool sustainability projects are your patrons involved in? Get creative and draw from the talents and knowledge of your community.
Collaborate. Working with our institution's sustainability officer was enjoyable, and a valuable opportunity for us to help each other reach our goals. Brainstorm a handful of potential partners in the community that might want to partner with you in putting on your event. Collaborations can lead to resource sharing and goodwill.
Market each speaker to the relevant audience. In our case, we reached out to faculty members in departments that might be interested and encouraged them to offer extra credit to their students for attending our events.
Go virtual. Especially in the time of COVID-19, consider putting your speaker series online. Ask speakers to record a webinar that can be made available to patrons at their convenience. Or take the conversation to social media—perhaps the speaker would participate in an AMA event, Facebook Live video, or online book discussion?
The problem of climate change is enormous and multifaceted. Though solutions might seem myriad and paralyzing, libraries undertaking the simple act of bringing sustainability research to the forefront can signal to the campus community the importance of this issue, both locally and globally.