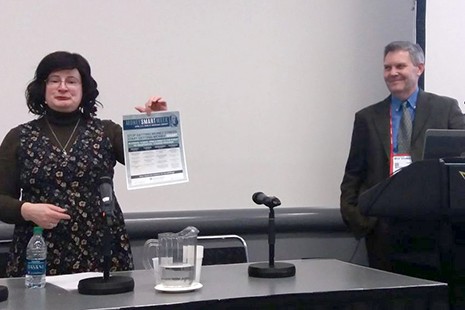 Last year, Money Smart Week saw more than 3,800 events with more than 2,400 partners and 108,000 participants in 46 states. About 40% of all programs were held in libraries.
"Why libraries? This is what we do," said Michael Dowling, director of the American Library Association's (ALA) Chapter Relations Office.  "We're an objective space," he said, noting that libraries offer the accessibility, confidentiality, safety, and educational resources conducive to promoting financial literacy.
Dowling was joined by Naomi Lederer, professor and college liaison librarian at Colorado State University (CSU) Libraries, and Richard Huffine, librarian at the Consumer Financial Protection Bureau (CFPB), at ALA's 2018 Midwinter Meeting & Exhibits on Sunday to encourage library participation in this year's observance of Money Smart Week (April 21–28). The session offered tips for programming and partnerships.
Lederer said that CSU Libraries got involved with Money Smart Week because "we thought doing something was better than doing nothing." The library started participating in 2014 and offered six events in its inaugural year; this year it plans on hosting 16 events.
"We had really good attendance," said Lederer. "[The] Office of Financial Services said, 'Hey, we want to partner with you.' It was really neat getting ideas from someone outside the library."
Lederer noted that financial literacy is critical to college students, for whom the average student loan debt amounts to $37,000. "Young adults are already having difficulties purchasing a home or leaving home," she said. "What can we do to help?"
CSU Libraries will be offering programs in April on topics such as retirement savings, budgeting, identity theft, and the stock market. Lederer says there is also interest among students to learn how to combat "personality-based impulse purchases and be savvy about marketing ploys."
Dowling stressed that Money Smart Week is not just for college-aged audiences or adults. He pointed to ideas for programming geared to families, such as reality-based games for teens, a Design Your Own Dollar event for younger kids, and a Blue Jean Swap that was held at Salem (Oreg.) Public Library to demonstrate recycling and frugality. "Keep it age-appropriate," Dowling said, "and make it a family conversation."
Huffine suggested libraries try the CFPB's Money as You Grow Book Club, geared to kids ages 4–10, which provides discussion questions around children's books already in the library. "You can do this as a storytime," he suggested.
Marketing your Money Smart Week events is also important, Dowling and Lederer said. Lederer explained that sponsorship from local financial institutions allowed her to take out ads in the campus newspaper promoting CSU Libraries' financial literacy sessions. Dowling suggested contacting journalists about programs. "Newspapers and other media in your town, they are interested in this," said Dowling.
Still, Dowling recognized the library's need for financial literacy efforts year-round. "This is just one component of the financial literacy ecosystem that goes on in libraries at different times," he said.