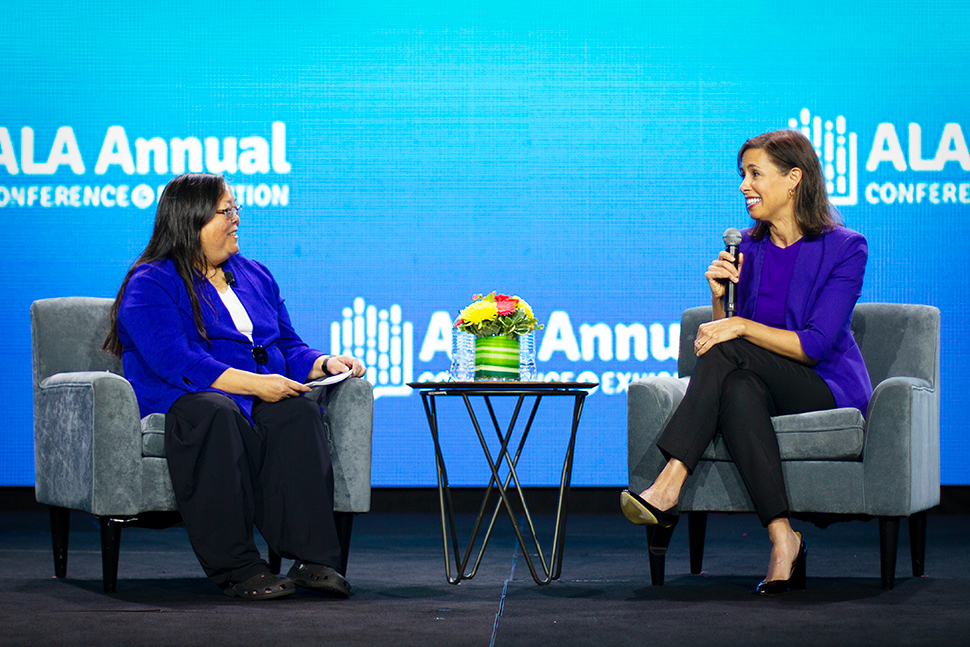 The American Library Association's (ALA) 2022 Annual Conference and Exhibition in Washington, D.C., marks the return of thousands of library workers and advocates to in-person ALA gatherings for the first time since the onset of the pandemic. On June 24, Opening Session speaker Jessica Rosenworcel, chair of the Federal Communications Commission (FCC), joined outgoing ALA President Patricia "Patty" M. Wong for a conversation on the state of broadband and digital equity in the US.
"Individuals and communities need to have the technical capacity to fully participate in modern society, our democracy, and economic life," Rosenworcel said, echoing the National Digital Inclusion Alliance's definition of digital equity. "And I think for that to be true, we need to make sure 100% of us, no matter who we are, where we live, or where we came from, have consistent and reliable access to broadband."
Rosenworcel described her professional path to the FCC's top job, including an earlier stint at the agency during the dial-up era, when she worked on implementing the Telecommunications Act of 1996, and senior communications counsel roles under US Sens. Daniel Inouye (D-Hawaii) and John D. "Jay" Rockefeller IV (D-W.Va.), whom she called the "father of the E-Rate program." E-Rate, the commonly used name for the Universal Service Fund's Schools and Libraries Program, provides internet access at a discount to schools and libraries.
"This program is a quiet powerhouse," she said. "It has done more to connect libraries and schools in this country than any other single program, and I'm absolutely committed to making sure that it not just sticks around but that it thrives."
The pandemic has laid bare widespread disparities in access to affordable, reliable internet at home, Wong noted, particularly for students caught in the homework gap. Through the $7 billion Emergency Connectivity Fund, part of the American Rescue Plan Act of 2021, the FCC has helped more than 900 libraries and thousands of schools representing 12 million students cover broadband costs and technology purchases, Rosenworcel said.
Another ongoing challenge is the fight for a fair and free internet, which took a blow when the US Court of Appeals for the D.C. circuit upheld the FCC's authority to eliminate net neutrality protections in 2019. "I support net neutrality," Rosenworcel said to cheers. "I opposed the last administration's effort to roll it back and I want it to once again become the law of the land."
"We have problems to solve," she said. "And we owe ourselves and the next generation optimism that we've got the strength, resolve, and energy to do it. If you are going to be in public service, you owe it to the present and the future to believe you can make positive change." Rosenworcel added: "It's okay to be impatient while you're doing that."