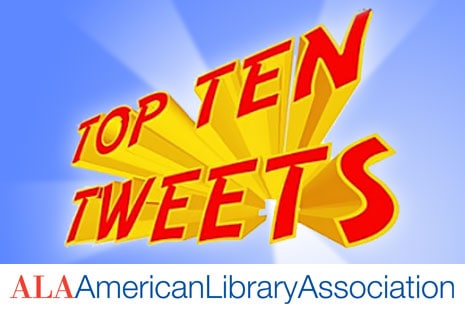 Saturday brought some snow to #alamw18. (Kelly, in our defense, the weather forecast is always wrong.)
WE WERE PROMISED 65 AND SUNNY WITH A CHANCE OF INFORMATION LITERACY #alamw18 pic.twitter.com/vlI7AuzVd7

— Kelly Blanchat (@kellyblanchat) February 11, 2018
It also brought great sessions.
"Every student deserves to go to a school with a school librarian" @MrSchuReads #alamw18 #MISchoolLibrary #MichiganLiteracy pic.twitter.com/lso6JYWaZH

— Kathy Lester (@LibraryL) February 10, 2018
Including our auditorium speakers, Dave Eggers and Elizabeth Acevedo.
https://twitter.com/Madam_Pince/status/962470322590093312
"Every time you put a story in someone's hands…you are planting a seed that will change the world forever." Incredible and inspiring thank you @AcevedoWrites #alamw18 pic.twitter.com/cazKuBdNxh

— Kate Johnson (@ReadwithKate) February 10, 2018
#alamw18 Dave Eggers, "Listen to the reluctant readers. Give them a little more than just even 16, 32, 60 pages. Give those boys images and meaningful but accessible content" pic.twitter.com/mxcWhfKtQB

— Craig Seasholes (@CraigSeasholes) February 10, 2018
Before you pop back into sessions or meetings, always make time for a quick coffee (or tea) break.
https://twitter.com/SajidahWrites/status/962466401976967168
Of course, the exhibits are still providing some of the best swag.
https://twitter.com/mariapwalther/status/962467692648132610
Which made this photo painfully relevant.
Fave people of #ALAMW18: the #mysteriousmountaineaglebookclub… "Just put the galley in my neck bag." pic.twitter.com/DLf45onCvf

— Matt Killeen (@by_Matt_Killeen) February 10, 2018
When dinner comes around, always make room for dessert.
And, in other important news: how much tiramisu is too much tiramisu?? #alamw18 #nocaloriesatconferences pic.twitter.com/1XX2OLnnOl

— Bronia Flett-Humble (@BroniaSAGE) February 11, 2018
And before the day ends, it's time to head to ship a box and start all over again tomorrow.
One box of books already sent home. I said I would not take any others; but can't turn these great books down!! My bag is filling up again. The perils of being a book-loving librarian at #alamw18 pic.twitter.com/QMG5iW35vk

— Kathy Lester (@LibraryL) February 10, 2018
#alamw18 tip: You can find tape at the registration desk if you need to fix your badge.
If you need tape talk to the registration desk. Or just get a picture with the shoe. #alamw18 #alamw2018 pic.twitter.com/MkDWQnZQul

— Brett D. Currier (@brettdcurrier) February 10, 2018
To #alaleftbehind folks, keep up with the hashtag #alamw18.
Me, watching all these #alamw18 tweets pic.twitter.com/RKYbPqf6V1

— Eric Smith (@ericsmithrocks) February 10, 2018