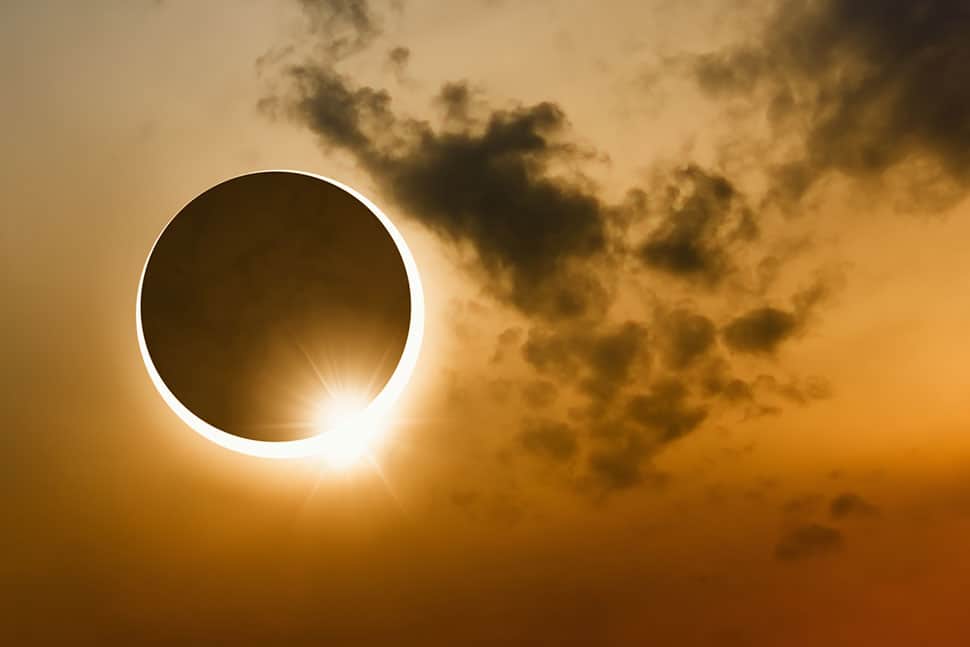 When animals fall silent, the temperature drops, and a 70-mile-wide strip of land spanning 14 states from Oregon to South Carolina goes dark in the daytime, it can mean only one thing: a total solar eclipse. August 21 marks the first time since 1918 that a total solar eclipse will pass over the US from coast to coast, and many libraries are gearing up for the cosmic event.
"Eclipse fever has clutched Salem," says Ann Scheppke, adult services librarian at Salem (Oreg.) Public Library (SPL). Residents of Salem, a city that sits in the path of totality—the geographical strip experiencing darkness caused by the moon casting its shadow on the Earth—and the 100,000 out-of-towners expected to visit will be among the first in the country to see this rare event.
For about three hours, the moon will block all or part of the sun, but a total solar eclipse will be a shorter affair, lasting two minutes and 40 seconds, at most, depending on location. In the weeks leading up to it, libraries are buzzing with activity as they anticipate the main event.
Earlier this month, SPL prepared its community with the "Ready, Set, Eclipse!" fair in which patrons posed for photos in "outer space" with the help of a green screen and a tablet preloaded with backdrops, re-created a model eclipse using marbles and a yardstick, and made pinhole cameras to view the solar spectacle when it arrives. The library hosted guest speakers, including retired NASA consultant Daniel Adamo and photographer Jim Baumgart, who shared tips and tricks for viewing and capturing images of the eclipse.
"We figure the eclipse will be the star attraction anyway, so doing educational programs before the event [is] our focus," says Scheppke.
SPL, which is normally closed on Mondays, will host an eclipse viewing party and keep open a portion of the building on August 21 to distribute viewing glasses, answer questions, and provide access to drinking water and restrooms.
 
How do you organize a NASA program? You planet

SPL is one of 75 public libraries chosen out of 500 applicants this year to partner with NASA @ My Library, a science, technology, engineering, and math (STEM) education initiative that will increase STEM opportunities for library patrons. Activities at SPL's eclipse fair were made possible because of the NASA @ My Library partnership, and the initiative has helped other libraries as well.
"This is a once-in-a-lifetime opportunity for libraries and their communities to work together to participate in a celestial event of this scope," says Paul Dusenbery, project director at the National Center for Interactive Learning (NCIL) at the Space Science Institute.
The project is offered by the NCIL in partnership with the American Library Association's Public Programs Office, the Pacific Science Center, Cornerstones of Science, and the Education Development Center. It is composed of two phases; after the first phase of 18 months, libraries have the option to extend their participation for another two years.
Partner libraries received two NASA STEM facilitation kits designed for hands-on activities to be led by library staff members or subject matter experts. They also received a $500 programming grant and access to NASA's speakers bureau, as well as a travel stipend to participate in a two-day workshop in February 2018. An eclipse model and demonstration set is included in each kit, but each library decides whether to provide programming in advance of or on the day of the eclipse.
"All the materials that we have in the kit, we can incorporate into any program we want or create a program based on the tools—the goodies—available," says Yumarys Polanco-Miller, adult services librarian at the Garfield Park Lending Library (GPLL) in New Castle, Delaware.
For example, she added kit materials to GPLL's Astronomy Club and Maker Mondays curricula, two ongoing programs coordinated by NASA Solar System Ambassador Terence Blanch. (Blanch's participation is the result of an informal partnership Polanco-Miller sought independently with NASA's Goddard Space Flight Center in 2015, before GPLL was selected as a NASA @ My Library partner.) Polanco-Miller plans to use other items, such as the "Jump to Jupiter" planetary measurement activity set, in upcoming programs.
"I think NASA, because it's such an iconic institution, can inspire and wake up that interest in science," says Polanco-Miller. The partnership will provide opportunities to her "low-income, underprivileged, and underserved community" that would "otherwise not be forthcoming," she adds.

3, 2, 1 … contact!
Natrona County Public Library (NCPL) in Casper, Wyoming—another NASA @ My Library selection—was one of many to turn to expert institutions to help organize eclipse-related events. NCPL worked with the Casper Planetarium to produce a series of eclipse lectures, which included a discussion on astronomical references featured in The Simpsons. The library also collaborated with the Wyoming Eclipse Festival in March to host Airbnb workshops for local residents looking to rent out their homes to visitors and outline the county's Solar Eclipse Permit Application for those who want to host campers and visitors on county property.
NCPL Adult Services Manager Betsy O'Neil says 35,000 people are expected to descend upon Casper. Although the library will be closed on Monday (per normal business hours) and is not hosting a day-of-eclipse celebration, she says library staff members who are certified tourism ambassadors will be "all hands on deck" in the week leading up to the much-anticipated event. "I'm sure we're going to have a lot of people coming in to use Wi-Fi and our bathrooms and get information," says O'Neil of the foot traffic she anticipates prior to August 21.
Appropriately, the NCPL summer reading program is named "Look Up" this year. Participants who read for at least 20 minutes every day of the month earn free solar eclipse–viewing glasses supplied by STAR_Net (Science-Technology Activities and Resources for Library Network) with support from the Gordon and Betty Moore Foundation, Google, the National Science Foundation, and NASA. More than 2 million pairs of glasses have been distributed to approximately 6,800 participating libraries.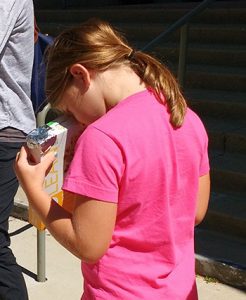 Educators are also using the eclipse as an opportunity to teach their communities that it's more than an out-of-this-world light show. Katie Breivik, a graduate student pursuing her PhD in physics and astronomy at Northwestern University in Evanston, Illinois, presented a lecture at Evanston Public Library (EPL)—also a NASA partner library—on how the eclipse allows astronomers to study outer space. EPL Children's Librarian Kimberly Kaufmann is doing her part by sharing tidbits of information with her patrons as she learns.
Kaufmann has an important message for everyone, but especially those outside the path of totality: "Since we're not in the path of totality … it will never be safe to remove [viewing] glasses." She adds that although viewers cannot look directly at the eclipse, she can list at least 10 alternative viewing options off the top of her head.
Livestreaming is one of those options. NASA will host a four-hour Eclipse Across America live stream, allowing scientists and members of the public to interact online. The broadcast will be available on a number of local and national TV stations.
Is your library hosting events for the solar eclipse? Let us know in the comments.
Updated to identify Dover ILC as the company that brought the space suit to the Garfield Park Lending Library, August 16, 2017.