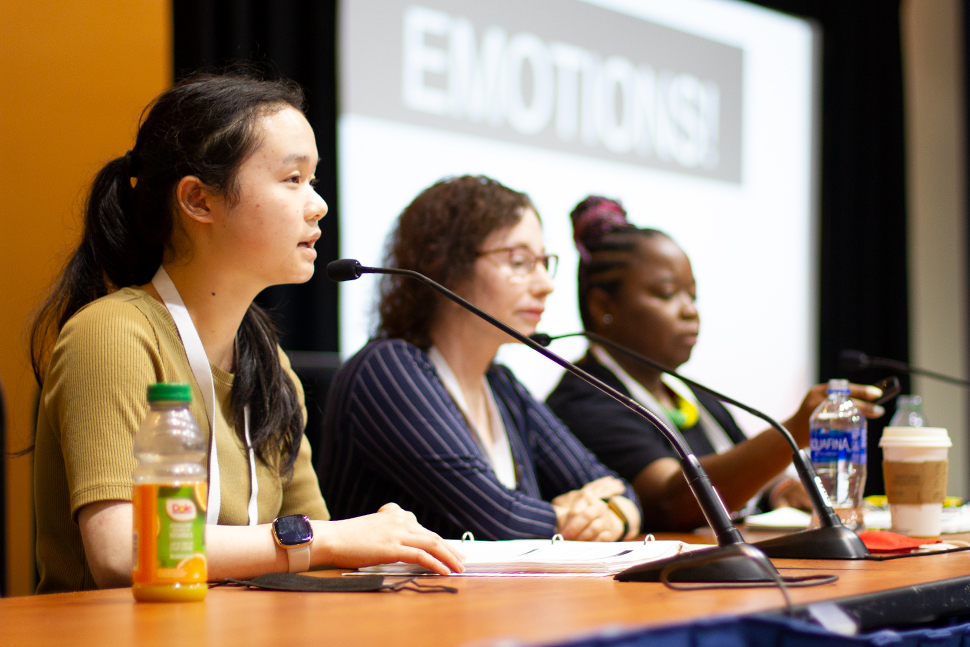 In 2019, San José (Calif.) Public Library (SJPL) was approached by a high school student with an ambitious idea: Why not start a speech and debate program for younger kids in the community?
Since then, the library has offered six speech and debate series for grades 3–5 over Zoom, with each 12-week session focused on a different social justice topic, such as Black Lives Matter, anti-Asian sentiment, and climate change. Instructors from the program shared insights into their curriculum and success at "Inspiring the Next Generation to Champion Social Justice through Speech and Debate," a June 25 session at the American Library Association's 2022 Annual Conference and Exhibition in Washington, D.C.
"People give speeches because they have something important to say," said Catherine Tong, an instructor for the program and the former high schooler (now a student at University of California, Berkeley) who initially pitched the idea to SJPL. "Speaking with purpose and for a cause they believe in helps [students] overcome fear."
Not only does the program build confidence, but also communication and collaboration skills, critical thinking, global citizenship, and an ability to recognize credible sources, said Bridget Kowalczyk, youth services librarian at SJPL.
The first four weeks of a session focus on speech, where students evaluate inspiring speeches, practice persuasive speaking techniques, and work on body language, breathing, and pausing. The next eight weeks center on debate, in which students learn how to support claims with evidence, devise actions that can create change, and prepare for a final debate presentation. Across the 12 weeks, instructors weave in social justice concepts and use games and icebreakers to reinforce competencies.
"Parents are also encouraged to debrief with their students after class," said Tiffany Bradford-Oldham, senior librarian at SJPL.
The program, which has enrolled up to 28 students at a time, has also relied heavily on teen volunteers who are involved with speech and debate at the high school level. "The students can see themselves becoming them in a few years," Bradford-Oldham said. "It's powerful."
Kowalczyk noted that SJPL takes care to market its program to teachers and principals in systemically underserved communities and ensure that participants represent different demographics and lived experiences. The program has been positively received by students and parents, and the library has not yet received pushback on curriculum content.
"We hope this feedback inspires you, because our dream is to see this program at libraries across the nation," Kowalczyk said. "When you consider this course can change the path of a child … and make them realize they can affect positive change, you can't put a price tag on that."