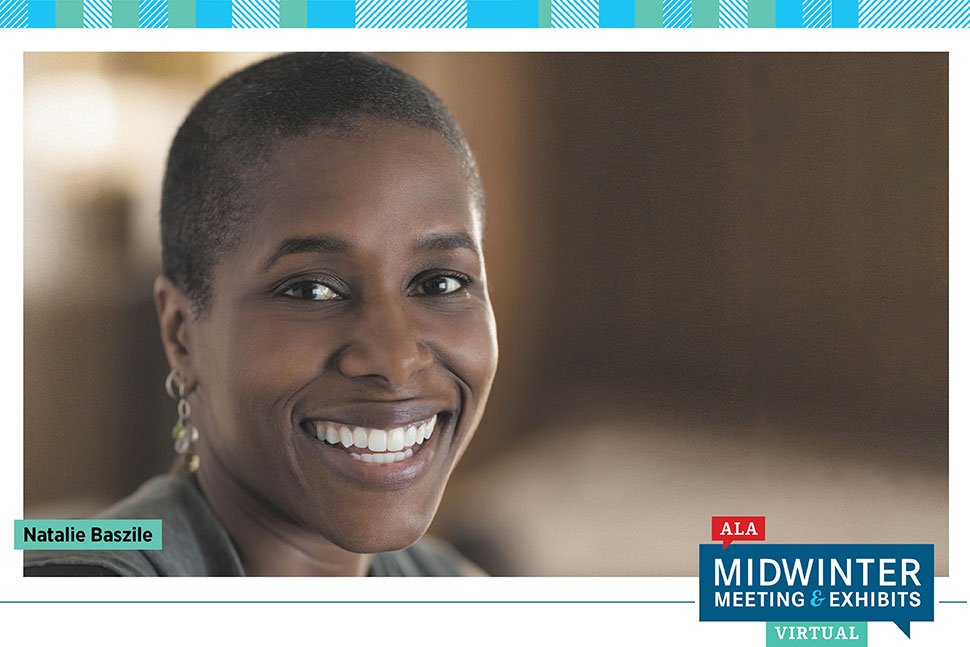 Author Natalie Baszile knows the significance of land.
"Farming is an integral part of our national identity," she told viewers from the Diversity In Publishing stage at the American Library Association's Midwinter Meeting & Exhibits Virtual on January 22. "Land represents freedom, independence, and self-determination."
But Baszile, herself a great-great-granddaughter of a farmer and beekeeper who lived near Tuskegee, Alabama, saw that Black landowners, stewards, and laborers were being left out of our country's agricultural narrative.
"The American farmer is perceived as a middle-aged white man," she said. "[But] Black people have a rich and complicated relationship with agriculture in this country."
Baszile, whose 2014 debut novel Queen Sugar was set on a sugarcane farm in Louisiana, set out to write a nonfiction collection of essays, poems, conversations, and photographs that gave life and depth to the stories of Black farmers—and why their numbers are dwindling. What resulted was the forthcoming We Are Each Other's Harvest: A Celebration of African American Farmers, Land, and Legacy (Amistad, April).
"By about 1920, there were 1 million Black farmers in this country who owned 14% of all arable farmland," said Baszile. "That number has dwindled down to less than 45,000.… When I heard that statistic, I wanted to find out what was behind it."
Though We Are Each Other's Harvest delves into the complicated legacy and aftereffects of Reconstruction-era policies (such as Union General William Tecumseh Sherman's Special Field Orders No. 15, which included provisions for what is colloquially referred to as "40 acres and a mule") and the systemic racism that has robbed Black people of their farmland through practices like asset forfeiture and overcollateralization, Baszile says she wanted the book to "do more than offer up a history lesson."
"I wanted [the book] to be a dynamic reading experience," she said. "I also wanted the book to be celebratory and uplifting."
To that end, Baszile got the rights to republish works from poets such as Elizabeth Alexander, Robin Coste Lewis, and current US Poet Laureate Joy Harjo, and included a "beautiful meditation" on food from culinary historian Michael Twitty. Her book also includes rich personal profiles of Black farmers—"Northern farmers, Southern farmers, Western farmers" and even as far as Alaska, she noted—that she traveled the US to talk to, in an effort to show "work [that] is invisible from most of us."
"Farming is really a metaphor for the American promise, all of the things we strive for in this country," Baszile said. "It was a real pleasure to amplify and elevate these stories."
"When we think about agriculture—even if you don't care anything about farming—what is interesting is to hear about this human experience, how people are making something out of nothing." She concluded: "[The book is] intended to be an honor and celebration of a group of people who are often overlooked but are essential."