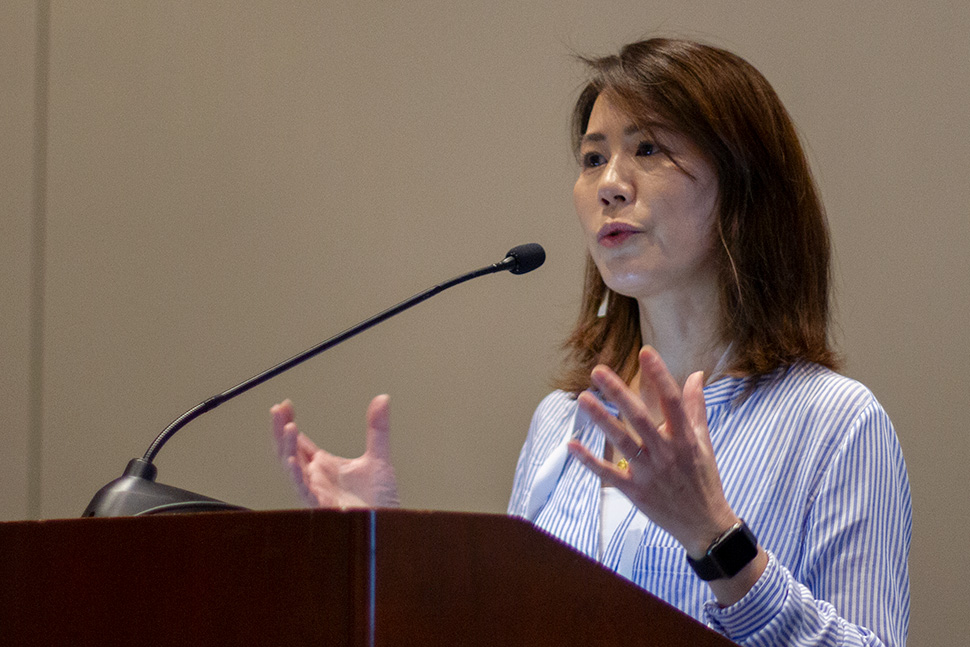 The next time you take a photo of an interesting cloud, you could also be contributing to scientific research.
At the "Cloud Watching for NASA" session at the American Library Association's 2023 Annual Conference and Exhibition in Chicago, Jessica Taylor, atmospheric scientist at the NASA Langley Research Center demonstrated GLOBE Observer, a citizen science mobile app created by NASA's Global Learning and Observations to Benefit the Environment (GLOBE) Program. She was one of three presenters who shared how libraries can incorporate citizen science practices into their programming.
"NASA has a responsibility for collecting data about our environment," Taylor said. GLOBE Observer is part of those efforts. It includes four projects through which anyone can contribute their observations about clouds, mosquito habitats, land cover, and trees. A fifth project will be temporarily available in the days leading up to the annular and total solar eclipses in October and April.
The observations that users contribute can be as simple as taking and uploading photos through a smartphone. But when combined with other observations (made publicly available but with all personally identifiable information stripped out), they produce a rich data set that has been used in peer-reviewed research.
Vivienne Byrd, librarian and lead of Los Angeles Public Library's (LAPL) Full STEAM Ahead & Neighborhood Science Initiative, said LAPL doesn't use the term "citizen science" to avoid confusion from patrons believing its programs are open only to US citizens and to focus on local impact. Through the Neighborhood Science initiative, the library circulates DIY kits that are available in 35 of the system's 73 branches. Each kit includes equipment and instructions for participating in one of several NASA-run projects on clouds, mosquito habitat, air quality, water quality, light pollution, or exploring biodiversity using the iNaturalist app. There are also affiliated websites available for teachers with curricula, videos, and lesson plans. "Our goal is to get formal and informal educators to use them," Byrd said.
LAPL also operates citizen science programming. This includes both indoor programs to introduce concepts and practical outdoor programs where participants can contribute to GLOBE projects.
Byrd offered several tips for libraries interested in offering similar programs:
Many organizations make enthusiastic partners, including schools, local government agencies, parks, senior centers, recreation centers, and educational organizations.
Utilize existing resources. Theresa Schwerin, vice president for education at the Institute for Global Environmental Strategies and lead of the NASA Earth Science Education Collaborative, shared resources for leading programs, including a library-focused guide, available on the GLOBE Observer website.
Don't limit by age. "Adults and intergenerational participants enjoy these programs as well as kids," Byrd said. "A lot of participants feel rewarded just for taking part."
Be inclusive: Translate materials into languages spoken by the members of your community, and consult with them to help navigate any potential cultural issues or problems.
Make your program relevant locally. "We work with the mayor's Office of Sustainability, and we get a lot more support when we align with city agency goals," Byrd observed.