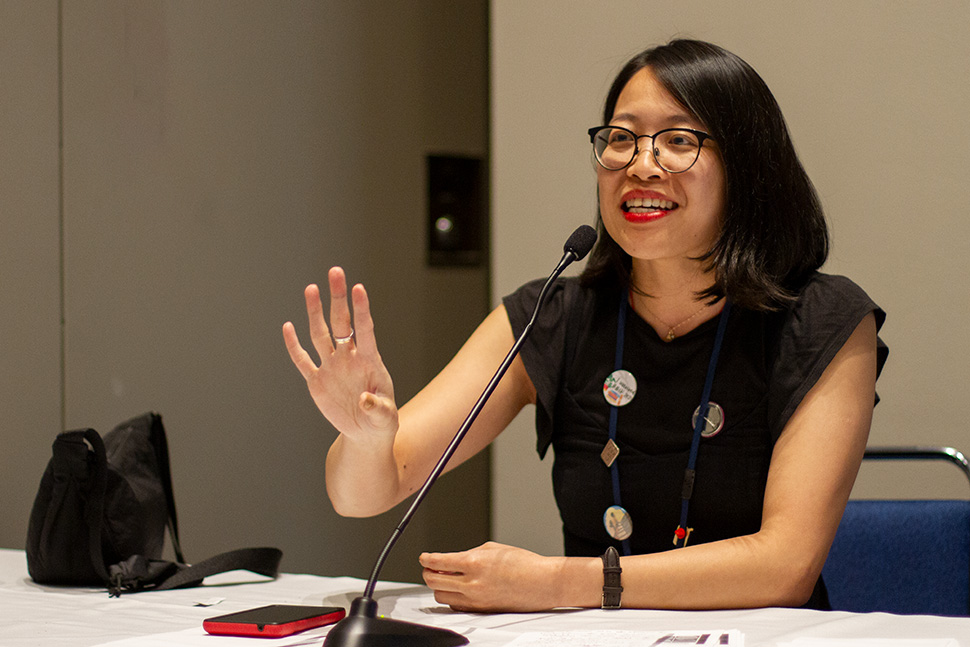 When New York Public Library (NYPL) introduced its NYPL After School program with Teen Reading Ambassadors program in fall of 2021, the first tutoring session at the Chatham Square Library branch drew eight children. The next week, there were 23.
"And then chaos ensued," said Christy Lau, senior children's librarian at Chatham Square. "But not really."
Lau, along with Olisha James, the Teen Reading Ambassador Program manager and Rachel Roseberry, NYPL's associate director of young adult programs and services, shared how the program has supported and connected youth and library staff.  "Near-Peer Leadership at the Library: Teens Inspiring Kids through Tutoring, Storytelling, and Readers' Advisory," on Saturday, June 24, at the American Library Association's 2023 Annual Conference and Exhibition in Chicago.
Teen Reading Ambassadors provide tutoring and homework help for kids 6–12 years old. "Because they're so close to their age, the kids find it really, really cool," said James. NYPL's teen employment programs—which also includes a Teen Civic Ambassadors program—are designed to support teens' first or close-to-first employment experience and provide opportunities to explore working at libraries and other cultural institutions. NYPL also aims to hire teens that have an investment in the community in which they work, Roseberry said.
Children can drop in for tutoring, and teens work with them alongside an adult staff member. Ambassadors also get to create storytelling and literacy enriching opportunities like creative prompts, activity sheets, and original creative works published on NYPL's blog and in the program's literature magazine, Portal.
"Teens are immediately motivated by being placed in a position as a role model," said Roseberry. "They often are being treated like kids themselves in other contexts." Ninety-two percent of the teen participants stated the program helped them become more effective communicators and work better in teams, she added.
NYPL offers robust training for the teens before they begin working with the younger children, the team said, including lessons on children's development, work expectations, how to communicate professionally, and the basics of after-school tutoring. Staffers also survey teens regularly and work with them to troubleshoot any issues so they feel supported and can form strong relationships with the kids they're working with every day.
As a community that saw a big decline in library users because of the pandemic, this was one of the programs that brought people back, Lau says. "I didn't even really have to do outreach," she said. "It was word of mouth."
"As a children's librarian I am deeply, deeply afraid of teens," Lau admits. However, "I have absolutely loved my teens and it's honestly made me look at teens in general very differently."
Updated June 28 to include the correct the age range for children receiving tutoring and full name of the after-school program.