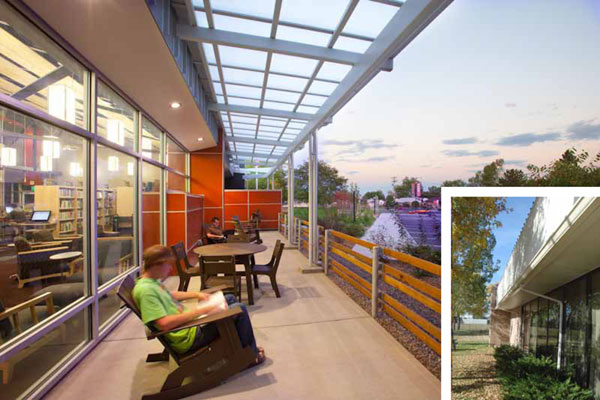 A library's building is important, but its exterior can be as well. Many libraries have found ways to integrate the outdoors into their regular services. The following libraries have all found ways to give their patrons the opportunity to enjoy the library and the fresh air at the same time.
North Carolina State University, D. H. Hill Library, Raleigh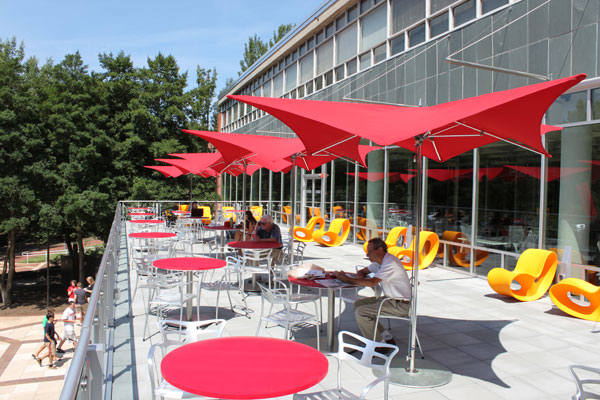 One-time funds allowed NCSU to renovate the west wing of the Hill Library. The terrace, which had sat vacant for decades, now provides 54 seats at tables or lounging chairs, with power outlets throughout the space. The renovation also created a technology sandbox with large-scale display and gesture-based computing tools, a silent reading room, and a Creamery offering ice cream and snacks.
Renovation
Terrace: RND Architects
Creamery: J. Hyatt Hammond Associates, Inc.
Size: 13,600 sq. ft. renovated, 340,000 sq. ft. total
Cost: $910,000
Photo: Brent Brafford
Garfield County (Colo.) Public Library District, Rifle Branch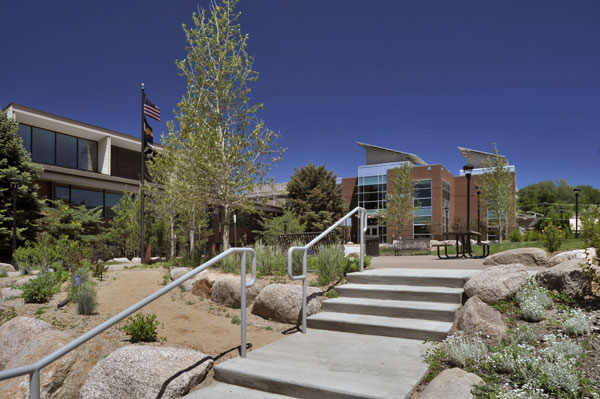 Rifle Branch patrons can take advantage of a pair of reader's gardens on the first floor, as well as a terrace adjacent to the second-floor meeting room. Plenty of windows offer views of the area's mountain vistas. A 53-kWh solar array supplies 35–40% of the building's electrical needs, while a lobby kiosk offers patrons information about the facility's solar production and usage. The building also incorporates a 107-year-old stained-glass window, rescued from a church that was demolished in the 1970s.
New Construction
Architect: Baker, Rinker, Seacat Architecture
Size: 28,000 sq. ft.
Cost: $6.7 million
Photo: Michael Shopenn
University of California at Berkeley School of Law Library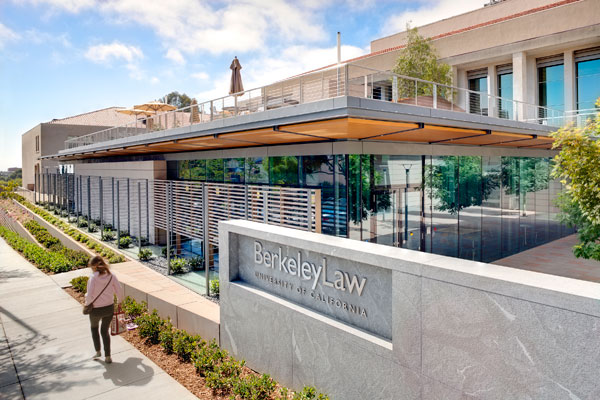 The addition to the University of California at Berkeley's law library included a rooftop garden above a three-story structure. Two of those stories are underground, but skylights direct natural light down to them from the plaza level. The project also created a new west-facing terrace that connects to an existing plaza that serves as a key campus meeting point.
Renovation and Expansion
Architect: Ratcliff
Size: 104,000 sq. ft. total, 55,000 sq. ft. expansion
Cost: N/A
Photo: Tim Griffith, Steve Whittaker
Patrick Heath Public Library, Boerne, Texas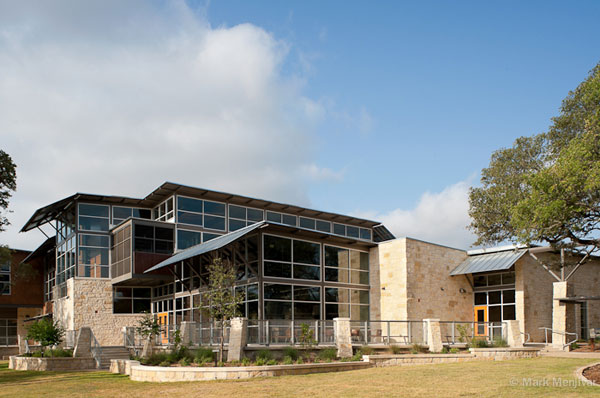 Patrick Heath Public Library celebrates its Texas Hill Country setting with glass walls that capture scenic views and shade from live oak trees. A terrace and covered patios offer space for outdoor programming, while the conference room has a private balcony. The library provides bike racks, changing rooms, and preferred parking spaces to encourage alternate forms of transportation, and it harvests rain water and reuses HVAC condensate for landscape irrigation.
New Construction
Architect: O'Neill Conrad Oppelt Architects, Inc.
Size: 30,000 sq. ft.
Cost: $5 million
Photo: Mark Menjivar
San Diego County Library, Fallbrook Branch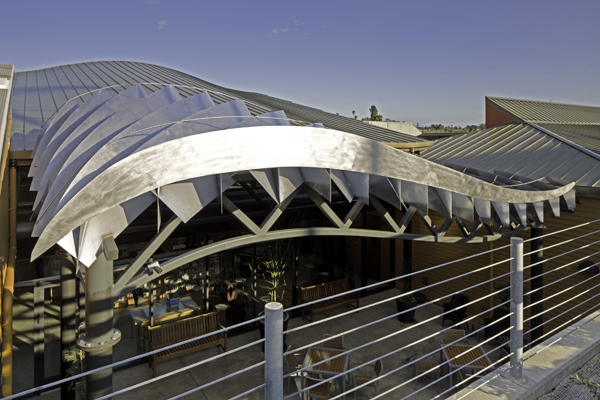 The new Fallbrook Branch boasts an outdoor reading garden sheltered by a space-framed trellis that emulates the movement of pages turning in a book. A separate, 500-square-foot Poets' Patio also provides outdoor seating where patrons can use library materials and Wi-Fi, and it connects to the building with floor-to-ceiling glass doors that can be opened to expand the library's capacity to host events.
New Construction
Architect: Manuel Oncina Architects
Size: 19,151 sq. ft.
Cost: $10.6 million
Photo: Domin Photography
San Diego County Library, Cardiff-by-the-Sea Branch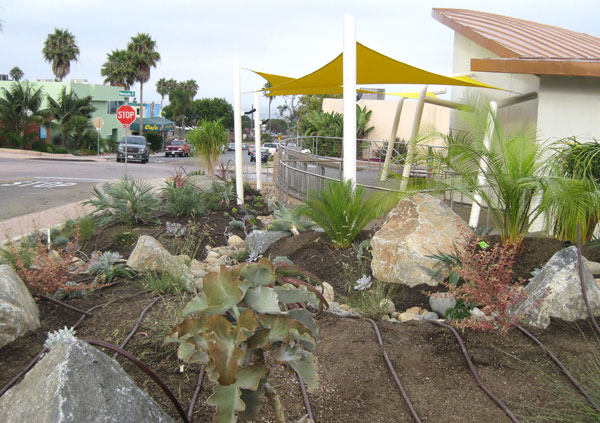 The Cardiff-by-the-Sea Library serves a densely developed coastal community, so it didn't have much room where it could expand to increase capacity. A renovation project added a small amount of space to the building, but most of the 25% increase in usable space came from re-imagining the interior design and creating flexible spaces, such as the community room with collapsible walls that can accommodate large after-hours crowds. The library also put effort into the exterior, creating a patio with a laptop bar and a demonstration garden of drought-tolerant plants.
Renovation and Expansion
Architect: Manuel Oncina Architects
Size: 6,884 sq. ft. total, 900 sq. ft. expansion
Cost: $1.3 million
Photo: San Diego County Library
Rita and Truett Smith Central Public Library, Wylie, Texas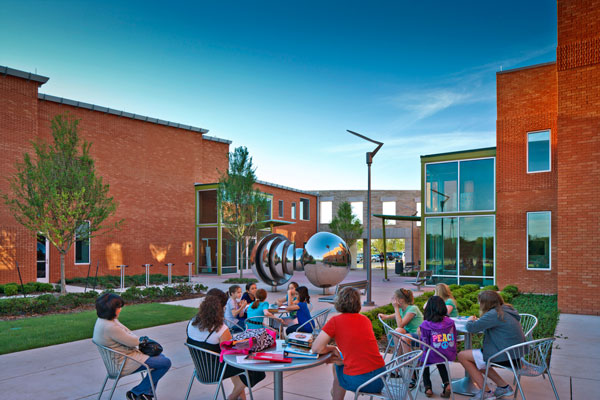 Wylie's new public library building features both a large courtyard and a back porch where patrons can relax. Inside, a clerestory spine allows light to permeate the facility while delineating the various library zones.
New Construction
Architect: Holzman Moss Bottino Architecture
Size: 43,000 sq. ft.
Cost: $12.8 million
Photo: Craig Blackmon, Blackink Architectural Photography
District of Columbia Public Library, Georgetown Neighborhood Library
Old blueprints revealed that the Georgetown Neighborhood Library originally had a reading terrace on the rear of the building, which had been removed. The renovation of the building, after severe damage from a 2007 fire, restored that feature, opening up views of the Georgetown neighborhood and serving as a venue for storytimes during nice weather.
Renovation and Expansion
Architect: Martinez & Johnson Architects
Cost: $16 million
Size: 26,000 sq. ft. total, 7,000 sq. ft. expansion
Photo: DC Public Library
Appomattox (Va.) Regional Library System, Prince George Branch
The children's area at the new Prince George Branch Library includes a circular storytime area formed by the inside of an interpreted silo. Immediately outside the silo is a performance space with stepped seating designed to give flexibility to library events and promote outside-time for kids. Glass walls in the library's café offer views of an adjacent public park and abundant natural light.
New Construction
Architect: Enteros Design, PC
Size: 12,000 sq. ft.
Cost: $2.5 million
Photo: Chris Cunningham
Dubois County (Ind.) Contractual Public Library, Ferdinand Branch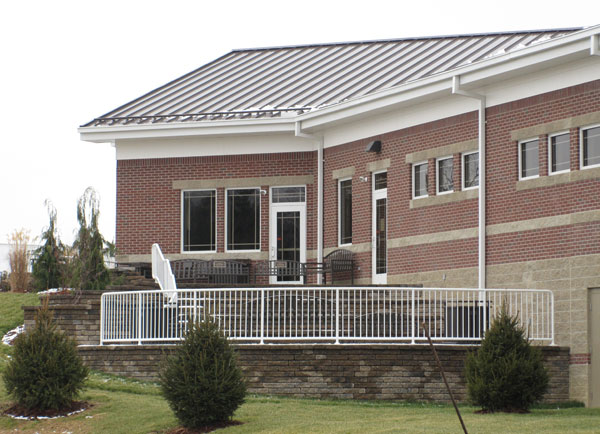 The Ferdinand Library serves as an after-school hub for four area schools. Outside the children's books and activity room is a reading patio. Construction incorporated a geothermal HVAC system, controllable lighting, construction-waste management, and low-VOC-emitting finishes.
New Construction
Architect: Universal Design Associates, Inc.
Size: 22,082 sq. ft.
Cost: $2.4 million
Photo: Universal Design Associates, Inc.
Houston Public Library, Julia Ideson Building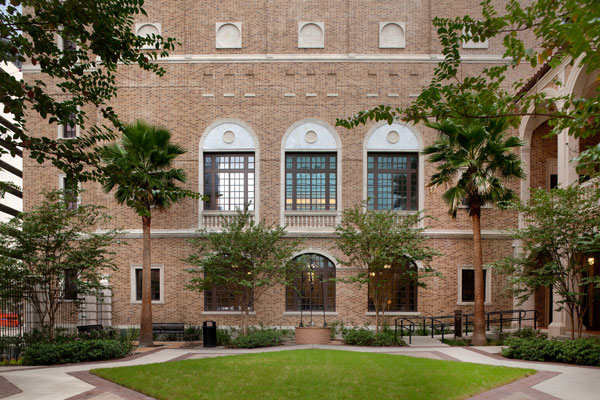 The original construction plan for the Ideson Library included a south wing and rear garden, but those elements were stripped out due to the economic realities of the Great Depression. A three-year, two-phase renovation brought the original plan to fruition. The project also re-landscaped the front plaza while preserving its stately bur oaks and encircled it with a new iron fence.
Renovation and Expansion
Architect: Gensler
Cost: $32 million
Size: 96,500 sq. ft. total, 21,500 sq. ft. expansion
Photo: Rick Gardner
Indianapolis–Marion County Public Library, Garfield Park Branch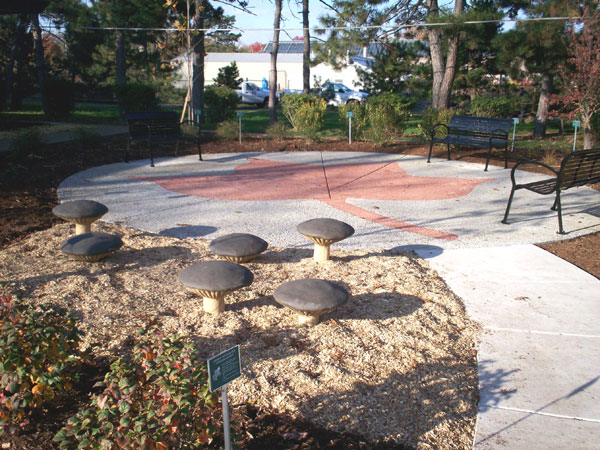 The Garfield Park Branch is located adjacent to one of the city's parks. The library itself encourages alternative transportation with a new bike rack and electric vehicle charging stations. It also includes a storytelling garden of native plants with a gathering circle made of pervious paving, rain barrels, and a composting area.
Renovation
Architect: AXIS Architecture + Interiors
Size: 6,400 sq. ft.
Cost: $598,000
Photo: Mike Williams
Dubois County (Ind.) Contractual Public Library, Dubois Branch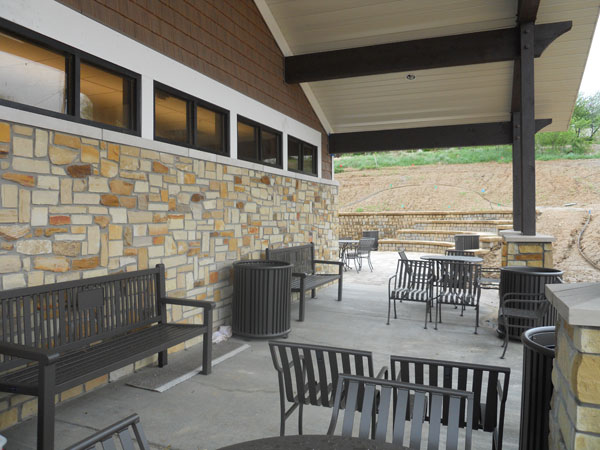 The new Dubois Library includes two reading patios for use during warm-weather months. Other library features include a children's area, genealogy room, meeting space, and computer area, an especially important amenity in a locality where most households do not have access to high-speed internet.
New Construction
Architect: Universal Design Associates, Inc.
Size: 6,354 sq. ft.
Cost: $1 million
Photo: Universal Design Associates, Inc.
Rangeview Library District, Anythink Perl Mack Branch, Denver, Colorado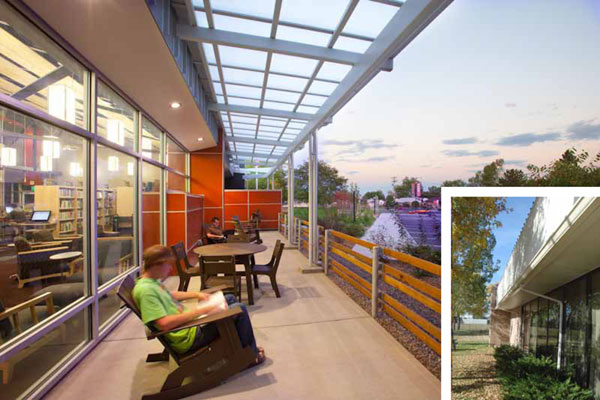 The renovation and expansion of Anythink Perl Mack created a front porch and transformed an adjacent empty lot into a community garden. The library is heated and cooled by geothermal exchange wells under the parking lot, and the existing roof was updated to support a future solar photovoltaic array.
Renovation and Expansion
Architect: Humphries Poli Architects, P.C.
Size: 8,300 sq. ft. total, 1,800 sq. ft. expansion
Cost: $2.2 million
Photo: Paul Brokering Photography
San Antonio Public Library, Parman Branch at Stone Oak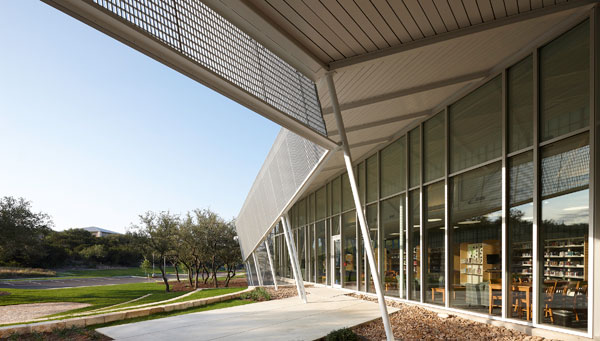 The Parman Branch is located in a rapidly growing and previously underserved section of San Antonio. The ten-acre site includes a walking trail, outdoor amphitheatre, and a Rotary-funded playground. Construction preserved live oak trees on the heavily wooded site, as well as neighboring limestone escarpments and a creek bed. The building features optimized solar orientation and shading screens to minimize heat gain, high-performance glazing and translucent panels that maximize the use of natural light, and water-conserving fixtures.
New Construction
Architect: Marmon Mok Architects
Size: 17,000 sq. ft.
Cost: $7.4 million
Photo: Dror Baldinger