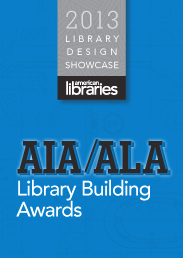 The following libraries are winners of the 2013 Library Building Awards, sponsored by the American Institute of Architects (AIA) and ALA's Library Leadership and Management Association. For the past 50 years, the biennial award has recognized distinguished accomplishment in library architecture by an architect licensed in the United States for any library in the US or abroad. The awards were presented at the AIA Chicago office in conjunction with the 2013 ALA Annual Conference.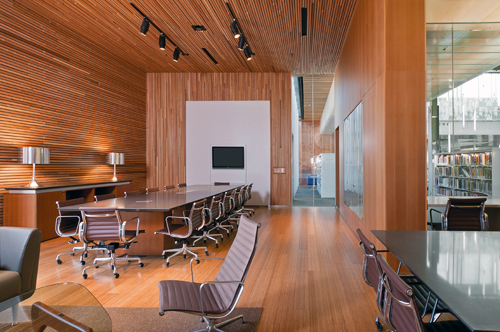 South Mountain Community Library, Phoenix
This building integrates the varied uses of a public library with the needs of a state-of-the-art academic library, allowing each to function both independently and collaboratively. The design is modeled on an integrated circuit, providing insulation between disparate functions and promoting interaction and connection between like functions and spaces.
richärd+bauer
Size: 51,600 square feet
Cost: $16.3 million
Photo: Mark Boisclair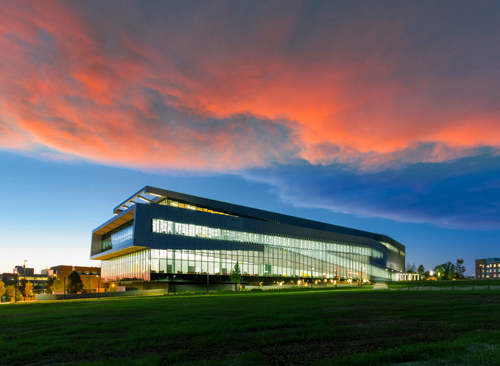 North Carolina State University at Raleigh—James B. Hunt, Jr. Library
Designed to LEED Silver requirements, James B. Hunt, Jr. Library features fritted glass and a fixed external aluminum shading system that helps diminish heat gain, maximize views of a nearby lake, and provide abundant ambient natural light. Ceiling-mounted, active chilled beams and radiant panels provide heating and cooling, and rain gardens and green roofs help manage storm water.
Snøhetta and Pearce Brinkley Cease + Lee
Size: 221,122 square feet
Cost: $93.75 million
Photo: Jeff Goldberg
New York Public Library— Hamilton Grange Branch, New York City
Located on the previously empty third-floor space of Hamilton Grange branch library in Harlem, the teen center is New York Public Library's first full-floor space dedicated to teens. In an effort to attract and engage neighborhood youth, the space challenges the norms of library design. The light-filled floor is divided into specific zones that foster small-group interaction and socialization.
Rice+Lipka Architects
Size: 4,400 square feet
Cost: $1.8 million
Photo: Michael Moran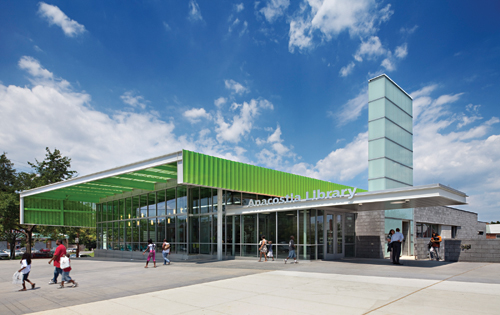 Anacostia Neighborhood Library, Washington, D.C.
A small-scale residential context provided the inspiration for the design of this new branch library, located in a low-income, underserved neighborhood in Washington, D.C. The project not only fulfilled programmatic needs, but also provided a stimulus for community pride and economic development. The residential scale is reflected in the library design as a series of pavilions for program areas that require enclosure: the children's program room, the young adults' area, support spaces, and public meeting rooms. The remainder of the level-one plan is high, open space for the main reading room, stacks, computers, and public seating areas. A large green roof structure provides shelter over all program areas.
The Freelon Group
Size: 22,348 square feet
Cost: $10.3 million
Photo: Mark Herboth Photography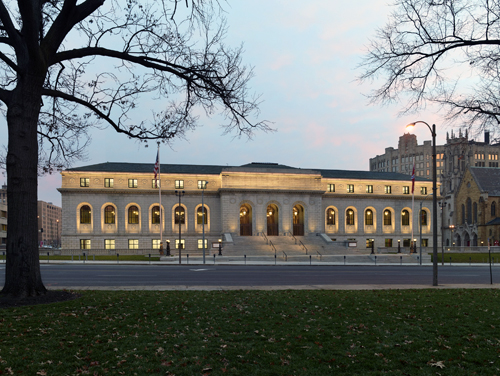 St. Louis Public Library—Central Library
This 100-year-old grand Beaux-Arts library, a St. Louis cultural landmark, was in need of a transformative restoration that would increase public access and modernize it for the 21st century. On the interior, the centrally located hall is surrounded by five wings, four dedicated to public reading rooms and the fifth, the north wing, to a multistory book depository closed to the public. The transformation of the north wing brought the library into the next century. Old stacks were removed, and a new "building within a building" was inserted. A new multistory public atrium provides an accessible and welcoming entry.
Cannon Design
Size: 187,500 square feet
Cost: $70 million
Photo: Timothy Hursley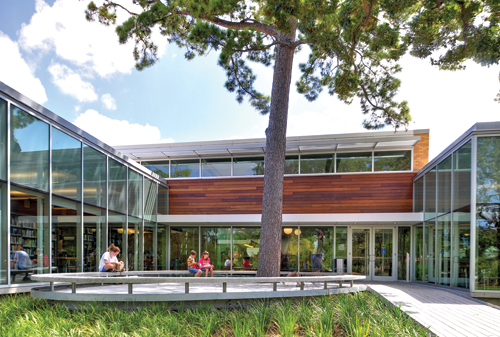 Oak Forest Neighborhood Library, Houston
Built in 1961, this modern brick-and-glass structure needed renovations to meet the standards of the Houston Public Library system and the needs of the surrounding neighborhood. The original building's restored green-tile mosaic still graces the parking entry area on the north, but a tree-shaded second entrance and an outdoor reading room framed by new adult and teen areas on the west were added. The mosaic and the globe light canopy of the old circulation desk were restored to create a toddler-sized reading nook. Facilities, furnishings, and technology were updated to serve all age groups, as well.
Natalye Appel + Associates Architects/AWI/James Ray Architects
Size: 12,000 square feet
Cost: $3.5 million
Photo: Light Sensible z