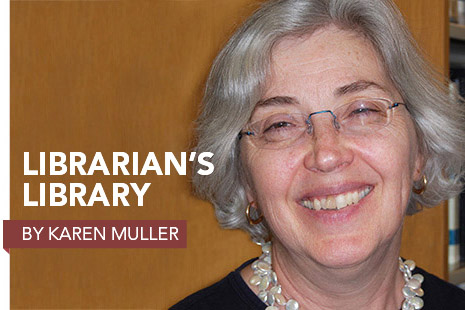 Funds shift, coworkers leave, a new director arrives. Such unexpected job changes may require you to learn a new skill—fast. In my experience, I feel as though I can learn nearly anything from books. Even if I need to take a class, watch a webinar, or participate in a hands-on demonstration, reading about a topic beforehand helps immeasurably. In that vein, one or more of these books may help you with your personal learning list.
Divided into two parts, the third edition of Communicating Professionally: A How-to-Do-It Manual for Librarians, by Catherine Sheldrick Ross and Kirsti Nilsen, addresses how communication skills apply to library work. The writing, listening, and speaking tips, along with annotated bibliographies in each chapter, will help with job interviews (on either side of the desk), reference transactions, writing disciplinary memos, collaborating on projects, or being persuasive to a board. The authors discuss the importance of understanding the audience for all communications and adjusting tone, length, vocabulary, and structure accordingly. Electronic communications, including those in collaborative online workspaces, are also covered.
Indexed. ALA Neal-Schuman, 2013. 472 p. $70. PBK. 978-1-55570-908-2
Even if you are not interested in learning more about your ancestors, someone on the other side of the reference desk or perhaps at a social gathering may ask for genealogy help. In Finding Your Roots: Easy-to-Do Genealogy and Family History, Janice Schultz presents a solid overview on how to gather and record family information. Schultz devotes most chapters to defining and describing the records used for establishing the key facts—birth, marriage, death—for ancestors, using both online and paper archival resources for governmental, church, and military records. She also covers researching European sources and offers tips for researching Native American and African-American ancestors.
Indexed. Huron Street Press, 2013. 240 p. $21.95. PBK. 978-1-937589-00-4
A few weeks ago I logged in to one of our subscription databases and discovered two options: the web-based portal I was used to and a mobile option. A database on a cellphone? Global Mobile: Applications and Innovations for the Worldwide Mobile Ecosystem, edited by Peter A. Bruck and Madanmohan Rao, explores the ramifications of the rapid rise of mobile technology worldwide. There are case studies on how mobile technology has changed health care, banking, and government. The authors also look to the future—to regulatory challenges, the ever-increasing demand for data services, and sadly, cyberlaw. The issues and concepts presented in this update will be important ones for library planning.
Indexed. Information Today, 2013. 576 p. $49.50. PBK. 978-1-57387-462-5
In Developing and Managing Electronic Collections: The Essentials, Peggy Johnson has applied her prodigious understanding of library collection development to the current challenges of digital collections. Her definition is inclusive: digital resources selected by librarians, managed by the library, and made available for users through purchase, lease, or as free resources. After a description of the several types of digital items that might be included, Johnson reviews selection processes, acquisitions considerations, licensing, and enabling discovery through cataloging and other means. She also looks at managing necessary workflows, purchase budgeting, and the communication needed to ensure ongoing collaboration between those who acquire and make collections available and those who interpret them for library users. Includes a glossary.
Indexed. ALA Editions, 2013. 200 p. $65. PBK. 978-0-8389-1190-7
Library technology can be complex and often difficult to understand. To guide you through this maze, consider the fourth edition of Neal-Schuman Library Technology Companion: A Basic Guide for Library Staff (see excerpt), by John J. Burke. It starts with lists of technology skills that survey respondents reported needing. Email tops the list, which also includes using scanners and printers, working with a file management system, library databases, and presentation software. Other chapters have overviews of buying and implementing technology, current trends in library discovery systems, databases and digital collections, web-based delivery, social media, and security and privacy issues. Includes a glossary.
Indexed. Neal-Schuman, 2013. 279 p. $75. PBK. 978-1-55570-915-0