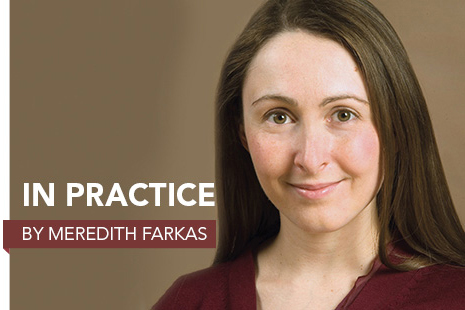 Everyone grows up playing games. Whether it's hide-and-seek, checkers, or Angry Birds, gaming pervades our culture and is an indelible part of our childhoods. Online gaming has become an activity that transcends gender, culture, and age. Even nongaming online platforms contain gaming elements, such as the rewarding of check-ins at locations on Foursquare, the location-based mobile social networking site.
Nonetheless, people still tend to see games more as diversions than as learning tools. However, learning experiences based on principles of game design are becoming increasingly common. Research has shown that elements of game play, such as fantasy, competition, quests, and visible achievements, can motivate people and make learning more immersive. Organizations both within and outside of education have begun to use gamification to meet learning and engagement goals.
Often, game-based learning simply requires rethinking how you deliver instructional content. Years ago, my library transformed our unimaginative library orientation tour into a fun and competitive scavenger hunt, where users were challenged to find the things we previously showed them. We were surprised how much more engaged our students were because of this small change, demonstrating that even when the stakes are low, gamification can make a significant difference. Capitalizing on 1980s and 1990s nostalgia , Lafayette (Pa.) College Library took game-based orientation to the next level with its "Where in the Library Is Carmen Sandiego?" game, in which students found QR-coded clues around the library using their mobile devices.
As part of its Centennial Celebration in 2011, New York Public Library offered a game called "Find the Future," an online mobile game for 500 people that incorporated an all-night library scavenger hunt. The gaming experiences were designed to empower young adults through engagement with the library's special collections. Public libraries struggle to attract community members in their 20s, and, as the NYPL project suggests, game-based engagement may be a great way to show this demographic what the library has to offer.
Another component of game-based design is providing visible and incremental acknowledgment of achievements. Videogamers often earn new tools or rewards for completing levels, which motivates them to persist. Research requires similar persistence, so finding ways to acknowledge or reward incremental progress could provide needed motivation.
Virtual badges, awarded for completing tasks or demonstrating mastery, make one's learning visible. A pilot at the University of Central Florida in Orlando awards badges for completing information literacy learning modules. Ideally, students would be able to continue displaying such badges online throughout their education and beyond. ALA's Young Adult Library Services Association is developing badges for librarians who complete learning modules associated with itss Competencies for Librarians Serving Youth.
In Lemontree and Orangetree, for academic and public libraries, respectively, users unlock rewards for checking out books, using databases, visiting the physical library, and engaging in other library activities (librarygame.co.uk). The games, from British vendor Librarygame, offer a leader board that displays the top library users, and individual players can share their achievements on Facebook. This tech-savvy new application is not so different from summer reading program prizes.
Gamification shows promise as much more than a spoonful of sugar. Libraries are joining many others in embracing its potential to increase engagement and learning.
MEREDITH FARKAS is head of instructional services at Portland (Oreg.) State University. She blogs at Information Wants to Be Free and created Library Success: A Best Practices Wiki. Contact her at librarysuccess[at]gmail.com.