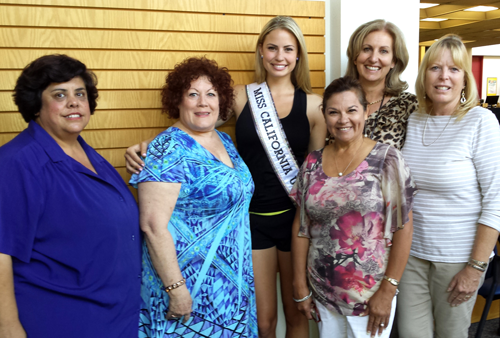 Miss California USA recently visited her local library. In preparation for the 2014 Miss USA pageant on June 8, Cassandra Kunze needed to renew her passport, and she did so at the passport office at the Civic Center branch of the Chula Vista (Calif.) Public Library.
"We were jazzed to have her come to the library," said Director Betty Waznis, whose staff has been marketing the four-year-old program with press releases and partnerships with local government offices.
Kunze heard about the program by word-of-mouth and called the library to make an appointment, explaining that she had a deadline looming. Library staffers asked Kunze if she wouldn't mind bringing her sash and having her photo taken (above).
The library took over the Passport Program in 2011 as a result of budget cuts to the city clerk's office. And with many local post offices closing, Waznis made the offer thinking the program would provide added value and promote the library's collections and services.
"When you come to the library for one thing, there are other sources of information that might be helpful to you, she said. "We feel this program encourages the idea that the library is here; it's available for people. It's an initiation to the public to come to the library."
A revenue generator for the library for the past four years, the program is managed by about a dozen library staff members who have been specially trained by the US State Department.
"We decided that with the money we could make on it—and we make one-third more than the city clerk's office was making—we could get the staff for this," Waznis said. But instead of having just one person dedicated to the office, library staff members work on a rotation, with each person contributing a few hours a day to the program.
The passport office at the Civic Center branch, the main branch of the library system, averages 250 visitors per month. Kunze, whose mother is from Chula Vista, is a student at San Diego State University. The program has been so popular that the library expects to add a second passport program at its newest branch, the Otay Ranch branch, located in the Otay Ranch Town Center Mall. The library secured a second location in the mall, called "The Hub," to be used for community meetings, performances, after-school homework help, and the passport office.
"It's a very doable program," Waznis said, "and it highlights libraries' role as civic leaders."