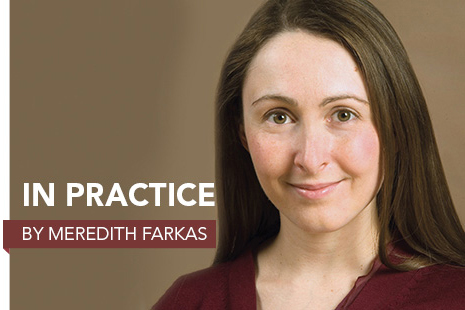 Five years ago, I wrote about the value of screencasting software—software that films the action on your computer's desktop—to create instructional videos on how to use the library and its resources ("Your Desktop: The Movie," AL, Nov. 2009). Since then, librarians have created thousands of instructional videos on information literacy concepts, library resources, and services. Through our own trial-and-error and research with patrons, librarians have learned a lot about the best practices for screencasting. Here are some tips for creating screencasts that will provide value for your patrons:
You don't need a big budget to create an impressive screencast. Though pricey software options offer nice editing features, there are free and low-cost tools out there, including Jing, Screencast-O-Matic, Snagit, Screenr, and CamStudio. Even tools for synchronous instruction, like Google Hangouts, ooVoo, and web-conferencing software, offer the screensharing and recording features you need. If you use a free web-based tool, be sure you can download the video in a commonly used format so you'll still have your screencasts if the software site is taken down.
Start with learning outcomes. List what a patron should be able to do by the end of a screencast and you will have a much easier time focusing your script and action.
Before you create anything, look at what's already out there. Database vendors and other libraries are creating instructional videos, and something might be available that meets your needs. Even if an existing tutorial meets 80% of your needs, weigh the value of that 20% against the time it takes to create a screencast.
Create a script or at least an outline. When I'm planning a screencast, I create a two-column table with my script in the left-hand column and the screen action in the right. If you think you can speak concisely without a script, you could try going with an outline, but a script is also useful when it comes time to add closed captioning.
Caption your videos. The Americans with Disabilities Act (ADA) requires that instructional content be accessible, which means either offering closed captioning or creating a separate accessible tutorial. I frequently see library videos that break this critical rule.
Keep it short. People will likely be accessing your screencast when they have a specific need. Attention spans being what they are, unless you're creating something hilarious, you probably shouldn't make a screencast longer than 2–3 minutes. If your content requires more time, break it up into multiple videos. The only exception to the 2–3 minute rule is for screencasts that are assigned in a class.
Keep it simple. Simultaneous text, video, and voice are too much for an individual to process. Make sure the action on-screen matches what you're saying in the video and that captions can be turned off.
While a screencast is more engaging than a static HTML tutorial, it's not good for everything. Lori Mestre, head of the undergraduate library at the University of Illinois at Urbana-Champaign, found that students were better able to complete a database searching task when they used an HTML tutorial with screenshots. Why? It's easier to refer back to specific points on a web page than in a video. For resources whose interfaces change frequently, screencasting might not be the best fit either, since a new interface often requires a new screencast.
Libraries put significant effort into creating online instructional content. Screencasting is a great tool in our instructional arsenal that can be used to poor effect. Lookg at research and best practices on whatever tool you're using beforehand to help you develop something that truly engages and educates.
MEREDITH FARKAS is coordinator of general education instruction at Portland (Oreg.) State University. She blogs at Information Wants to Be Free and created Library Success: A Best Practices Wiki. Email librarysuccess[at]gmail.com.