Welcome to the 2014 Library Design Showcase, our annual celebration of new and newly renovated libraries. These libraries are shining examples of innovative architecture that address user needs in unique, interesting, and effective ways.
Open Spaces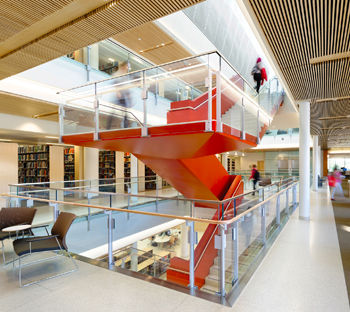 Frederick E. Berry Library and Learning Commons, Salem (Mass.) State University
The new learning commons at Salem State is a model of space and openness. The floating form of its central staircase reinforces this notion, and pleated glass walls that face the new quad reach out into the green space, drawing patrons to seats that line the wall.
New construction
Shepley Bulfinch
Size: 128,000 square feet
Cost: $50.4 million
Photo: Chuck Choi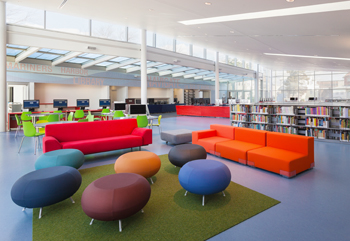 New York Public Library, Mariners Harbor Branch
Mariners Harbor's single-story plan minimizes the library's small size by emphasizing space. Expansive open rooms with large windows feature comfortable, relaxed reading and tech spaces among low stacks.
New construction
A*PT Architecture
Size: 10,000 square feet
Cost: $7.5 million
Photo: Naho Kubota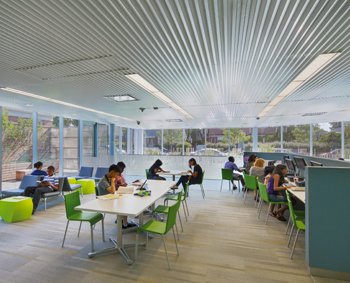 Queens (N.Y.) Public Library, Glen Oaks Branch
The new Glen Oaks branch is twice the size of the previous building and provides reading rooms on three floors, community rooms, and computers throughout. The use of space continues outside with a landscaped plaza and exterior reading garden open to the public.
New construction
Marble Fairbanks
Size: 18,000 square feet
Cost: $11.75 million
Photo: Eduard Huber; Arch Photos, Inc.; Marble Fairbanks
Reuse and Restoration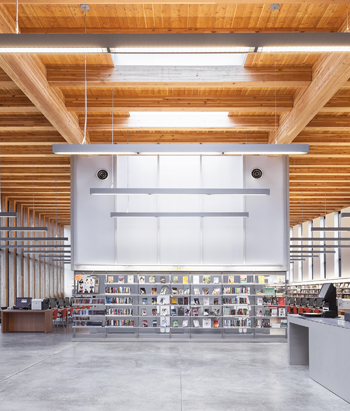 New York Public Library, Stapleton Branch
NYPL renovated the existing 1907 Carnegie Library in Stapleton, Staten Island, blending old and new by adding a new 7,000-square-foot modern addition alongside the older building. The addition is constructed of glue-laminated Douglas fir posts, beams, joists, and roof. The older adjacent building was transformed into a children's reading room.
Renovation and Expansion
Andrew Berman Architects
Size: 12,700 square feet
Cost: $15 million
Photo: Naho Kubota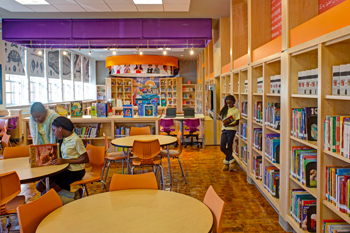 Baltimore City Public Schools, Samuel Coleridge-Taylor Elementary Library
Samuel Coleridge-Taylor Elementary embraces its past with this renovation. Old elements were discarded to reveal existing historic architectural structures. Brick archways hidden behind walls now make up the entryway, and an original hardwood floor more than 100 years old now shines after being freed from a laminate cover.
Renovation
JRS Architects
Size: 2,400 square feet
Cost: $480,000
Photo: JSR Architects/Alain Jaramillo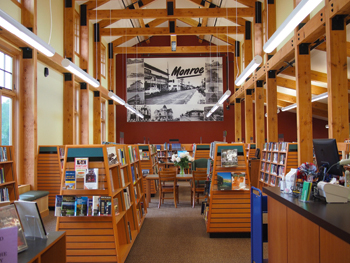 Corvallis-Benton County (Oreg.) Public Library, Monroe Community Library
This new library is a part of the last remaining freight depot in Benton County, Oregon. The library was constructed as an addition to the depot itself, which was restored and housed meeting facilities. The building is a perfect match of old and new: Original historical features, including graffiti, were preserved, while solar and geothermal energy sources were added.
Adaptive Reuse
Broadleaf Architecture
Size: 7,550 square feet
Cost: $2 million
Photo: Corvallis-Benton County Public Library Staff
For the Kids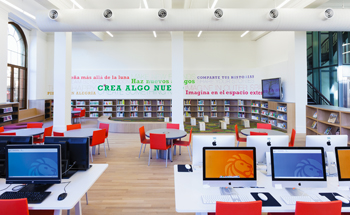 New York Public Library, Washington Heights Branch
The Washington Heights children's reading room encompasses the entirety of the branch's second floor. The open space features a loop of shelving and casework that encircles the reading areas, provides seating at each window, and features self-checkout stations. Couches are paired with window seats to create intimate spaces within the room.
Renovation
Andrew Berman Architect
Size: 3,300 square feet
Cost: $2.1 million
Photo: Naho Kubota
Centennial Library, Midland, Texas
Midland County transformed a former retail store into a modern, kid-friendly public library. Four steel trees were constructed inside the building that project nature videos and sounds onto a painted pathway. Additional video projections enliven the children's area, as does the section's centerpiece: a real hot air balloon donated by a Pennsylvania woman. After making its flight to Texas, the balloon was resized to fit in the library with its bottom basket becoming a reading area for kids and their parents.
Adaptive Reuse
Dewberry
Size: 33,000 square feet
Cost: $3.48 million
Photo: Timothy Hursley
Disaster Recovery
Birmingham (Ala.) Public Library, Pratt City Branch
Reconstructed after being damaged by tornadoes in 2011, Pratt City Library was reborn as a lantern of inspiration and learning for the community. The lantern design motif also recalls the area's coal mining history, and local museum artifacts were incorporated throughout the new reading room and stacks.
Renovation
Herrington Architects, P.C.
Size: 8,392 square feet
Cost: $1.5 million
Photo: Sherwood Cox Photography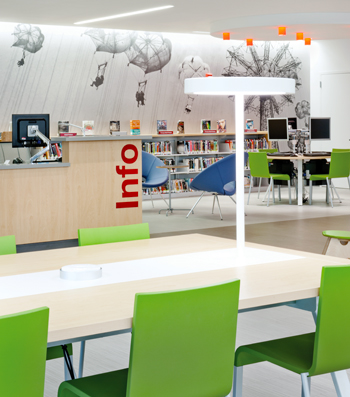 Brooklyn Public Library, Coney Island Branch
After being severely damaged by Superstorm Sandy in 2012 and flooded with five feet of water, the Coney Island branch was rebuilt to reflect the history of the area. The walls are filled with murals of archival images, and salvaged planks from the boardwalk are integrated into the new ceiling.
Renovation
BHC Architects
Size: 6,000 square feet
Cost: $2.7 million
Photo: Emily Andrews
Culinary Learning
Free Library of Philadelphia, Parkway Central Branch
The renovations of the Parkway Central branch included the construction of a demonstration kitchen to provide culinary literacy classes to children, teens, families, and adults. The facility includes three ovens, a grill top, 16 burners (four of which are on the demo island), a walk-in fridge, seating for 36 at nine tables, three cameras that provide views of the prep space and the burners with feeds to a big flatscreen TV, and an outdoor patio with an new herb garden for class use.
Renovation
Safdie Architects
Size: 324,000 square feet
Cost: $1.08 million
Photo: Eileen Owens
Going Green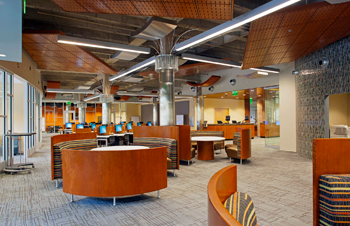 Armstrong Atlantic State University, Lane Library, Savannah, Georgia
The new learning commons extension at the Lane Library repurposed an existing space into a LEED Gold-certified facility that includes a green roof, energy-efficient mechanical systems and lighting fixtures, and solar panels to produce renewable energy.
Renovation
Cogdell and Mendrala Architects
Size: 66,022 square feet
Cost: $3.89 million
Photo: Richard Leo Johnson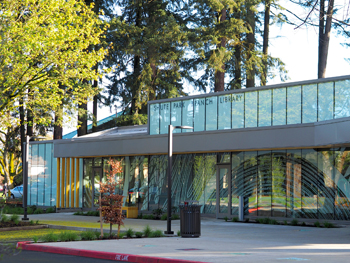 Hillsboro (Oreg.) Public Library, Shute Park Branch
As a showcase project in the Better Buildings Challenge by the US Department of Energy, Shute Park underwent extensive renovations to increase energy efficiency. An efficient HVAC system was installed, exterior lighting was replaced with LED, motion sensors were installed, the window system was replaced with insulated glass, and exterior wall insulation and a more effective and efficient roof were added. Based on an energy usage assessment, the estimated energy and cost savings are expected to improve by 20%.
Renovation
Hennebery Eddy Architects
Size: 15,000 square feet
Cost: $3.76 million
Photo: City of Hillsboro
Service Flexibility
Cuyahoga County (Ohio) Public Library, Parma-Snow Branch
The Parma-Snow renovation was undertaken with the community's needs in mind. The building was expanded from 12,000 to 41,000 square feet and now features AV-equipped meeting rooms, more than 40 computer stations, an outdoor reading garden, a café, and an impressive black box public auditorium.
Renovation and Expansion
Holzheimer Bolek + Meehan Architects
Size: 41,000 square feet
Cost: $15.2 million
Photo: Cuyahoga County (Ohio) Public Library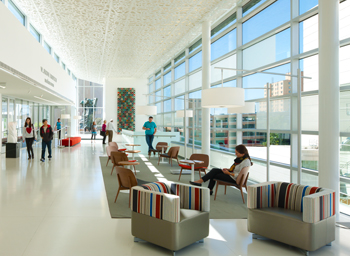 Madison (Wis.) Public Library, Central Library
In addition to a three-story atrium that increases natural light and new daylit reading rooms, the Madison Central Library renovation added a new third floor for community use, featuring an art gallery, meeting rooms, and an outdoor terrace that overlooks a green roof. The floor can be rented for private events as well.
Renovation and Expansion
MSR
Size: 120,000 square feet
Cost: $29.7 million
Photo: Lara Swimmer
Higher Ed Hubs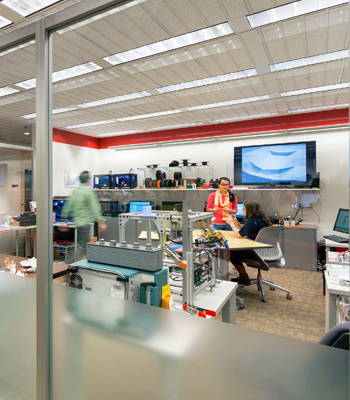 Northeastern University Libraries, Snell Library, Boston
Northeastern's Snell Library was transformed from a traditional stack space to a state-of-the-art media facility that supports digital creation, design, and analysis, complete with 3D printing labs, an innovation center, and audio/video/ post-production studios.
Renovation
Wilson Architects
Size: 100,000 square feet
Cost: $18.5 million
Photo: Anton Grassi/Esto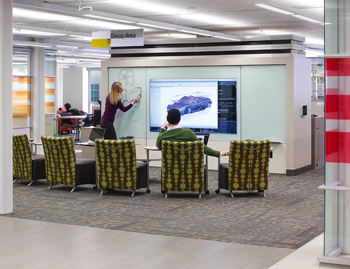 University of Iowa Libraries, Main Library, Iowa City
"Study villages" made up of 16 small study rooms grouped along a main path are a highlight of the Main Library commons renovation. A café, larger group study rooms, open collaborative spaces, and additional quiet areas complement the design.
Renovation
Architects Smith Metzger
Size: 427,000 square feet
Cost: $8 million
Photo: Main Street Studio, Iowa City
Collaborative Spaces
Tidewater Community College Joint-Use Library, Virginia Beach, Virginia
When Tidewater Community College and the City of Virginia Beach discovered that they were about to build libraries across the street from each other, they combined forces to build a joint academic and public library. In addition to housing academic and popular materials, the new building includes 200 public computers, more than 30 collaborative work spaces, public meeting rooms, and a café.
New construction
Carrier Johnson + Culture
Size: 125,000 square feet
Cost: $43 million
Photo: Courtesy of the City of Virginia Beach