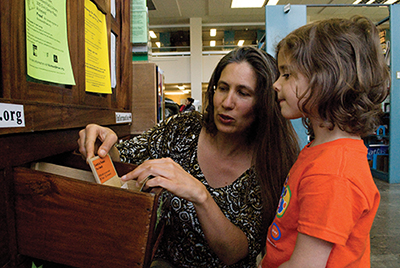 Editor's note: This is an excerpt from an article in the January/February 2015 issue of American Libraries.
The rise of seed exchanges—now numbering more than 300 across the US—has been accompanied by plenty of enthusiasm from librarians and patrons. But Cumberland County (Pa.) Library System's Simpson Seed Library attracted a whirlwind of controversy and misinformation over the summer after receiving a letter from the Pennsylvania Department of Agriculture (DOA), warning that the seed library might not be complying with state law.
"We had initially checked with our county extension office, but apparently they hadn't really thought about seed libraries through this particular lens," says Jonelle Darr, executive director of Cumberland County Library System.
The library asked for a meeting with the Pennsylvania DOA through its state representative's office, where both sides were able to discuss the law and understand how the seed library was operating. Ultimately, the Pennsylvania DOA proposed a solution, which the library accepted. Under this agreement, the library is free to distribute seeds, but it can't accept harvested seeds without following the state's testing and labeling requirements for seed distributors—which were designed for large distributors and wouldn't be feasible for the library to undertake. The library is, however, free to host seed swaps where individual gardeners can exchange seeds with one another.
"Our concern is truth in labeling and consumer protection" to ensure that the seeds that are distributed are what they are portrayed as and viable to germinate, says Johnny Zook, seed program supervisor at the Pennsylvania DOA.
Different states have different seed laws, and Zook recommends that seed libraries visit the Association of American Seed Control Officials website to find their state's seed control official. That individual will be able to help libraries operate in compliance with their state laws. "Open up a dialogue with your seed control official," he says. "Being well informed and reaching out and communicating is probably the best thing you can do."
"Sometimes I think people deal with sticky issues by not asking the questions because they don't want the answers," Darr says. Once the library sat down with the DOA, she adds, the situation was resolved pretty quickly.
As state laws vary, however, the situation may play out differently elsewhere. Duluth (Minn.) Public Library's seed library was recently visited by state officials over perceived violations of Minnesota seed law's requirements for labeling, germination testing, and permitting. The library is working with the state's DOA to attempt to meet the law's requirements.
One might argue that this type of state regulation shouldn't apply to the small scale on which seed libraries operate. Rebecca Newburn, a science teacher at Hall Middle School in Larkspur, California, and founder of the Richmond Grows Seed Lending Library at Richmond (Calif.) Public Library, offers alerts about legal matters that librarians can sign up for at seedlibraries.net. She says the seed libraries movement is concerned with some state departments of agriculture interpretations of seed laws, and it plans to work to protect the right to save and share local seeds and, where necessary, to work to change the laws. For more information or to get involved, email Newburn at seedlibraries@gmail.com.