Libraries are often willing to pay upwards of 95% of their annual budgets for staffing and materials, while allocating no funds for marketing. A library with a $4 million budget shouldn't allocate only $5,000 to making patrons aware of all the events and services that the $4 million provides. Some of that money should be shifted to help the community become more aware of the library's value.
Social media is a cost-effective marketing tool, but libraries should still market in traditional media. Social media is not intended to replace real-world marketing altogether.
An overarching theme
One key to successful marketing is to make your promotional materials memorable so they don't get lost in the clutter that inundates people daily. Libraries can accomplish this without having to come up with completely original material.
At Craighead County Jonesboro (Ark.) Public Library (CCJPL), we select an annual overarching theme for all the marketing we'll do in a given year.
E­xamples include:
typography, in which the words are also the art
vintage, reminiscent of 1950s and 1960s artwork
retro, reflective of advertising styles from the 1970s, 1980s, or 1990s
street art, which is quite powerful in catching people's attention
internet memes, which are popular ideas, images, or trends that circulate on the internet and become pop cultural phenomena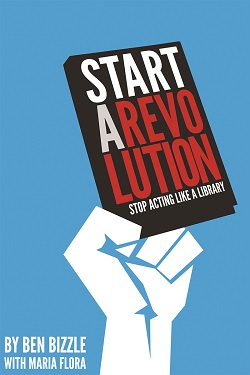 Our 2012 marketing campaign took advantage of the popularity of internet cards—simple compositions with sketches accompanied by brief, usually humorous, text. Part of e-cards' effectiveness in print is achieved from people's expectation of seeing them only in a digital format. e-cards capture an audience's attention when viewed outside their expected medium.
Capturing an audience's attention is one of the biggest challenges in a world where people are constantly bombarded with advertising and information. Selecting an overarching theme every year has two advantages over developing unique marketing material to promote a service or event each time.
It simplifies the process of marketing individual events or services by providing a predetermined conceptual foundation from which to work. For example, when we promoted our concert series in 2012, we knew at the outset that our posters should look like e-cards in order to adhere to the year's theme. This allowed us to focus on what artwork and phrases would best promote the concerts.
An overarching theme benefits the library by keeping the message consistent and recognizable throughout the year.
The theme builds branding. As you produce more thematic materials, your audience is more likely to pay attention because they liked what you did before.
Changing the theme annually is probably useful. Things don't necessarily retain their popularity long term, and we don't want new content to become dated. It also allows the library to come up with new and creative ways to increase community awareness while appearing fresh and innovative.
Billboards
Many libraries consider billboards to be too expensive to use as a marketing tool. However, they can be cost-
effective given the level of exposure they provide. Traffic volume and location determine the cost of leasing billboards. Price also fluctuates with the market. Vendors are likely to negotiate price if they have a number of billboards not currently in use, because a billboard with advertising on it at any price is preferable to a blank one. It's worth finding out what billboards are available in your community and asking what kinds of deals can be negotiated.
The contrarian argument against billboards is that the same people will see it every day. This is actually a good thing. A billboard is a yearlong reinforcement to people that they should visit the library. Compared with the cost of direct mailing at about 30 cents per address, billboards might be considered an excellent marketing investment. The level of exposure is worth it, whether a library can buy one billboard or a dozen.
Because of the cost of each billboard, don't promote specific library events or services. Instead, try to instill curiosity and sell the library as a place to check out. Regardless of a library's overarching theme, it's important to ensure the billboards look nothing like the others along the roadside. Simple text and images, a design that maximizes minimalism, tend to cut through the clutter and have a greater emotional impact.
Posters
Library posters are common. Many libraries buy preprinted posters from vendors. These posters look nice inside the library, but they do little to brand or market a specific library and their reach extends only to regular patrons.
For successful community marketing, posters should be distributed outside the library and be just as engaging as billboards. The library should have a strategy for getting posters into the community and in front of potential patrons. A number of businesses and organizations in every community will welcome posters in their windows. An eye-catching poster placed in the window of a popular restaurant has the potential to reach thousands of people a week.
Even if some people aren't interested in a particular event, a poster that catches their eye is still a great promotion. It's branding that keeps the library in the front of people's minds.
Postcards
Postcards are simply miniature posters. One of the advantages of printing and distributing them is they can have the creative work on the front and the event information on the back. This allows for the artwork and marketing to be showcased while still delivering all of the pertinent facts.
As with other marketing materials, appealing artwork and a good tagline will motivate people to read the card and remember what the library is promoting. Like posters hung in store windows, thorough postcard distribution outside the library is sure to increase program attendance and bring new patrons to the library.
Postcards should be placed at every customer service point in the library and given to every patron at checkout. Staffers need to be aware of what event is currently being promoted and actively engage patrons about attending, using the postcard as a take-home reminder.
I've been questioned about sending postcards via direct mail. I disagree with this approach. First, it's relatively costly to do direct mailings to a significant number of people. Second, bulk mailings might get mixed in with junk mail and could to be tossed into the trash with it as well.
Bookmarks
Bookmarks are the oldest and most common promotional items given to patrons.
At CCJPL, we design our bookmarks to reflect the year's overarching theme. We don't necessarily use bookmarks to promote specific events but rather the library as a whole, with general library information on the back, such as the address, phone number, hours of operation, website, and Facebook page. The goal is to provide information that will expose patrons to the wide range of offerings the library provides. The bookmark serves as a handy reminder to patrons that we're a lot more than just the book they're currently reading.
Custom bookmarks may be more expensive than bulk-ordered, unbranded bookmarks, but the opportunity to provide information specific to your library outweighs any cost difference between the two.
Yard signs
Yard signs are effective for broad promotion and can generate a lot of talk around town. They should be viewed as mini-billboards, adhering to the concept of promoting the library in a general way, rather than promoting specific services or events. They are a relatively expensive marketing tool on a per-item basis, so distribution should be handled carefully to avoid waste.
CCJPL's first experience with yard signs came during the 2012 presidential election. Seeing all of the candidate yard signs cluttering the corners of busy intersections, I decided it would be funny to come up with a library sign with a catchy phrase to place among them. In a guerrilla marketing-like move, we had signs printed with the phrase, "Public Library: We don't need to run for office," and placed them among the political signs. Our signs were a huge hit, and a number of patrons wanted them for their yards.
Measuring results
Most of these traditional media aren't new to libraries. We've been using them for years. In many ways, these strategies and techniques aren't so much revolutionary as they are evolutionary. However, an evolution in practices can lead to a revolution in results.
CCJPL hosts four concerts every summer. We've always promoted them through traditional means but without much strategy.
In 2011, we averaged 300 attendees per concert. In 2012, we created posters to promote the events. Our average that year was 300 attendees. In 2013, we again hung posters around town, but we also distributed more than a thousand postcards, posted about the concerts on Facebook, and made sure to mention the events on radio and TV multiple times in advance. Our average attendance per concert that year was just over 500. That's a 67% increase. The only difference was our approach to increasing community awareness. We created engaging marketing material that presented the concerts as something people wouldn't want to miss.
These sorts of results are attainable by any library willing to reach out in an effective way. It isn't as much about doing something radically different. It's about being better at doing the things we're already doing. The goal is to keep the community continuously aware of the library and do so in a way that will entice them to engage, attend, and participate.
This is an excerpt from Start a Revolution: Stop Acting Like a Library, by Ben Bizzle with Maria Flora (ALA Editions, 2015).