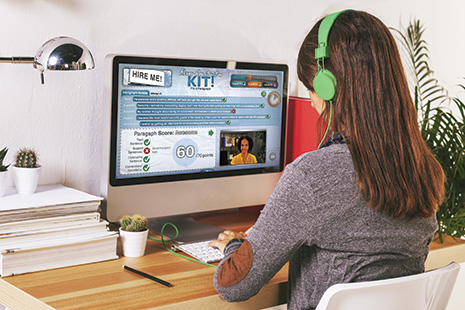 Games to test college-level writing
Toolwire develops, delivers, and supports immersive learning tools for online and blended learning courses. It's a new name in game-based learning, but it is already earning accolades for the new directions it's taking to enhance the educational gaming experience.
Through customer feedback and user testing, Toolwire learned that a game's authenticity, relevance, and believability enhanced student engagement. This led Toolwire to develop interactive games that are realistic simulations with live characters filmed in real locations. While its contemporaries used animated characters and environments to teach, Toolwire got real. And it paid off. Toolwire won two silver medals at the 2015 International Serious Play Awards.
Toolwire's games teach writing, student success skills, critical thinking, psychology, and environmental science. The games challenge students to review, practice, and demonstrate college-level writing skills in authentic workplace scenarios.
For example, Toolwire's Writing Games, winner of an International Play Award, provides a "virtual internship" experience at a fictional television news station, nonprofit, or other real-world organization. The students must use their writing skills to complete tasks for their "jobs," like create a website for the organization.
Each game takes approximately 20 minutes to complete and targets one to three specific learning objectives. These games deliver personalized learning with built-in formative assessments, dynamic remediation, and performance analytics that measure outcomes as students build skills and knowledge. Pre- and post-game tests provide immediate feedback on student proficiency in basic skills and knowledge.
For more information on Toolwire's games and to watch demos, visit toolwire.com.
University app by Boopsie
Today's college students are online 24 hours a day, seven days a week, 365 days a year. To service these plugged-in minds, libraries and library services must be available at all times with ease and expediency. Boopsie, the mobile platform-as-a-service provider that was recently acquired by DEMCO, has developed a native mobile app that allows academic libraries to reach these students effectively.
Boopsie's mobile app for academic libraries offers a user experience that not only delivers a library's content but also increases student engagement, orients students with library services, and provides access to support services.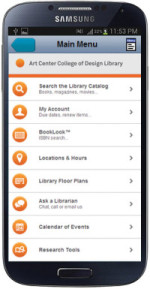 Key app features include:
smart prefix catalog search functions that provide real-time access to the library's collection
a library locator that uses GPS technology to share branch locations, hours of operation, and contact information
e-content integration that delivers ebooks, audiobooks, and video content
one-click access to OverDrive, OneClickdigital, Literati, and other content providers that participate in Boopsie's Star Partners program
ILS integration that gives patrons the ability to manage their accounts, place holds, and renew materials
an "ask a librarian" function that connects users to reference services via text, email, or phone
access to a calendar of events, classes, and computer lab schedules
social media tools that connect users to the library's Twitter, Facebook, YouTube, or blog posts
back-end analytics that let libraries track app and database usage, alleviating the burden on IT departments and library staff
The Boopsie native app for academic libraries is available for Android, Apple, Kindle Fire, Windows Mobile, and BlackBerry devices. For more information and to request a demo, visit boopsie.com/benefits/academic-libraries.
Case study: Creating quests to learn the library
Product: Library Quest, libraryquestgames.com
Details: Library Quest is a browser-based "choose your own adventure"–style game designed to engage students with the library. The game uses original digital art to tell a story in which the player is the hero. At each stage, players choose between different next steps, for which there are unique consequences.
User (pictured): Craig Anderson, university librarian, RMIT University Library, Melbourne, Australia
How do you use Library Quest?
We use Library Quest as an orientation tool. For an 18-year-old just starting university, the idea of spending several hours on face-to-face library orientation can seem less than enticing. The game provides an easy and entertaining introduction to our services.
How does Library Quest serve your library's needs?
Students have a better understanding of the library after completing the game—they appear to see the library in a different light and regard us more positively. The quest has been deliberately designed to get a few key concepts across succinctly and in an entertaining way. We aren't trying to teach them everything about our services—we just want them to understand a few basics. Part of the aim is to break down some stereotypes they may have.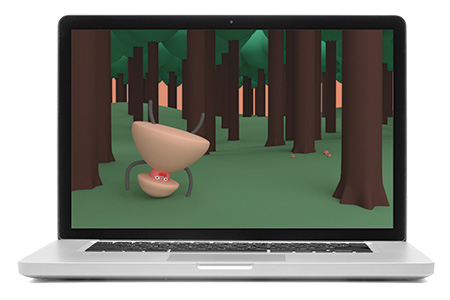 What are the main benefits?
Our students gain a better understanding of how we can assist them and what we have to offer than they did through traditional library instruction. They appear to have a more positive attitude about the library and, we assume, are more likely to approach us for assistance. The comments we get are a joy to read and have convinced us of the value of the approach.
What would you have like to see improved or added to their service?
In the future, I'd like to see Library Quest address individual information literacy concepts in more depth, perhaps with games purpose-built to teach single concepts. Someday I imagine we'll see a suite of purpose-built games that cover a series of separate topics.