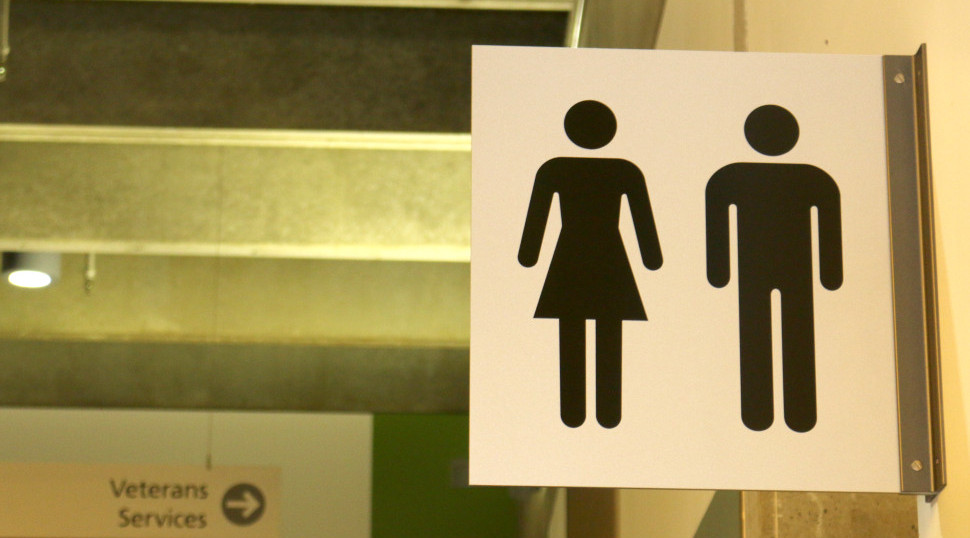 It's the central principle of a public library: Everyone is welcome. Librarians everywhere work to make sure their collections and programs offer members of their community a safe space. And now some librarians are expanding their safe spaces to include bathrooms, specifically gender-neutral restrooms for patrons who identify as transgender or gender nonconforming.
"When we have restrooms that are segregated according to gender, some customers may feel uncomfortable using them because other people may not perceive that they're allowed to use that restroom," says Peter Coyl, a district manager at Dallas Public Library and chair of ALA's Gay, Lesbian, Bisexual, and Transgender Round Table. "It can make using the bathroom very stressful and even dangerous."
According to a 2013 study by the Williams Institute, 70% of transgender people surveyed say they've experienced discrimination in restrooms, including being stared at, ridiculed, told to leave, or not allowed to use the facilities. Some reported experiencing physical violence or having the police called.
Katherine Weadley, director of Lyons (Colo.) Regional Library District, began to notice that many of her younger patrons didn't fit traditional gender norms. When she started thinking about how to make the library a safer space for them, she came across the idea of gender-neutral restrooms.
"By having a gender-neutral bathroom—or by not having one—it's a kind of judgment, and a personal one," Weadley says. "If libraries offer gender-neutral bathrooms, it says, 'I see you.' It says, 'We care about you, and this is a safe space for you to come.'"
Portland (Oreg.) Community College (PCC) has taken on the issue of gender-neutral restrooms. When Oregon's largest post-secondary institution—which serves nearly 90,000 students—received a $374 million construction bond in 2008 to renovate and expand its four campuses, a group of PCC students, staff, and faculty discussed how to make the school's estimated 5,600 transgender and gender-nonconforming students feel more comfortable. The discussion helped lead to the creation of 22 new all-gender restrooms as part of the bond construction.
"People generally thought it was important to have places that were gender-neutral for various members of the college community to use," says Donna Reed, director of PCC's libraries. "But not everybody was comfortable with the idea of using a bathroom with someone of another gender."
We would all be upset if somebody tried to ban a book about a genderless character, so why ban them from your bathrooms?—Katherine Weadley, director of Lyons (Colo.) Regional Library District
As a result, PCC included single-stall gender-neutral restrooms in all of its libraries and new campus buildings. Reed says she's gotten a lot of positive feedback, both from the transgender community as well as other students who appreciate the privacy the bathrooms offer. Reed says taking the time to ask people what they wanted was key, especially because bathrooms are often expensive to build.
"We were sort of rushing to install multistall gender-neutral restrooms, and we found out that [many transgender people] were more comfortable with single-stall bathrooms," says Reed. "It would have been a costly mistake."
Overall, Reed says the process made everyone on campus more thoughtful about one another's needs. And because single-stall bathrooms are less expensive to build, Reed says PCC's new libraries have more bathrooms than they necessarily would have otherwise.
While some libraries are considering the issue as they build new spaces, others are figuring out ways to make patrons comfortable with their existing facilities. For many libraries, that means adopting a policy that patrons can choose the bathroom in which they feel most comfortable.
That idea can be uneasy for people, Coyl says, often because of misconceptions that surround the transgender or gender nonconforming community.
"Some people, when they first hear about it, are concerned about the appropriateness of it," he says. "They're concerned about children being exposed to someone in the wrong restroom. They're concerned that people may purposefully use the wrong restroom for some inappropriate activity."
But in reality, those same risks exist with traditional gendered bathrooms, Coyl says, and for general security, librarians already need to be aware of inappropriate or problematic behavior in any space inside their building.
Coyl says that rather than announcing a policy change or putting up a sign, librarians may need to gradually educate patrons, which can be a slow process. But Weadley points out that as traditional gender norms in our society are changing, it's important for libraries to keep up with the times.
"I think librarians wouldn't hesitate to order books that had a transgender or queer protagonist," she says. "We would all be upset if somebody tried to ban a book about a genderless character, so why ban them from your bathrooms?"
Weadley adds, "We need to serve our patrons in whatever form they come in. Patrons need to know that they're welcome, they're safe, they're accepted and not judged."