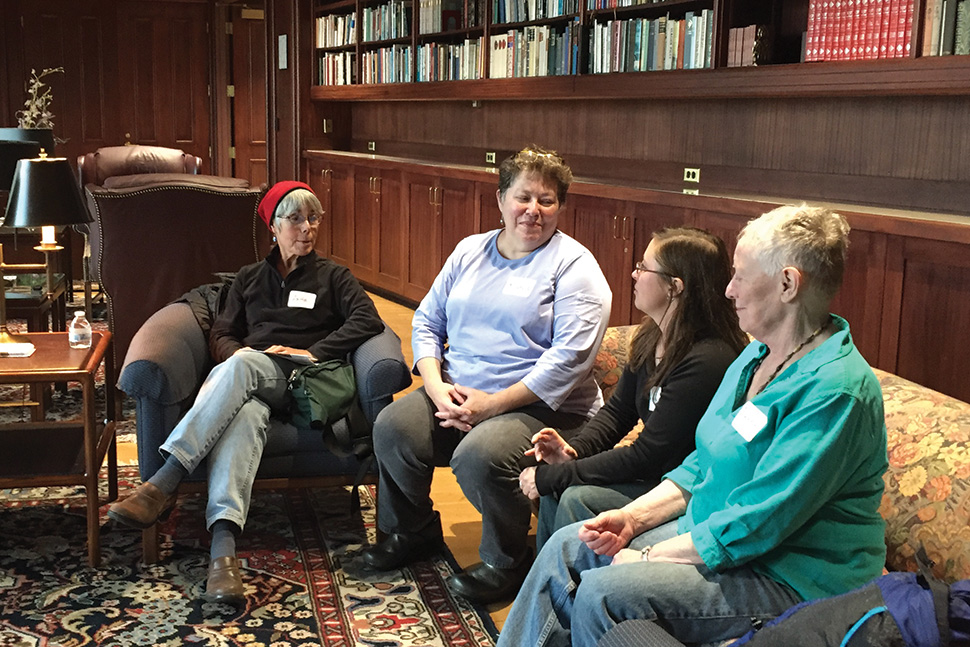 The prospect of one's own death is not exactly a topic for casual dinner conversation. But a movement that encourages group discussion of this weighty subject is growing, and organizers are finding that local libraries are one place where they won't be silenced.
Since the first gathering, named death café, was held in the US in Columbus, Ohio, in July 2012, the forums have spread across the nation. And many are beginning to appear in libraries, according to Lizzy Miles, an organizer for DeathCafe.com.
Miles, who organized the Columbus death café, tells American Libraries that she was inspired by her experience as a hospice social worker and by the work of Jon Underwood, who began holding death cafés in the UK in 2011. She also credits a story in The New York Times ("Death Be Not Decaffeinated: Over Cup, Groups Face Taboo," June 16, 2013) with helping attract interest in the movement.
"When I tell people I work in hospice, they immediately start telling me their personal stories about death and dying," Miles says. "It was sort of this recognition that people have a desire to talk [about death]."
Miles says the death café concept is intended to be educational and is held in a neutral location where there is no perception of impropriety. She says that holding events in funeral homes or similar businesses might come across as self-serving. She also prefers that the forums not be held in churches or other houses of worship because doing so might deter attendees concerned about proselytizing.
Miles notes that hundreds of death cafés have been held across the country over the last couple of years and have popped up in libraries in Alaska, California, Colorado, Florida, Kansas, Michigan, New Hampshire, and Vermont.
"I think a library is a perfect place to hold a death café because libraries bring people together," she says.
Betsy Stroomer, director of the Lafayette (Colo.) Public Library, says that over the past year, librarians were seeing "tremendous" interest in end-of-life issues, prompting her library to include Atul Gawande's Being Mortal: Medicine and What Happens in the End as part of its One Book reading program.
"As a community library we're always trying to keep our finger on the pulse of what people in the community are thinking about," she says.
Kriss Kevorkian (no relation to famed euthanasia activist Jack Kevorkian), who holds a PhD in thanatology—the study of death and dying—and is a former hospice social worker, says she's been hosting death cafés at the Gig Harbor (Wash.) Public Library for the past two years. About 15–25 people attend her monthly cafés.
Libraries are a perfect venue, Kevorkian says. Librarians and staff are an "awesome resource," because, she says, "They know people in the community and they tell people about [the cafés]."
Hundreds of death cafés have been held across the country over the last couple of years and have popped up in libraries in Alaska, California, Colorado, Florida, Kansas, Michigan, New Hampshire, and Vermont.
"There are people who have called me and said, 'I got your name and number from the library,'" she says.
Kevorkian says she puts up a sign in the community room where the cafés are held, inviting library patrons to join in the discussion. It also helps encourage people to use the library, she says.
"After every meeting there are people going through the library to look up things and find books, DVDs, and audiobooks [related to death and dying]," she says.
Underwood, who popularized the death café concept in the UK, says more than 100 cafés have been held in US libraries over the past couple of years, adding that he thinks libraries are "a perfect place for death cafés."
Underwood, however, suggests on DeathCafe.com that hosts provide food and drink during the forums, which is prohibited at some libraries. "It helps make the subject matter easier to swallow," he says.
While some libraries have simply provided space for the cafés, others have played an integral part in establishing and promoting the forums.
Stroomer says death cafés were already active in nearby Denver and Boulder, prompting her and library staff to hold one in Lafayette. The initial reaction was mixed, she says. Most library patrons have been grateful for the forums, but some took offense.
"We've had some feedback from some people saying, 'You're being morbid. Why are you doing this?'" she says, adding, "I think it's because in our society we've become very removed from death. It's not part of a lot of people's everyday experience."
Karen Andrews, adult services librarian at Lafayette Public Library, tells AL that librarians can get involved by visiting DeathCafe.com to learn how to moderate the events. Moderating, she says, is "about making sure everybody gets an opportunity to talk, and if it gets contentious, you have tactics to diffuse it."
"The other key component is cake," she says with a laugh.
Andrews acknowledges that the library meeting room is not the most intimate setting for the forums, but she says "once the conversation starts going, it doesn't seem to detract from it."