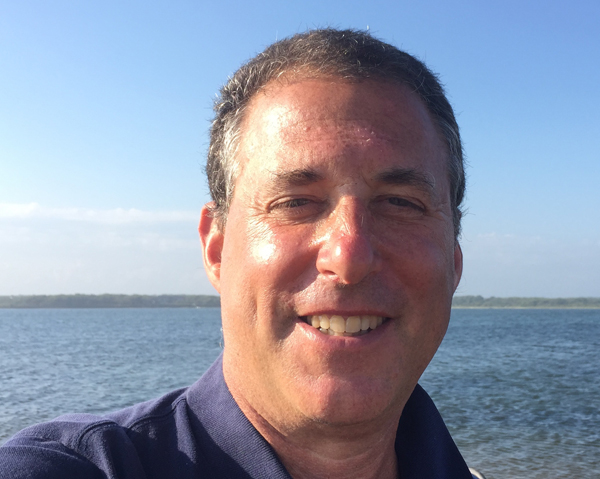 As fighters from the al-Qaeda in the Islamic Maghreb (AQIM) group bore down on Timbuktu, Mali, in 2012, archivist Abdel Kader Haidara knew that something he valued more than his own life might not survive an occupation. Given the opportunity, Haidara believed, the militants would readily destroy the priceless written record of the city's intellectual heritage he had devoted himself to preserving. In The Bad-Ass Librarians of Timbuktu and Their Race to Save the World's Most Precious Manuscripts (Simon & Schuster, April 2016), author Joshua Hammer captures the lengths to which people will go when their culture is at stake.
When reading your book, I didn't know whether to be scared out of my mind about the jihadists or think it's the greatest thing that these librarians were able to get the manuscripts out of danger.
JOSHUA HAMMER: I think both reactions would be appropriate.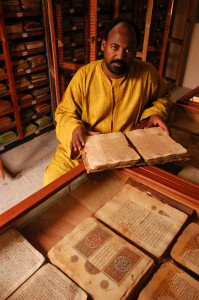 Fearing for more than 350,000 medieval manuscripts in the city, Abdel Kader Haidara marshaled nearly two dozen volunteers to sneak them, tightly packed in metal footlockers, out of the city. They hired hundreds of teenagers to take the lockers in multiple trips via mule cart, truck, boat, and taxi to Bamako, Mali's capital, 440 miles to the south. Along the way they had to deal with roadblocks, detentions, bribes, and military escorts. What struck you most about this plan?
Moving them out of Timbuktu was a major enterprise—including having to do it by boat [along the Niger River] after the French started to attack [the AQIM operatives] and the roads became too dangerous. They had to shift gears completely and organize a boatlift in the middle of a war for a few weeks.
Haidara started the rescue with private libraries owned by families, which he had previously formed into an association. What happened to manuscripts in the government library, the Ahmed Baba Institute of Higher Learning and Islamic Research, where Haidara had worked for several years?
The South African government had built the city a new library. Staffers were moving the manuscripts from the old library to the new one—about half were in the new one and half in the old—when the new building was seized and turned into a military barracks. Haidara assumes that all those books were just lost.
And the collection in the old library?
The institute didn't want anything to do with him at first. They said, "You're overstating the case. There's no danger here. Leave us alone." They were actually the very last library to cooperate with Haidara. [He was eventually able to move 24,000 manuscripts out.]
Do you know of another culture where so many centuries-old works have stayed with families?
I think this may be unique to Mali. There are 12 big intellectual families in Timbuktu, descended from scholars and professors at the universities in the golden era of Timbuktu in the 16th century. The manuscripts were dispersed through family members over the centuries—and still today, the key librarians in Timbuktu are descendants of those 12 original esteemed families.
Haidara's father had amassed a huge collection of unbound manuscripts, including, as you write, "a holy book from the 12th century, no larger than the palm of a hand, inscribed in fish skin, its intricate Maghrebi script illuminated with droplets of gold leaf." When he died in 1981, he left all of it to Haidara, who was only 17. What effect did this have on him?
It totally determined the course of his life. The Ahmed Baba Institute's curator, Mahmoud Zouber, asked Haidara if he would become a prospecteur for manuscripts. He wasn't willing to do that at first, but I think his role curating his family's collection is what eventually compelled him to do it. Pressure from Zouber—"Your father chose you to do this, you should rise to the occasion, it's your destiny"—is what played to Haidara's sense of family loyalty, the trust his father put in him, the importance of the job, and the cultural patrimony of his country. He embarked on that new course, which continues to this day.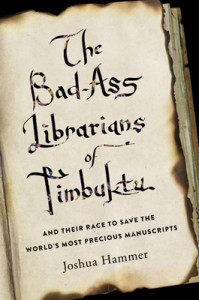 What's your favorite aspect of this story?
I have lots of favorites, but I love the prospecting [Haidara did for the institute] from 1984 to 1996. He ferreted out manuscripts in these amazing weeks-long treks he took across the desert, having heard that an incredible collection was in some obscure village. He's an adventurous spirit; it's not easy to travel in that part of the world, I know for a fact. Thirty years ago it was even harder, and he didn't have a vehicle. He used camels and hitched rides. It was pretty astonishing.
The manuscripts are in storage in Bamako now. Does Haidara have plans to move them back to Timbuktu?
AQIM is still a presence in the area [Hammer refers to the March 13, 2016, attack on Grand-Bassam in the Ivory Coast]. I don't think he feels safe bringing them back there yet.