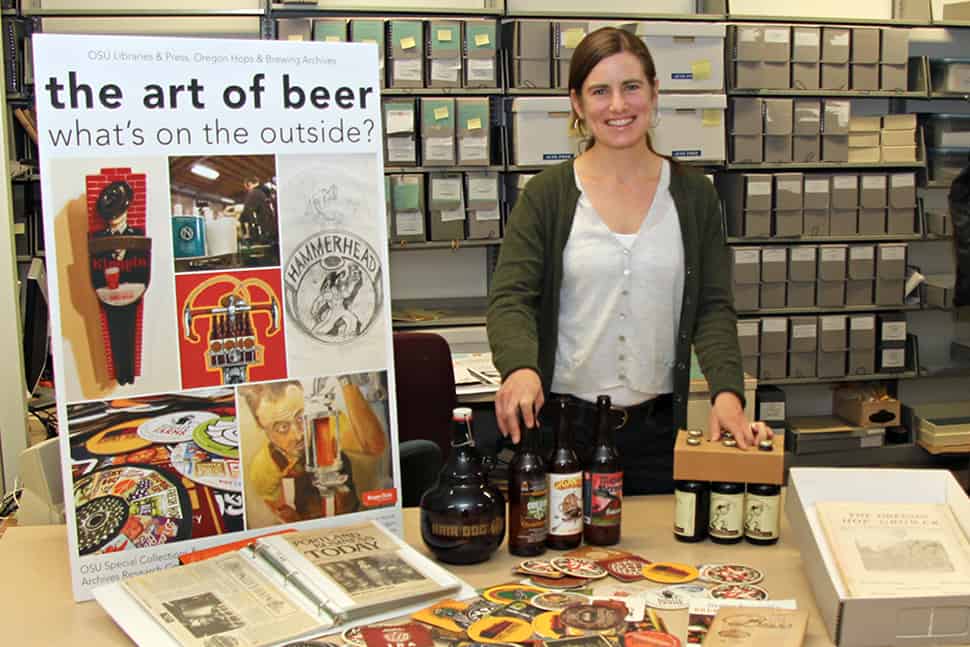 Tiah Edmunson-Morton claims she's no beer nerd. The archivist of the Oregon Hops and Brewing Archives (OHBA) at Oregon State University (OSU)Libraries stumbled onto the story of hops production and the craft-brewing movement while taking a hops tour with librarian and archivist friends at a wedding several years ago. "We were all just geeking out on it," she says.
Edmunson-Morton had been at OSU Libraries for seven years and had the itch to do something different. So in 2013, she pitched the idea of collecting and telling the intertwined story of hops and beer—the first such archive in the US—and within a couple of months it became reality.
The first hops were planted on OSU's campus in the 1890s, so it's fitting the collection is housed here. (The Pacific Northwest produces almost a third of the world's hops supply.) OHBA contains ephemeral cultural items such as beer coasters, bottles, labels, posters, home-brewing magazines, and the like, as well as science-side hops data and research reports. Beer journalist Fred Eckhardt's collection has become the cornerstone of the archives.
Edmunson-Morton studied literature in undergrad and graduate school before earning her MLIS and says she never could have imagined she'd be working at a brewing archive.
She jokes: "If my 21-year-old self could know what my much older self is doing now, [she] would give me a high-five."