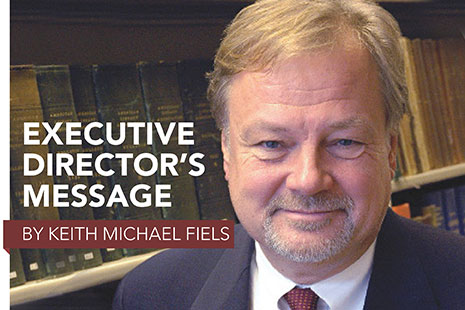 Whether it's a child learning to read, a teen getting help with homework, a veteran using career placement services to find a new job, or a small business owner employing the latest technology to improve his or her business, our public, school, academic, and special libraries are transforming the lives of individuals and communities every minute of every day.
Thanks to the American Library Association's new public awareness campaign Libraries Transform, it has never been easier to spread the word about the transformative and critical role libraries play in the digital age. Since the October 2015 launch, more than 1,600 libraries have registered to participate in the campaign, and that number is growing daily. Through the campaign's attention-grabbing "Because" statements, Libraries Transform delivers powerful messages like "Because not everything on the internet is true" and "Because learning to read comes before reading to learn." Each statement invites the public to click on a link to the Libraries Transform page, where key facts, stories, and statistics illustrate the many and often surprising ways libraries affect and transform our lives.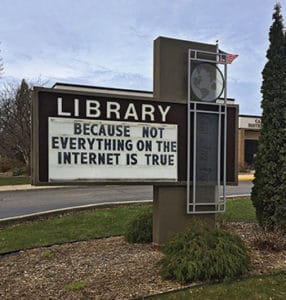 Our goal is to change persistent public perceptions of the library as "old-fashioned" and to reach new audiences through traditional and social media. Since February, ALA's Public Awareness Office has been pushing out campaign messaging every week through various social media channels. Our goal is to see these messages shared and retweeted with others so that thousands—and then ­millions—see the Libraries Transform message.
Over the coming months, there will be more "Because" statements, short videos featuring authors and library users, quizzes, and factoids going out—week after week after week. Since last October, Libraries Transform–related posts have reached more than 1 million people on the ALA and I Love Libraries Facebook pages. Campaign videos have been seen more than 23,500 times on YouTube and Facebook, and Libraries Transform tools have been downloaded more than 8,000 times.
While these numbers are growing every day, your stories will ultimately be the creative driving force and lasting impact of Libraries Transform. For example, the Pickering (Ont.) Public Library has created a YouTube video featuring "Because" statements to underscore its impact on the community. The Ohio Library Council has adopted the campaign as its National Library Legislative Day theme and plans to use the "Because" statements to showcase the return on investment of Ohio libraries. State associations in Maine and Minnesota are using the campaign as conference themes. And ALA's Library Champions are not only providing critical support for the campaign but also featuring campaign messages on their websites and online products, seen by millions of users.
What does success look like? The Caro (Mich.) Area District Library's arresting roadside sign (pictured) has not only been seen by thousands of drivers but has also reached 2 million people through social media!
We need your voice to be a part of this unified effort. Please register today to become a part of the Libraries Transform campaign at librariestransform.org.
Together, we can help the public understand that libraries aren't just "nice to have." They are essential.