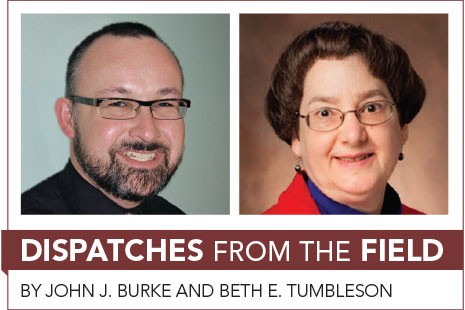 Embedded librarians—those who work closely with students and faculty on projects or programs—have an important new tool for reaching out and collaborating. Educational institutions of all types are expanding their use of learning management systems (LMSes), also known as course management systems. In an October 2014 Educause survey, 86% of faculty reported using an LMS in at least one of their courses. Some 83% of student respondents in the same survey reported using the campus LMS in at least one of their courses, and 56% used the LMS in most or all of their courses.
The largest LMS companies in the United States in terms of numbers of institutions served are (in ranking order) Blackboard, Moodle, Canvas, BrightSpace (D2L), and Sakai, as reported in an October 22, 2014, post in the e-Literate blog. Blackboard currently is the market leader in the US, even without including installations of ANGEL Learning, a formerly independent LMS that Blackboard still offers under its own name. Canvas is quickly gaining ground.
Institutions are prone to adding or changing systems based largely on budgets and user experience. Generally, librarians will have little input into the choice of an LMS and will need to become familiar with the interface of whatever platform is available. But the best LMSes offer common features and capabilities that benefit students, faculty, and embedded librarians alike.
Content pages can be posted on the course site, whether produced through the LMS content editor interface or created outside as HTML, PDF, or other types of files. The embedded librarian might post a page listing contact information, links to useful resources, tutorials, and step-by-step guidance on database searching. In collaboration with the instructors, librarians can add specific library resources or links to the larger resource page into other course documents, such as assignments, specific lessons or modules, or the syllabus.
Librarians often find it difficult to communicate with students beyond face-to-face instruction time. Emailing students who are enrolled in the course is easy with a built-in LMS email interface. The LMS environment also allows for follow-up opportunities to reintroduce the librarians and remind students that they are available later in the semester.
Discussion boards or forums give students a venue to ask questions and hold discussions around class topics. Some embedded librarians will set up a separate board or forum for students to "ask the librarian" research questions. Others may monitor a general class discussion board, perhaps only participating before the due dates for a research project. This offers an opportunity to respond to questions from individuals in a group format so that the entire class will benefit from the responses. It can also be used for posting tips or highlighting resources.
LMSes provide web conferencing tools for synchronous interaction with individuals, groups, or the entire class, from shared videos to simple chat exchanges. Librarians can use this for appointment-based research consultation with students, for example, to demonstrate useful databases or suggest directions for research. They can also deliver online adaptations of individual face-to-face instruction sessions to the entire class.
Embedded librarianship in the LMS combines librarians' professional talents with technology and instructional support that is essential to students and faculty. The expertise that librarians continue to develop in instructional design, open educational resources, copyright, and digital learning can be amplified through this technology—and that's a win for everyone.